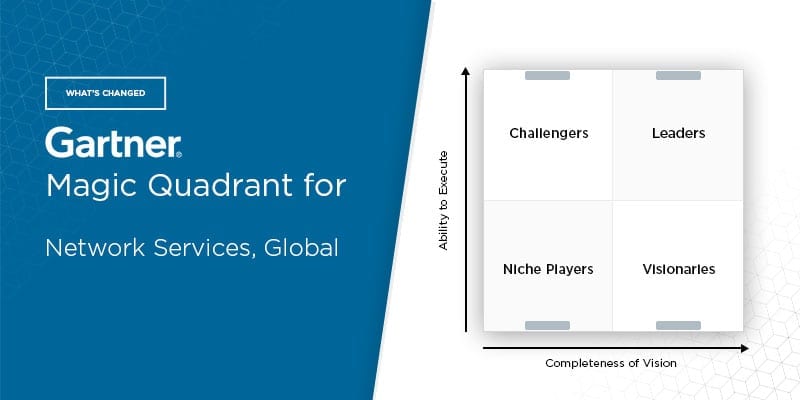 The editors at Solutions Review highlight what's changed since the last iteration of Gartner's Magic Quadrant for Network Services, Global, and provide an analysis of the report.
Analyst house Gartner, Inc. has released its 2021 Magic Quadrant for Network Services, Global. Gartner defines this market as "the provision of fixed corporate networking services with worldwide coverage." The researchers at Gartner note that the market is undergoing a major transformation as companies deploy new services and business models that focus less on large-scale infrastructure — enabled due to new generations of software-based network technologies being released.
For this report, Gartner evaluated vendors based on three key global network services: WAN Transport Services, Carrier-Based Cloud Interconnect (CBCI), and Managed WAN Services. Gartner also highlighted emerging network services that will be evaluated: Network on Demand (NoD), Network Function Virtualization (NFV), and 4G/LTE and 5G Cellular WAN Access.
In this Magic Quadrant, Gartner evaluates the strengths and weaknesses of 19 providers that it considers most significant in the marketplace and provides readers with a graph (the Magic Quadrant) plotting the vendors based on their ability to execute and their completeness of vision. The graph is divided into four quadrants: Niche Players, Challengers, Visionaries, and Leaders. Gartner highlighted 19 vendors in the report: AT&T, BT, China Technology Global, Colt Technology Services, Duetsche Telekom, GTT, Lumen, Masergy, NTT, Orange Business Services, PCCW Global, Riedel Networks, Singtel, Tata Communications, Telefonica, Tella, Telstra, Verizon, and Vodafone.
At Solutions Review, we read the report, available here, and pulled out the key takeaways.
Japanese company NTT led the pack in the Leaders quadrant with its strong NOD and managed WAN offerings, a global internet backbone, and a wide range of access providers. Verizon delivers a comprehensive range of NFV/vCPE services with managed SD-WAN from four vendors: Versa, Cisco Viptela, Cisco Meraki, and Silver Peak. Orange Business Services, the enterprise service unit of Orange, has the broadest network coverage for countries connected to its own network. Dallas-based AT&T recently launched a Global SD-WAN SOHO offer that enables support of residential sites for work from home use cases.
BT is a major provider of fixed and mobile network services in the United Kingdom with especially strong network coverage in Europe and Latin America. Vodafone, another U.K.-based company, focuses on the APAC region and Africa in addition to Europe and has a high level of automation for its network services. The IZO Internet WAN offered by Tata Communications provides enhanced internet service with end-to-end SLAs with local ISP support in more than 125 countries. Formerly known as CenturyLink, Lumen offers interconnections to six major cloud providers in 59 cities and supports the dynamic configuration of Ethernet, MPLS, Internet, and cloud connectivity.
Telefonica, the sole Challenger of the report, allows for bandwidth on demand for MPLS, Internet, and cloud interconnect and supports bring your own (BYO) access/underlay. Two Visionaries were named to the report: Masergy and Colt Technology Services. Gartner highlighted Masergy's network services offerings for major global economies and its AIOps capabilities for analyzing network and cloud application performance to the user level. Colt Technology Services, which delivers SD-WAN based on Versa, is extending its offers, such as Colt On Demand, to locations connected via third-party access.
As one of the eight Niche Players in the report, GTT announced the sale of its infrastructure unit in October 2020 and supports customer VNFs on its NFV platform. Deutsche Telekom's network has strong coverage in Europe, with Central Europe being a chief focus; and introduced an NoD offering for Ethernet, MPLS, and Internet. Swedish vendor Telia features an extensive, high-capacity global internet backbone with high-quality peering capabilities and port speeds up to 400 Gbps. With its subsea cable infrastructure and network POPs in the APAC region, Telstra is a strong choice for enterprises operating in APAC territories.
Singtel expanded its NFV/uCPE with a range of VNFs offered from uCPE devices and 17 NFV service nodes, with good MPLS coverage in the APAC region. PCCW Global, the international arm of the incumbent provider of Hong Kong, has a growing global network presence with cloud connectivity in 27 cities. Riedel Networks focuses on midsize multinationals and the media and events sector, including delivering networking for major events around the world. Finally, China Telecom Global was named by Gartner as a strong contender for midsize networks focused on the APAC region with less complex needs.
---
Looking for a solution to help you improve your network performance? Our Network Monitoring Buyer's Guide contains profiles on the top network performance monitor vendors, as well as questions you should ask providers and yourself before buying.
Check us out on Twitter for the latest in Network Monitoring news and developments!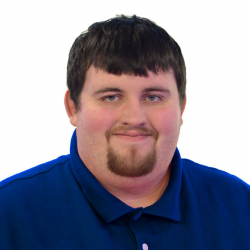 Latest posts by Daniel Hein
(see all)