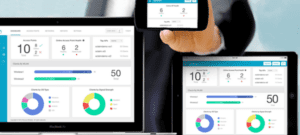 Ruckus has announced via press release the arrival of its new cloud-based management solution for its XClaim series of wireless networking solutions: CloudManager. The Amazon Cloud-based CloudManager has a number of features that Ruckus believes will set it apart from the other 802.11ac access point management solutions out there. Here's what the press release highlights:
Remote Management – CloudManager can be accessed over any wired, WiFi or cellular Internet connection. From the office, at home, or on the road, secure access to full management of an Xclaim access point deployment is just a click away.

Multi-Site – Management of one or more locations is possible from a single login to the CloudManager service, regardless of whether a business owner has a single location with one or more Xclaim access points, or multiple locations with one or more access points at each location. CloudManager brings them all together on a single screen.

Scalability – CloudManager can support an unlimited number of Xclaim access points, either from a single location with one AP or up to thousands of locations with 100 or more APs per each location, with CloudManager providing easy management through a single pane of glass.

Analytics History & Reporting – CloudManager stores one week of historical Xclaim access point data, which can be viewed in real-time at any moment.  In addition, CloudManager includes pre-configured management reports, which can be downloaded or emailed directly to third parties to facilitate records of week-by-week network performance.

Access via any Client – CloudManager uses a responsive web-browser interface, allowing access by the browser on any smartPhone, tablet, PC or Mac, with the user interface automatically adjusting to help optimally suit the client device type, designed to ensure maximum user flexibility for managing Xclaim access point deployments.

Backwards Compatibility – CloudManager will work with all existing deployments of Xclaim access points. Up to now, customers have managed their Xclaim access points with the free, downloadable Harmony for Xclaim app, a custom-developed Mobile application used exclusively with Xclaim access points, which works on both iOS and Android devices. Both existing and new customers can continue to use Harmony for Xclaim, or they can very easily convert to management in the cloud with CloudManager at no additional cost.
However, the biggest selling point Ruckus is focusing on with CloudManager is the fact that it's free, with no subscription cost for the business WLAN management solution:
Other than the cost of Xclaim APs, there are no other upfront costs, nor monthly, quarterly or annual recurring subscription fees. CloudManager is included in existing support forums and software upgrades for the Xclaim product line, both of which are also totally free for customers to access and utilize.
The XClaim line of wireless access points is fairly new too. Ruckus says that the WLAN solution set is "aimed squarely at businesses requiring a cost-effective, industrial-strength solution that bridges the gap between poor performing and featureless consumer-grade products and more costly and sophisticated enterprise class solutions that often require dedicated in-house IT expertise." The APs are available through Ruckus' network of resellers and distribution partners.
Ruckus says CloudManager will be available by the end of June, although customers can participate in the management solution's open-beta through the XClaim website. As for pricing, well, I think that point has already been made.