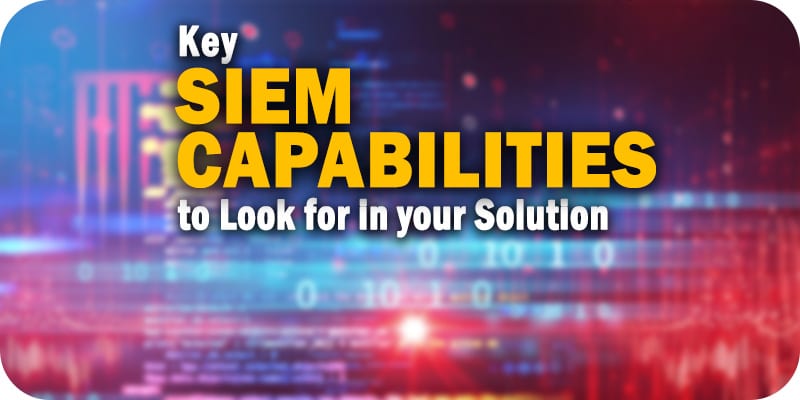 What are the key SIEM capabilities your enterprise needs? What is SIEM at its core?
Cybersecurity is undergoing a paradigm shift. Not too long ago IT security experts considered threat prevention the epitome of digital safety. Now it is being supplanted by threat detection and threat management. Hence enterprises of all sizes are reconsidering SIEM (Security Information and Event Management) solutions—one of the least understood but simultaneously one of the essential components of a comprehensive cybersecurity platform. SIEM solutions read between the lines of your other cybersecurity tools, including firewalls, endpoint protection platforms, and threat intelligence to find evidence of a potential data breach or threat infiltration.  
But what are the key SIEM capabilities your enterprise needs? What is SIEM at its core?
The Basics of SIEM Capabilities and Solutions
One of the harshest realities IT security professionals grapple with within the current cybersecurity landscape is that preventative measures, no matter how advanced, can't stop 100% of the threats attacking your IT environment. Eventually, some malware or bot will infiltrate your network. Without threat detection capabilities, these attacks can dwell on your servers for months or years, continually stealing your data or slowing down your business processes.  
At its core, SIEM capabilities include threat detection and threat management to precisely this situation. But it encompasses so much more than that, including:   
Collecting log information from security platforms, hardware, and business applications

Generating regulatory and industry compliance reports

Aggregating security data from through the enterprise IT environment

Analyzing security data in real-time

Correlating security events and detecting potential indicators of a breach

Presenting those detection indicators to security professionals
You can think of SIEM solutions as a funnel for your other cybersecurity platforms—for all of the activity data your enterprise generates. It brings all those logs together into a centralized location and reformats them into a digestible format for examination.     
At the same time, this is a surface view of SIEM capabilities. Let's dig a little deeper at the 7 Key SIEM capabilities to look for in your solution:
Log Management
One of the most understood SIEM capabilities, log management collects and stores the log files from multiple disparate hosts into a centralized location. This allows your IT security team to easily access this information. Furthermore, log management also reformats the data it receives so that it is all consistent, making analysis less of a tedious and confusing process.
Security Event Correlation
Of SIEM capabilities, this is perhaps the most essential. SIEM analyzes all of the accumulated data from its log management feature for potential signs of a data breach or threat infiltration. For example, a failed login is probably nothing. However, a failed login from the same user on multiple applications through the IT environment might be an indicator of a digital threat. And only with SIEM capabilities can you see the connection between these applications' data.      
Threat Intelligence Feed Connections
Staying up-to-date with threat intelligence—proliferation, evolution, and resolution—is vital to keeping your enterprise safe. SIEM capabilities include connecting to threat intelligence feeds, both from the solution providers' feed but third-party threat intelligence feeds. Individual feeds tend to contain unique threat data, so drawing from as many feeds as possible is key to getting the most from your solution.
Security Alerts
Your solution should be keeping your IT security team as updated as possible concerning potential threats, whether that be from dashboard updates, email alerts, or text alerts. Without this feature, your IT team might stay in the dark and let a threat dwell on your server.
Report Presentation
No matter how advanced your SIEM capabilities are, it will all be meaningless if your IT security team can't make sense of the threat intelligence it presents. Ideally, SIEM solutions should display the security information in an easy-to-digest format—via graphics or clear, clean dashboards. The alternative is having your IT security team slog through the vast log bases accumulated hunting for threats manually.
Compliance
Compliance via SIEM is not quite as important to enterprises' selection process, according to the 2017 Gartner Magic Quadrant for SIEM. Yet SIEM can collate events and logs to generate compliance reports. This can help your enterprise fulfill specific regulatory mandates while saving your IT team time and money.
Machine Learning
Among other SIEM capabilities, machine learning is new but no less essential. It allows your solution to learn to find threat indicators automatically and adapt to new information with no input from your team. This can save your team even more time and improve the effectiveness of your threat management.
Is SIEM Right For Your Enterprise?
In the earliest days of SIEM, only large enterprises adopted that kind of solution; SIEM is labor-intensive, requiring dedicated cybersecurity talent to manage. Now, the innovations in managed security services providers and the de-emphasis on compliance in favor of threat management have allowed small-to-medium-sized businesses to enjoy the detection and threat intelligence of SIEM.
If you'd like to learn more about how SIEM capabilities can benefit your enterprise, you should check out the Beginners Guide to SIEM, a free resource from AlienVault.

Latest posts by Ben Canner
(see all)