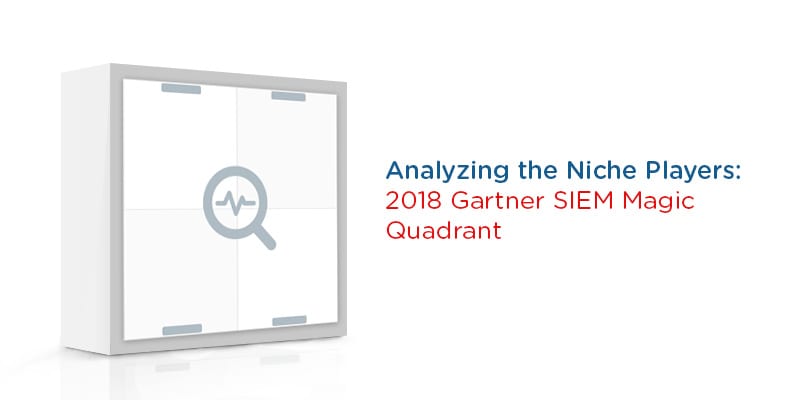 When technology research firm Gartner released their Magic Quadrant for SIEM for 2018, they identified eight solution providers as Niche Players. Those eight are AlienVault, Fortinet, Netsurion-EventTracker, LogPoint, SolarWinds, Venustech, ManageEngine, and BlackStratus.
In the report, Gartner defined the Niche Players as the providers who met who met the strict inclusion criteria for the 2018 SIEM Magic Quadrant; they offer the key capabilities and meet the market-share threshold. However, these vendors provide solutions matching more specific SIEM use-cases. Niche use-cases can include an emphasis on particular geographic regions and on specific industries and/or verticals. Niche Players can also include vendors with a focus on particular SIEM capabilities.  
However, Niche Players can actually outperform Leaders in fulfilling the needs of enterprises with specific use-cases. What are these use-cases? Who are the Niche Players in the Gartner 2018 SIEM Magic Quadrant?
We analyzed the report once more to gain some insights:
AlienVault
AT&T recently acquired AlienVault, incorporating them into their Cybersecurity Solutions division. Their Unified Security Management Anywhere solution bundles capabilities like file integrity monitoring in a SaaS delivery model. Gartner describes their implementation as straightforward.   
Fortinet
Fortinet offers out-of-the-box features with faster implementation and installation times, according to Gartner. Among their features they offer a configuration management database and system performance monitoring. Fortinet also provides tools for MSSPs and MSPs.
Netsurion-EventTracker
Netsurion-EventTracker, referred to as EventTracker in the report, serves as a central log management solution. Gartner calls them a straightforward solution for compliance and forensics. EventTracker also provides infrastructure for external threat intelligence feeds.
LogPoint
LogPoint received note from Gartner for their straightforward architecture and their collection capabilities. LogPoint's customers can implement as many collectors as they desire for their SIEM. Fortinet recently improved their security analytics capabilities; they also offer coordinated search functions.
SolarWinds
SolarWinds offers their Log & Event Manager SIEM solution. Their solution provides the core SIEM capabilities, including log collection, and compliments with other SolarWinds products; these can include network and application monitoring and a library of compliance reports.    
Venustech
Venustech provides the core SIEM functions such as log collection, normalization, and an analytics engine for threat detection. It works off big data platforms like Hadoop. Venustech also offers firewalls, Unified Threat Management, and intrusion detection.
ManageEngine
ManageEngine focuses on cloud environments, and their solutions integrate with IaaS and SaaS cloud applications. They also focus their SIEM solutions on Microsoft environments and on delivering strong information capture capabilities. ManageEngine can monitor hypervisor activities.   
BlackStratus
BlackStratus focuses on delivering SIEM solutions to large and midsized enterprises as well as MSSPs. They offer log management and reporting, real-time event management, and incident management with multi-tenancy support—ideal for MSSPs. Their solution can be delivered as a service.
While the Niche Players offer different solutions to handle different SIEM use-cases, one common theme does emerge among them. Gartner notes many of them have "low visibility" among Gartner's clients or solution buyers'.  
We hope this write-up on the Niche Players of the 2018 Gartner SIEM Magic Quadrant can help address this brand recognition issue; these seven vendors are certainly worth considering when deciding on a next-gen cybersecurity solution for your enterprise!

Latest posts by Ben Canner
(see all)