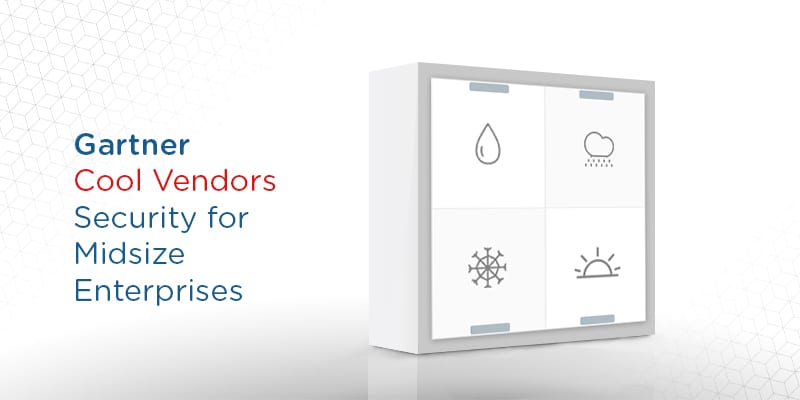 Recently, technology research giant Gartner released another "Cool Vendors" report entitled "Cool Vendors in Security for Midsize Enterprises."  
According to Gartner, "these vendors offer a compelling combination of innovation and midsize enterprise suitability. Midsize enterprise IT leaders responsible for security and risk management should familiarize themselves with these impactful approaches to improving security posture with finite resources."
It is tempting for midsized businesses, small enterprises, or start-ups to believe that hackers and other digital threat actors will pass over them to seek out larger, globally known, and thus more lucrative enterprise targets. However, nothing could be further from the truth. Hackers are more likely to target businesses that are the easiest cyber targets. Without deploying a solution for security for midsize enterprises on your network, you essentially become that easier target—laying the out the welcome may for a breach. Just because midsized enterprises don't make the headlines doesn't mean they aren't at risk in the digital world. Instead, they're the most vulnerable to the wave of amateur threat actors.   
The 3 Gartner Cool Vendors in Security for Midsize Enterprises are:
Arctic Wolf offers Security Operations Centers (SOC)-as-a-service via what they call Concierge Security Engineers and machine learning capabilities. It defines its detection capabilities as proactive, seeking out threats that have already penetrated enterprises' perimeters and providing actionable remediations.   
GuardiCore offers for its security for midsize enterprises solutions visibility and micro-segmentation to prevent data breaches and network lateral movements. Their solution can reveal application flows across your IT digital infrastructure and define segmentation policies.
OPAQ is a network security cloud company offering security-as-a-service model solutions. Their solutions feature fully encrypted SD-WAN and centralized management of cloud services and customer networks. OPAQ can also generate customizable reports for security and compliance through a singular interface.
You can download the full 2018 Gartner Cool Vendors in Security for Midsize Enterprises here.  

Latest posts by Ben Canner
(see all)