Identity Management and Information Security News for the Week of January 13; Cowbell, Simeio, Cerberus Sentinel, and More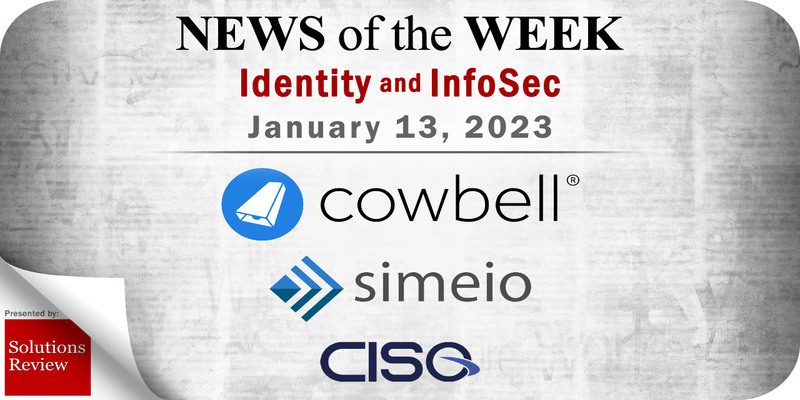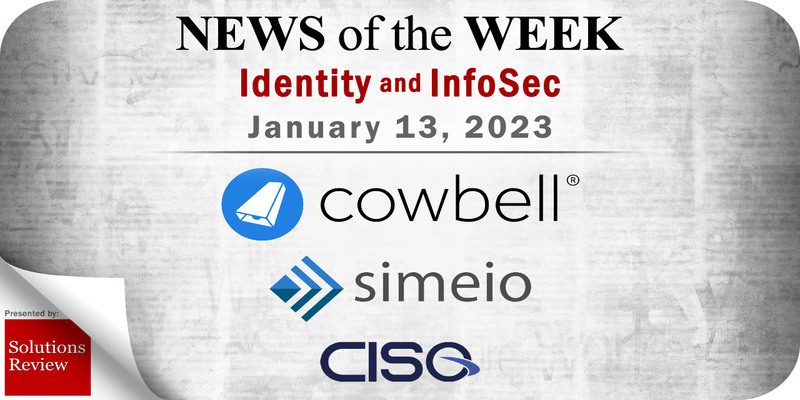 The editors at Solutions Review have curated this list of the most noteworthy identity management and information security news for the week of January 13. This curated list features identity management and information security vendors such as Cowbell, Simeio, Cerberus Sentinel, and more.
Keeping tabs on all the most relevant identity management and information security news can be a time-consuming task. As a result, our editorial team aims to provide a summary of the top headlines from the last month, in this space. Solutions Review editors will curate vendor product news, mergers and acquisitions, venture capital funding, talent acquisition, and other noteworthy identity management and information security news items.

Widget not in any sidebars

Identity Management and Information Security News for the Week of January 13
---
Cowbell Research: "Modeling Catastrophic Cyber Events"
Cowbell, a provider of cyber insurance for small and medium-sized enterprises (SMEs), has released a new whitepaper, "Modeling Catastrophic Cyber Events", which lays out a path to model catastrophic cyber events in the SME market. Cowbell's goal is to help SMEs prevent and recover from a cyber event of catastrophic proportions, providing a framework for modeling such events.
Latest Phishing Campaign Hits Zoom Users with Malware
Hackers usually target virtual communication tools such as Zoom to easily deliver malware to the user's machine. This time, according to CRIL, IcedID malware was used in a phishing campaign. A highly convincing phishing page that looked like a legitimate Zoom website was used to trick users into downloading the IcedID malware. IcedID, also known as BokBot, is a banking trojan that enables attackers to steal victims' banking credentials. When users clicked on the download button, they were prompted to get a Zoom installer file, but the latter was actually a disguised version of the IcedID malware. It's not, however, officially known if user data was stolen.
Identity Thieves Bypassed Experian Security to View Credit Reports
Identity thieves have been exploiting a glaring security weakness in the website of Experian, one of the big three consumer credit reporting bureaus. Normally, Experian requires that those seeking a copy of their credit report successfully answer several multiple choice questions about their financial history. But until the end of 2022, Experian's website allowed anyone to bypass these questions and go straight to the consumer's report. All that was needed was the person's name, address, birthday and Social Security number. Cyber-criminals learned that they could trick Experian into giving them access to anyone's credit report, just by editing the address displayed in the browser URL bar at a specific point in Experian's identity verification process. The exploit has recently been patched, but it is unclear at this time how much information had been stolen before the fix was applied.
Simeio Announces Acquisition of IAM Firm PathMaker Group
Simeio, a leader in identity and access management (IAM) solutions, has acquired identity solutions firm PathMaker Group. The acquisition of PMG is a key strategic move that complements Simeio's successful organic strategy of expanding into new industries and talent pools and adding new capabilities around identity orchestration and automation. The acquisition also strengthens Simeio's presence in the utilities, travel, and logistics industries and further expands Simeio's North American presence with its service delivery capabilities across the United States & Canada.
Cerberus Sentinel Rebrands as CISO Global; Acquires RAN Security
Cerberus Sentinel has signed a definitive agreement for the acquisition of RAN Security. Under the terms of the agreement, RAN Security will become a wholly owned subsidiary of Cerberus Sentinel. The transaction is expected to close later in the year, subject to the satisfaction of customary closing conditions, including applicable regulatory approvals. This announcement comes shortly after the recent announcement that Cerberus will be rebranding themselves to CISO Global.
Sift Appoints Former Ping Identity COO Kris Nagel as CEO
Sift, a Digital Trust and Safety solutions provider, announced that Kris Nagel has joined the company as CEO. Nagel's appointment at Sift comes as the company concluded a year of strong customer growth, strengthened the leadership team, and released several new capabilities designed to improve efficiency, data connectivity, and decision-making for fraud prevention. Nagel brings more than 30 years of experience in senior leadership positions at venture-backed and public SaaS companies from pre-revenue to $4.5B in annual sales, and from early funding to in excess of $10B in market capitalization. He most recently served as the Chief Operating Officer at identity security platform Ping Identity, where he played a critical role in taking the company public in 2019. Prior to Ping Identity, Nagel was CEO of Vindicia, an Amdocs, Ltd. Company.
Okta Teams Up with authID
authID, a provider of secure identity authentication solutions, announced this week the integration of their Verified CloudConnect platform with Okta's Workforce Identity Cloud and the expanded availability of Verified 3.0's full capabilities with Okta Customer Identity Cloud. authID's Human Factor Authentication can now help both Okta workforce and customer identity clients on their journey to eliminate passwords, prevent unauthorized access, as well as the business disruption caused by phishing attacks and compromised credentials.
---
Expert Insights Section
Watch this space each week as Solutions Review editors will use it to share new Expert Insights Series articles, Contributed Shorts videos, Expert Roundtable and event replays, and other curated content to help you gain a forward-thinking analysis and remain on-trend. All to meet the demand for what its editors do best: bring industry experts together to publish the web's leading insights for enterprise technology practitioners.
Cyber-Attacks in The Troubled Twenties: What We Learned in 2022
2022 proved to be another unsettled and uncertain twelve months for cybersecurity. Many government agencies, public and private sector organizations, and citizens found themselves victims of cyber-attacks. Unstable political conflicts, economic downturn, and the growth of high-powered and efficient hacker gangs contributed to the uptick of malicious activity. The reality is that cyber threats are increasing at the same time many businesses are becoming completely dependent on digital services, cloud computing, and other technologies to carry out their operations. These were the key trends that dominated the industry this year.
The 8 Best Courses to Become an Ethical Hacking Expert in 2023
Perhaps you're looking to expand your knowledge, build up your resume, or even take a new direction in your cybersecurity career. Whatever the reason, here are eight courses to help get you started on the path to becoming an ethical hacking expert. Online courses offered through websites like Udemy, Udacity, and LinkedIn Learning allow cybersecurity professionals to practice their ethical hacking knowledge and sharpen their skills through digital lectures and interactive guides.
20 Cybersecurity Predictions from Industry Experts for 2023
As part of the fourth annual Solutions Review #InfoSecInsightJam, we called for the industry's best and brightest to share their Identity Management, Endpoint Security, and Information Security predictions for 2023 and beyond. The experts featured represent some of the top Cybersecurity solution providers with experience in these marketplaces, and each projection has been vetted for relevance and ability to add business value.
---

Widget not in any sidebars