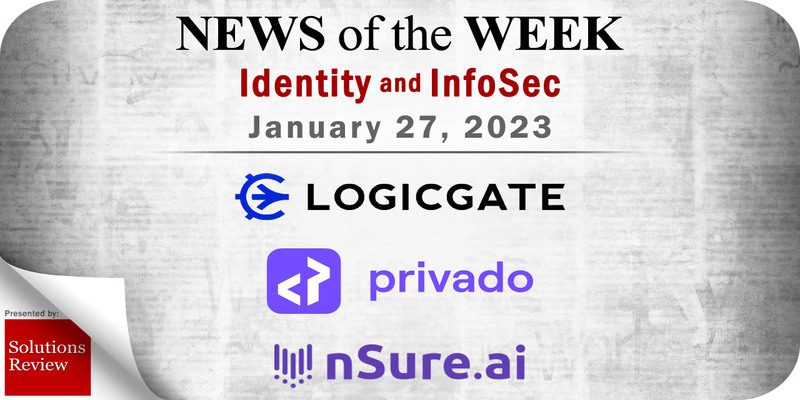 The editors at Solutions Review have curated this list of the most noteworthy identity management and information security news for the week of January 27. This curated list features identity management and information security vendors such as LogicGate, Privado.ai, Nsure.ai, and more.
Keeping tabs on all the most relevant identity management and information security news can be a time-consuming task. As a result, our editorial team aims to provide a summary of the top headlines from the last month, in this space. Solutions Review editors will curate vendor product news, mergers and acquisitions, venture capital funding, talent acquisition, and other noteworthy identity management and information security news items.
Identity Management and Information Security News for the Week of January 27
---
LogicGate Hires Nicholas Kathmann as CISO
LogicGate, a leading provider of transformative risk and compliance solutions through its Risk Cloud platform, has hired Nicholas Kathmann as its Chief Information Security Officer (CISO). A seasoned technology executive, Kathmann brings a strong track record of delivering innovative security solutions for small to medium-sized businesses and Fortune 100 enterprises. Most recently, Kathmann served as director of cybersecurity at Dell Technologies, overseeing the internal cybersecurity program as well as leading the MSSP practice under the trade name xStreamCare Services for Security and Compliance. He also played a critical role in architecting and improving Dell Technologies' Trust Platform, a comprehensive security automation and visibility technology. Before joining Dell Technologies, Kathmann managed security and compliance at VirtuStream, which Dell acquired in 2020, and bolstered his enterprise experience at Dell EMC, RSA and more.
Cowbell Launches eLearning Center "Cowbell Academy"
Cowbell, the leading provider of cyber insurance for small and medium-sized enterprises (SMEs), today announced the launch of Cowbell Academy, a unique institution that offers insurance agents and brokers lessons on cyber insurance. The program includes general classes such as Cyber Insurance 101, assessments to help brokers evaluate their level of knowledge with cyber insurance, as well as classes dedicated to Cowbell's products. Cowbell is the first cyber insurance provider to offer formalized eLearning services for insurance brokers dedicated to cyber. In a recent survey of over 500 agents and brokers, Cowbell found that 48 percent of insurance brokers and agents feel uncomfortable explaining cyber insurance to their clients. The same study found that 60 percent of clients are driven to obtain cyber insurance through increased awareness around cyber insurance, not by their brokers or agents, but instead by their peers. Although standalone cyber insurance is a direct means for small and medium-sized enterprises to get adequate financial protection from cyberattacks, coverage is not accessible to many because their primary insurance agent does not present the option to them.
Strata Secures $26M Series B Financing
Strata has closed a $26M Series B round of financing led by Telstra Ventures with participation from existing investors Menlo Ventures, Forgepoint Capital and Innovating Capital. The company has developed Maverics, a distributed identity orchestration platform that enables organizations to adopt modern cloud identity systems without the need to rewrite applications, saving millions and years of manual migration. Strata has raised more than $42M in financing to date and will use the additional funds to further scale sales and marketing, go to market activities and customer success initiatives.
Data Privacy Day: Privado Flags Data Privacy Challenges In 2023
In light of Data Privacy Day 2023, data privacy vendor Privado announced this week their pick for Data Privacy All-Stars and Rising Stars, recognizing the efforts of these individuals within their industry as they share their insights on the challenges that lie ahead in 2023. Privado received over 2,000 nominations for its inaugural Data Privacy Stars listing. The list recognizes All-Star and Rising Star recipients for the exceptional work done by individuals who are taking privacy and security to the next level within their organization and beyond by spreading awareness of data privacy across the world. The All-Stars 2023 list celebrates those who have considerable data privacy related achievements to show over the years. The Rising Stars 2023 list commends those who are passionately driving data privacy initiatives.
Hackers Demand $10M From Riot Games to Stop Source Code Leak
Hackers stole the source code for League of Legends, and now they're asking for $10 million from developer Riot Games. Motherboard has obtained a copy of a ransom email the hackers sent to Riot Games. "Dear Riot Games," it begins. "We have obtained your valuable data, including the precious anti-cheat source code and the entire game code for League of Legends and its tools, as well as Packman, your user mode anti-cheat. We understand the significance of these artifacts and the impact their release to the public would have on your major titles, Valorant and League of Legends. In light of this, we are making a small request for an exchange of $10,000,000."
Dig Security Welcomes Yotam Ben Ezra as Chief Product Officer
Dig, the cloud data security leader, announced the appointment of Yotam Ben Ezra as Chief Product Officer (CPO). Ben Ezra's appointment comes amid Dig's continued growth and expansion. Ben Ezra is a cybersecurity industry veteran with more than fifteen years of experience in product leadership roles. Prior to joining Dig, Ben Ezra served as the Chief Product Officer at SafeBreach, the pioneer in breach and attack simulation (BAS). He has held multiple leadership roles in research and product sectors at leading organizations including Radware and Check Point Software Technologies. Ben Ezra has a proven track record of leading teams through each step of a product's development, research and development (R&D), product design and product marketing, to help organizations meet and exceed their business goals.
Code42's IRM Products Now Available in AWS Marketplace
Code42 Software, Inc., an Insider Risk Management (IRM) solutions provider, announced its flagship IRM products – Code42 Incydr, Code42 Instructor and Incydr Gov – are now available as a subscription offering in AWS Marketplace, a digital catalog with thousands of software listings from independent software vendors that make it easy to find, test, buy, and deploy software that runs on Amazon Web Services (AWS). The award-winning Incydr product is also available in AWS Marketplace as a free trial.
Arrow Electronics Signs with QuSecure to Broadly Distribute PQC
QuSecure, Inc., a leader in post-quantum cybersecurity (PQC), announced this week it has signed a software distribution agreement with Arrow Electronics, Inc., a Fortune 104 value-added distributor. Now QuSecure's QuProtect software is available to Arrow Electronics' more than 220,000 commercial and federal channel partners to help them secure networks, communication and data from classical and quantum cyberattacks. By teaming with QuSecure, Arrow is now the first large technology company to broadly distribute PQC.
nSure.ai Further Grows Leadership Team
nSure.ai, an AI-powered technology that helps retailers of high-risk digital goods grow their businesses by preventing fraud, has announced three new additions to the organization. Tomer Barel will join as Board Advisor, Pascal Podvin as Chief Revenue Officer, and Joe Scotto as Chief Marketing Officer. The startup is focused on bringing top and bottom-line growth to organizations threatened by high chargebacks, loss of potential new customers, and ongoing fraudulent activity. With an expected 16 percent increase in digital commerce fraud, reaching $48 billion in 2023, the company is actively accelerating its path to market leadership with its new hires.
---
Expert Insights Section
Watch this space each week as Solutions Review editors will use it to share new Expert Insights Series articles, Contributed Shorts videos, Expert Roundtable and event replays, and other curated content to help you gain a forward-thinking analysis and remain on-trend. All to meet the demand for what its editors do best: bring industry experts together to publish the web's leading insights for enterprise technology practitioners.
A Macro Look at How Cybersecurity VCs Screen Startups
You might already be aware of the increasing technological progress; the boom in the cybersecurity landscape has forced cybersecurity VCs to invest in emerging startups. Cybersecurity investment has gotten so hot that it has caught the attention of many investors from Silicon Valley. Cybersecurity startups are now seeing more than double the amount of funding compared to a couple of years back. Cybersecurity VCs have been investing in the cybersecurity space for a more extended period compared to traditional VCs, as a result of which they can also offer higher valuations to early-stage startups, especially those promoting technological innovations. Let's look at some of the aspects considered by cybersecurity VCs while they plan to invest in budding startups in the cybersecurity landscape.
31 Data Privacy Week Comments from Industry Experts in 2023
As part of Data Privacy Week (January 22-28) we called for the industry's best and brightest to share their Identity Management, Endpoint Security, and Information Security comments. The experts featured represent some of the top Cybersecurity solution providers with experience in these marketplaces, and each projection has been vetted for relevance and ability to add business value.
---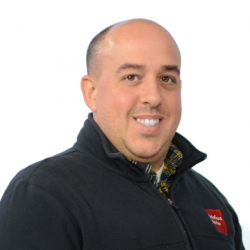 Latest posts by Mike Costello
(see all)