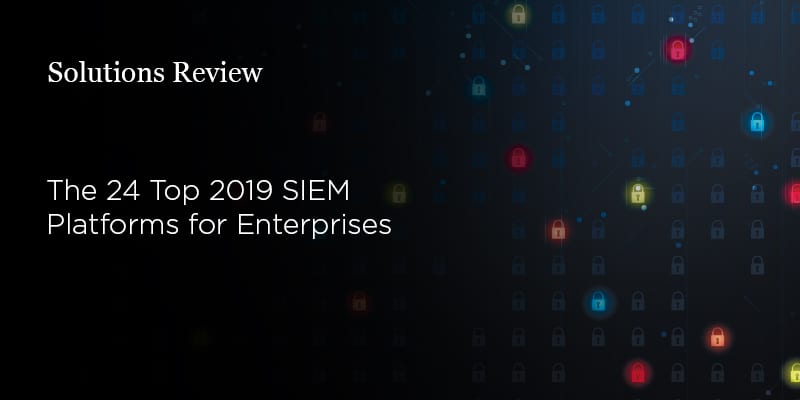 Overall, cybersecurity is changing. Once, it focused on prevention—keeping the threats out. Enterprises used SIEM solutions to fulfill their compliance reporting mandates.
However, now the threat landscape proves increasingly daunting. The top 2019 SIEM platforms must also help enterprises with their log management, security event correlation, and alerting efforts. Additionally, most next-generation solutions also provide managed services and contextualization.
In summary, cybersecurity shifted from prevention to detection and remediation; threats just enter and dwell within enterprise networks far too easily for enterprises to focus on prevention alone. Hence the growing importance on the top 2019 SIEM platforms.
To help with your research, we compiled the 24 top 2019 SIEM platforms for enterprises. Here they are, organized alphabetically.
The 24 Top 2019 SIEM Platforms for Enterprises
Alert Logic
Alert Logic suits small to mid-sized companies, especially those operating primarily on, or those planning to migrate to, the cloud via digital transformation. In fact, their expertise can be a boon to overworked IT departments, especially important during the current cybersecurity staffing crisis. Overall, Alert Logic's 2018 indicates their investment in replacing legacy SIEM solutions.
AT&T Cybersecurity
The ease-of-use and speed-to-deployment of the AlienVault Unified Security Management (USM) platform, provided by AT&T Cybersecurity, makes it a good fit for enterprises with a smaller staff and limited security budget. Additionally, their selection to the 2018 Gartner Peer Insights Customers' Choice for SIEM indicates their enterprise customers appreciate the USM Solution.
BlackStratus
Among the Top 2019 SIEM platforms, BlackStratus has been expanding its features and its integration and aims to fit businesses of all sizes. Thus it is a good fit for service providers requiring a customizable SIEM platform, and for service-centric end-user organizations looking for well-formed multi-tenancy support. Also, Gartner named BlackStratus to their Magic Quadrant.
CorreLog
An affordable and easy to implement SIEM and email security solution, CorreLog is a good option for smaller to mid-sized businesses. Their solution is also of interest to enterprises of all sizes worried about phishing attacks, the most common attack tactic of external hackers. CorreLog's solution also provides strong maintenance and technical support and is easy to deploy.
Cygilant
Cygilant is a good option for small and mid-sized enterprises who need to protect themselves against cyber attacks but lack IT or cybersecurity resources or on-staff expertise. Their solutions help enterprises manage their IT infrastructure costs while improving their IT security. Indeed, Cygilant deliberately designs their solutions to help lean IT staff with limited budgets.
Exabeam
Exabeam was named to Gartner's 2018 SIEM Magic Quadrant as a Leader, which singled out their granular role-based data and workflow capabilities. Their licensing approach—based on the number of users in an enterprise— and their customization options due to their deployment-based model have also received praise. Additionally, Exabeam was classified as a Strong Performer in the Forrester Wave for Security Analytics.
Fortinet
The Fortinet FortiSIEM solutions serve organizations with remote sites and managed security services providers (MSPs) well as part of their networks. Their solution proves well-suited for enterprises and MSPs that need a combination of security monitoring and APM with integrated CMDB capabilities. Also, Fortinet was named to the Gartner 2018 SIEM Magic Quadrant and the Forrester Wave for Security Analytics.
IBM
The IBM QRadar solution works well for midsize to large enterprises with general SIEM requirements. In addition, it works for use cases requiring behavior analysis, network flow, and packet analysis; IBM works to expand over these capabilities over the past few years. Furthermore, IBM has been named a Leader in the Integrated Risk Management Magic Quadrant and a Leader in the 2018 SIEM Magic Quadrant.
Lacework
Solutions by Lacework work to bring automation, speed, and scale to cloud security by enabling enterprises to securely innovate in the cloud. Lacework designs their solution to self-adapt to the cloud's ever-changing configuration and workloads. The Lacework team focuses on giving customers visibility and control over their cloud operations at cloud scale, placing it among the top 2019 SIEM platforms.
Logentries
Logentries is a good solution for companies looking for aggregated log management and security event correlation across their entire IT infrastructure. Because it is easy to use, LogEntries can appeal to small, large, and midsized enterprises interested in behavioral analytics. Logentries specializes in PCI DSS compliance, which may appeal to consumer-facing enterprises.
LogPoint
LogPoint offers SIEM solutions to smaller companies with limited budgets and operational capabilities, as well as large, complex multinational enterprises. They have a reputation for easy deployment and solid support. Large companies may be interested to note that LogPoint has been focusing on cloud migration as of late. Also, LogPoint was named by Gartner to the 2018 SIEM Magic Quadrant Report.
LogRhythm
As one of the top 2019 SIEM platforms, LogRhythm primarily caters to companies that desire an end-to-end workflow that sorts through security alert noise and quickly discovers, investigates, and responds to cyber threats via SIEM, security analytics, and network/endpoint monitoring solutions. LogRhythm has been named as a Leader in the 2018 SIEM Magic Quadrant.
Logsign
Logsign's SIEM platform offers scalable and easy-to-use security intelligence, log management, and compliance reporting for companies of all sizes. Its reporting capabilities prove extensive compared to its competitors. This can be a huge benefit to companies for whom regulations are their largest SIEM concern. Further, the freemium community edition provides a good way to test the solution before investing in it fully.
ManageEngine
ManageEngine offers a cost-effective solution for small and mid-sized businesses and enterprises. They also offer a pay-as-you-go pricing model coupled with the ability to scale services up or down as needed, ideal for enterprises looking to expand their footprint. Enterprises interested in cloud migration will note recent public cloud services partnerships by ManageEngine.
McAfee
McAfee Enterprise Security Manager serves enterprises looking for an integrated security framework that includes advanced threat defense or monitoring of industrial control systems. The Forrester Wave report for Security Analytics named McAfee a Strong Performer, and the Gartner 2018 SIEM Magic Quadrant named them a leader for their UEBA/analytics offerings and its leveraging of big data technologies.
Micro Focus
Micro Focus' ArcSight ESM works to secure large-scale deployments with comprehensive in-house security support. ArcSight Express designs its capabilities for midsize deployments and businesses. Micro Focus was named a Strong Performer in the Forrester Wave Report for Security Analytics and a Challenger in the Gartner SIEM Magic Quadrant.
RSA
RSA designs their solutions for security-conscious companies that need log-based and network-level monitoring for threat detection and investigation and have an incident response team. Their logging and documentation capabilities are solid. Additionally, RSA offers good support to help with any deployment issues. RSA was named a leader in the Forrester Wave Security Analytics report.
Seceon
Seceon aiSIEM solution can assist enterprises interested in building an AI-assisted SOC to protect their on-premise and/or cloud assets while working to improve the effectiveness of their security analysts and significantly reducing their TCO. aiSIEM can be deployed as a standalone solution in cloud, on-premise, or hybrid environments and can scale horizontally to surface prioritized alerts and automatically contain/eliminate those threats.
Securonix
In Gartner's 2018 SIEM Magic Quadrant, they praised Securonix's flexible delivery models and its data management capabilities. Their use cases can extensively support out-of-the-box content. In addition, they can ingest a wide set of data sources. Customers praise its ease of implementation and give it positive feedback overall. They were also a Strong Performer in the Forrester Wave.
SolarWinds
SolarWinds MSP can provide MSSPs, MSPs, MDRs and IT Pros of all sizes—especially small-to-midsize providers—with a centralized command hub for threat monitoring, threat response, and threat intelligence. The Threat Monitor Platform allows for easy adoption and integration and offers a smooth compliance report generation for MSSPs through report templates. SolarWinds MSP works to reduce MSPs' and MSSPs' overhead in cybersecurity.
Splunk
Splunk continues to add machine learning-based user behavioral analytics to better detect threats and has a full suite of solutions that allows for growth into the platform. Companies looking for a customizable SIEM platform in order to support analytic functions and third-party integration may find a potential solution here. Splunk has been recognized by the SIEM Magic Quadrant by Gartner.
Sumo Logic
Sumo Logic offers a flexible and market dynamic payment options for their solution, which works well with companies of all sizes. Its price points are competitive for the market, and it's entirely cloud-based and maintenance free. Their partnership with Okta provides them access to identity management research and technology. This helps place them among the top 2019 SIEM platforms.
Tenable
Tenable provides options for organizations of all sizes, from small businesses to large enterprises. For the most part, Tenable is used by large enterprises, companies, and organizations; it offers the capabilities suited for their large data volume demands. Deployment is reportedly easy and fast. Tenable's provides scanning capabilities considered thorough and well-regarded, great for those interested most in threat management.
Trustwave
Trustwave would be a good choice for midsized organizations seeking SIEM that will offer a variety of technologies and service options to meet compliance and threat management requirements simultaneously. They've integrated with numerous telecommunications companies, indicating their effectiveness in high-speed environments. They were also named to the Gartner 2018 Managed Security Services Worldwide Magic Quadrant Report.
Want to learn more about the 24 top 2019 SIEM platforms? You can check out our Buyer's Guide! We explore the vendors in even more depth, including their key capabilities! Check it out!

Latest posts by Ben Canner
(see all)