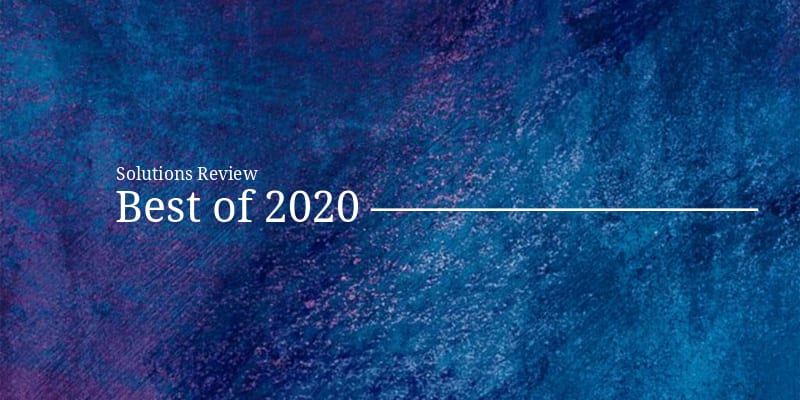 Solutions Review's listing of the top SOAR vendors is an annual mashup of products that best represent current market conditions, according to the crowd. Our editors selected the top SOAR products based on each solution's Authority Score, a meta-analysis of real user sentiment through the web's most trusted business software review sites and our own proprietary five-point inclusion criteria.
Who are the eight best Security Orchestration, Automation, and Response (SOAR) security companies for 2020?
Cybersecurity doesn't stand still. In fact, it can't afford to stand still. Hackers continue to innovate their cyberattacks to become increasingly more evasive and damaging. Moreover, businesses need to deal with the increasing complexity of their IT infrastructures. Every day, with the influx of new devices, cloud databases, and applications, it becomes harder to manage security workflows and automate.
Therefore, enterprises have begun to turn away from traditional cybersecurity solutions and seek out SOAR security companies. After all, SOAR allows businesses to aggregate and analyze security information from a diverse set of solutions, including SIEM. Using this data, these solutions can effectively automate security investigations, threat hunting, and remediation. Thus, SOAR can help your IT security team improve and speed its incident response—a key component to modern cybersecurity.
However, selecting the best SOAR company to work with can prove a daunting task. We're here to help. That's why our editors have compiled this list of the 22 SOAR security companies to consider when researching new solutions.
Check out our online SOAR and SIEM best practices for even more guides, advice, and how-to content. Note: the vendors are listed in alphabetical order.
The 8 Best SOAR Security Companies for 2020
Cyberbit
Cyberbit offers a SOAR product called SOC 3D. SOC 3D focuses on orchestration, automation and big data investigation for enterprise security operations centers. Also, the solution provides a playbook builder for smoother playbook creation and editing, which facilitates incident response. The company offers Cyberbit Range for training and simulation, SCADAShield for visibility and threat detection, and Cyberbit EDR. 
Demisto
The Demisto platform allows IT teams to manage incidents and automate and standardize the incident response process. Users can collaborate on incident investigations via a collection of machine learning features that support incident triage and insight delivery to SOC analysts. Additionally, Demisto touts a "War Room" for enterprise analysts which allows them to run auto-documentation. Therefore, it belongs on the list for the best SOAR security companies for 2020 
IBM
IBM offers its IBM Resilient for SOAR product alongside a portfolio of other cybersecurity and identity solutions. This solution offers workflow, case management, and orchestration and automation features. The tool is heavily reliant on machine learning to hasten incident response. Resilient is available on-prem, via a Security-as-a-Service model, or as an MSSP offering. Moreover, IBM Resilient receives attention for its simple installation and granular programming. 
Rapid7
Rapid7 offers SOAR capabilities through its InsightConnect product. The solution helps enterprise security analysts to optimize their security operations. Moreover, Rapid7 touts a library of several hundred plug-ins, as well as a visual workflow builder that requires little to no code. Notable capabilities include vulnerability management (InsightVM) and cloud SIEM with embedded UEBA solutions (through InsightIDR) that allow customers to automate key processes. 
ALERT: Hackers don't wait for world crises to end. Our
Buyer's Guide for SIEM
helps you evaluate the best solutions for your business use case and features profiles of the leading profiles, as well as a category overview of the marketplace.
Siemplify
Siemplify offers an easy-to-use user interface for enterprise SOC activities in its SOAR solution. The product provides context-driven investigation capabilities that visually correlate incidents. Additionally, Siemplify can group alerts to reduce analyst response time as well. The tool features case management, incident alert flows to SOC analysts and utilizes machine learning to prioritize and                                                            suggest incident response handling based on past experience.
Splunk
Splunk offers a security orchestration, automation and response product called Splunk Phantom. The solution includes orchestration and automation capabilities alongside on-prem case management. Also, Phantom features centralized visualization through Phantom Mission Control, as well as recommendations through Mission Guidance. Also, Splunk uses an events-per-day (EPD) model that defines events based on which are acted upon inside the tool. 
Swimlane
Swimlane's SOAR platform focuses on the orchestration and automation of existing enterprise security controls and rote tasks. It can interact with hundreds of APIs from an organization's existing technology stack. Swimlane even lets you reuse existing scripts, and customers can develop playbooks that visually represent complicated security operations workflows via drag-and-drop. Furthermore, the tool's analytics and automated can be incorporated into security operations as well.
ThreatConnect
ThreatConnect's SOAR solution offers a unique product architecture that brings together threat intelligence and security orchestration. The provider offers an expansive ecosystem of integrations as well. ThreatConnect draws its intelligence from internal components and third-parties, which is then fed to enterprise security processes and workflows. Moreover, the company has enhanced its SOAR capabilities in recent months to include upgraded threat intelligence and automation. 
Thus, we wrap up our list of the best SOAR security companies for 2020. Also, you can learn more about SOAR vendors in our SOAR Buyer's Guide.

Latest posts by Ben Canner
(see all)