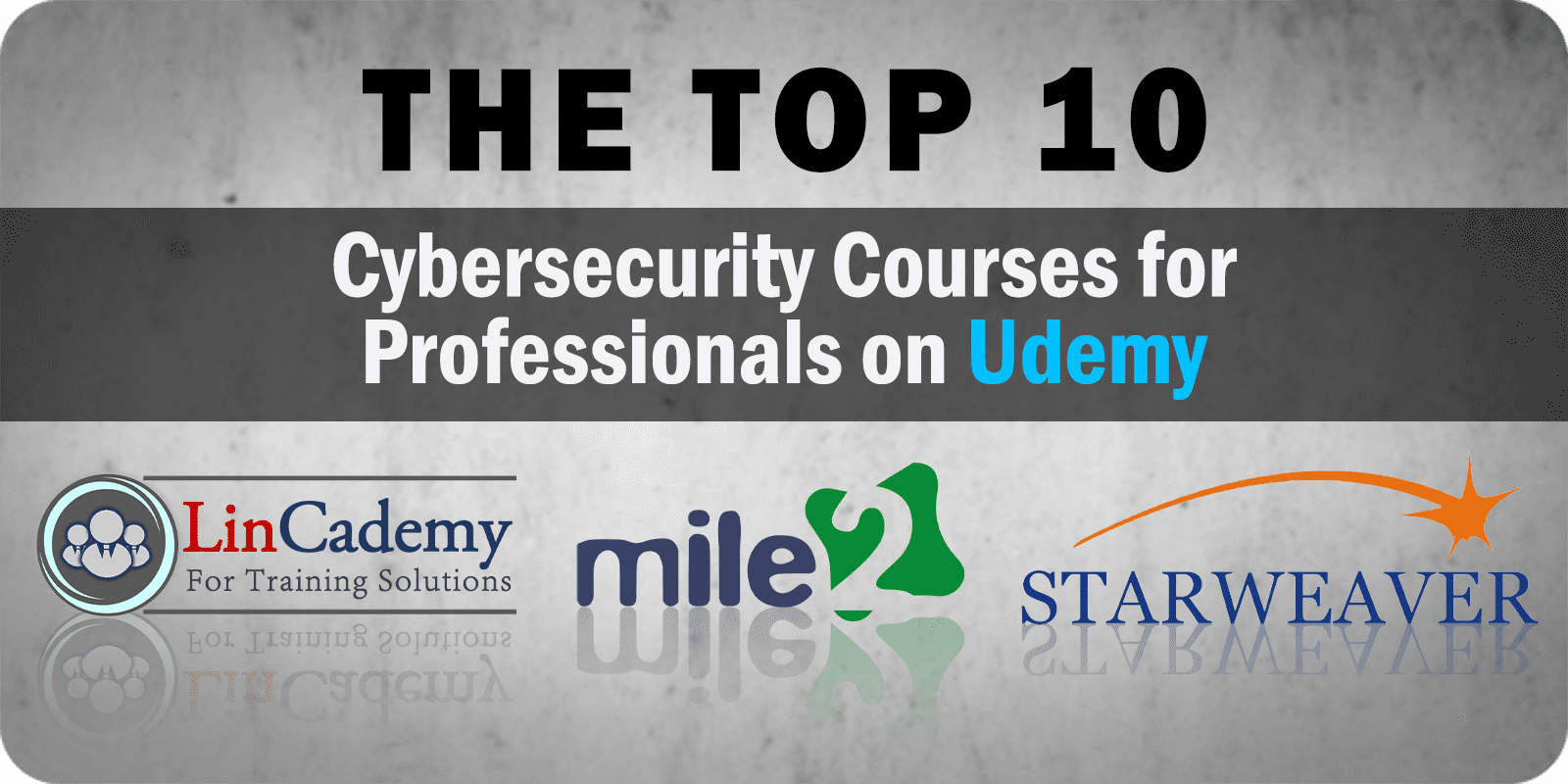 Solutions Review lists the top 10 cybersecurity courses you can take on Udemy right now that every security professional should consider taking.
Are you a security operations professional or cybersecurity engineer looking to gain new knowledge in networking or brush up on your skills? Do you want to earn a cybersecurity certification but you don't know how to prepare yourself for the exams? Online courses offered through websites like Udemy allow cybersecurity professionals to practice their InfoSec knowledge and sharpen their skills through digital lectures and interactive guides.
Below, we've listed 10 cyber courses you can take on Udemy right now that are great resources for networking professionals. We've also included links to the courses on Udemy's website where you can enroll in any course you want. Udemy gives you lifetime access to each course you sign up for, and all courses are backed by Udemy's 30-day money-back guarantee.
*Note: Prices of courses may vary among cybersecurity courses.
The Top 10 Cybersecurity Courses on Udemy
Our Take:
Mohammad Adly is a Ph.D in cybersecurity, certified in multiple InfoSec fields, and highly published. 
Description: This course, designed for cybersecurity beginners and IT security officers, explains the security essentials for a given IT organization. Lessons include how to create a secure base from scratch, how to review existing security infrastructure, and how to pursue a career in cybersecurity.  Also, the material is based on IT security curricula such as SANS, CEH, and more.   
Our Take:
LinCademy for Training Solutions focuses on self-development, and competency and career development, the organization develops, enhances, and promotes selected skill-sets.
Description: Another name suggested by the course teachers is "Cybersecurity for Everyone." While designed for beginners, this content can benefit everyone including professionals. The course covers cybersecurity fundamentals, protecting mobile devices, and protecting organizations against cyberthreats. Additionally, it can provide information on differentiating between types of malware and developing effective prevention methods. 
Our Take:
Jason Dion is a former college professor and the lead instructor at Dion Training Solutions. he has experience in both education and InfoSec. 
Description: This course can help more intermediate cybersecurity professionals by providing the information necessary to take and pass the CompTIA CySA+ (CS0-001 or CS0-002) certification exam; this certification is a vendor-neutral certification that validates your knowledge and ability to conduct intermediate-level cybersecurity skills. Therefore, the information taught in the course includes understanding threat and vulnerability management concepts and how to conduct a cyber incident response. In fact, the course also comes with a practice test. 
Our Take:
The Starweaver Team is a media company that delivers connected education experiences online for technology and business pros. 
Description: Here's a cybersecurity course that could prove well-suited to both beginner and intermediate security professionals; it is described as a short but intense certification program in cybersecurity. Thus, this course enables students to explain and apply essential cybersecurity defensive strategies, articulate fundamental InfoSec issues, and understand penetration testing. The course even allows learners to earn a certification from the Starweaver Institute.  
Our Take:
Comptia Cysa offers 10 years of experience in cybersecurity and develops high-quality training content. 
Description: CompTIA Cybersecurity Analyst (CySA+) Certification. CompTIA Cybersecurity Analyst (CySA+) is an IT workforce certification that applies behavioral analytics to networks and devices to prevent, detect and combat cybersecurity threats. Thus, this course helps students learn about the certification, understand vulnerability and threat management concepts, and perform data analysis. Therefore, the course assists IT security analysts, vulnerability analysts, and threat intelligence analysts. Additionally, it can also help with configure and use threat detection tools.  
Our Take:
Packt Publishing creates developer learning courses and has an extensive library of content. 
Description: Among the cybersecurity courses listed here, this one strives to teach how to think like a hacker. The lessons featured in this course include different types of cyberattacks, their execution, and vulnerability assessment. Also, the course allows learners to discover first-class tools for ethical hacking and explore technology of cyber espionage. IT Professionals, Penetration Testers, System Administrators, and Information Security Consultants can all benefit from this class.   
Our Take:
Mile2 is a developer of proprietary, vendor-neutral cybersecurity certifications which are accredited by the NSA's CNSS 4011-4016.
Description: Another more intermediate course, this course requires a minimum of a year working in networking technologies and basic knowledge of Linux. However, the certification offered is valuable; The Certified Incident Handling Engineer vendor-neutral certification is designed to help Incident Handlers, System Administrators, and any General Security Engineers understand how to plan, create and utilize their systems in order to prevent, detect and respond to attacks. This course covers the same objectives as the SANS® Security 504 training and prepares students for the GCIH® and CIHE certifications.
Our Take:
Mile2 is a developer of proprietary, vendor-neutral cybersecurity certifications which are accredited by the NSA's CNSS 4011-4016.
Description: This course is designed for intermediate professionals with at least a year in information security management. Upon completion, students of the CISSO can establish industry acceptable cybersecurity and information security management with best practices. Additionally, they receive the information necessary to take the CISSO exam. According to the instructors, CISSO can implement and maintain cost-effective security controls.  
Our Take:
Bryson Payne is the Director of the Center for Cyber Operations and a tenured full Professor of Computer Science at the University of North Georgia. 
Description: Another entry among the beginner cybersecurity courses, this course teaches ethical hacking and endpoint security. As such, it teaches students how to test for security vulnerabilities using hackers' tricks and how to avoid phishing and ransomware attacks. The course provides practical examples and ethical hacking exercises.  
Our Take:
Mile2 is a developer of proprietary, vendor-neutral cybersecurity certifications which are accredited by the NSA's CNSS 4011-4016.
Description: The vendor-neutral Certified Penetration Testing Engineer certification course is based on the 5 key elements of penetration testing. Also, it is designed around principles and behaviors used to combat malicious hackers. It is designed for information system owners, security officers, ethical hackers, and penetration tests, among others. 
You can learn more about Udemy's cybersecurity resources here. Additionally, you can also check out our Buyer Guide for information on the top solution providers in SIEM.  
Solutions Review participates in affiliate programs. We may make a small commission from products  purchased through this resource.

Latest posts by Ben Canner
(see all)