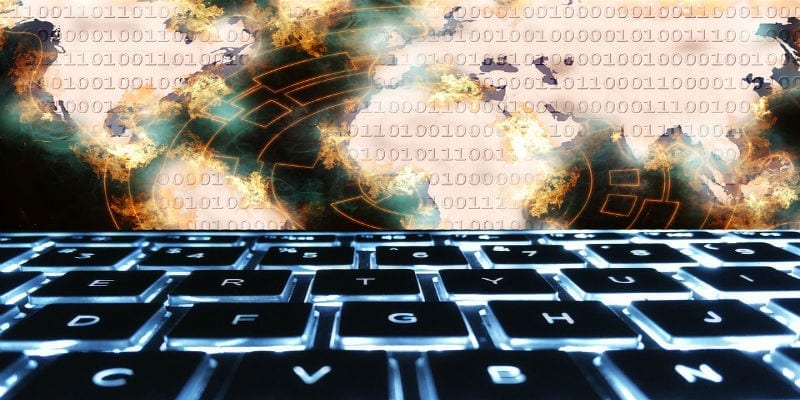 Solutions Review compiles the 5 essential cybersecurity intelligence books professionals need to add to their reading lists.
Cybersecurity intelligence remains a key component of InfoSec policies and protocols. Gathering intelligence prior to an attack can help prevent a breach, and gathering intelligence during a breach can help mitigate an attack. We've listed the top five cybersecurity intelligence books professionals should add to their reading lists. These books are intended for beginners and experts alike and are written by authors with proficiency and/or recognition in the field of cybersecurity.
Be sure to also consult our SIEM Buyer's Guide for information on the top solution providers on threat intelligence. It's the perfect resource if you don't want your organization to suffer from attacks hidden in your logs.
Note: Titles are listed in no particular order.
Top Five Cybersecurity Intelligence Books for Professionals
Intelligence-Driven Incident Response: Outwitting the Adversary
By Scott J. Roberts and Rebekah Brown
"Using a well-conceived incident response plan in the aftermath of an online security breach enables your team to identify attackers and learn how they operate. But, only when you approach incident response with a cyber threat intelligence mindset will you truly understand the value of that information. With this practical guide, you'll learn the fundamentals of intelligence analysis, as well as the best ways to incorporate these techniques into your incident response process. Each method reinforces the other: threat intelligence supports and augments incident response, while incident response generates useful threat intelligence. This book helps incident managers, malware analysts, reverse engineers, digital forensics specialists, and intelligence analysts understand, implement, and benefit from this relationship."
Practical Cyber Intelligence: How action-based intelligence can be an effective response to incidents
By Wilson Bautista Jr. 

"Cyber intelligence is the missing link between your cyber defense operation teams, threat intelligence, and IT operations to provide your organization with a full spectrum of defensive capabilities. This book kicks off with the need for cyber intelligence and why it is required in terms of a defensive framework…By the end of this book, you will be able to boot up an intelligence program in your organization based on the operation and tactical/strategic spheres of Cyber defense intelligence." 
The Threat Intelligence Handbook: A Practical Guide for Security Teams to Unlocking the Power of Intelligence
Edited by Chris Pace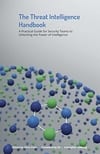 "It's easy to find descriptions of what threat intelligence is. But it's harder to learn how to use it to truly make your organization safe from cybercriminals. How can threat intelligence strengthen all the teams in a cybersecurity organization? This book answers this question. It reviews the kinds of threat intelligence that are useful to security teams and how each team can use that intelligence to solve problems and address challenges. It discusses how security analysts in the real world use threat intelligence to decide what alerts to investigate (or ignore), what incidents to escalate, and what vulnerabilities to patch." 
The Cyber Intelligence Handbook: An Authoritative Guide for the C-Suite, IT Staff, and Intelligence Team
By David M. Cooney Jr. (Author), Muireann O'Dunlaing (Editor), Mark McGibbon (Foreword)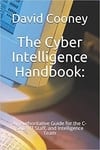 "Readers will learn:•What cyber intelligence is and how to apply it to deter, detect, and defeat malicious cyber-threat actors targeting your networks and data;•How to characterize threats and threat actors with precision to enable all relevant stakeholders to contribute to desired security outcomes;•A three-step planning approach that allows cyber intelligence customers to define and prioritize their needs;•How to construct a simplified cyber intelligence process that distills decades of national-level intelligence community doctrine into [sets] of clearly defined, mutually supporting actions that will produce repeatable and measurable results from the outset."
Go to this book
Open Source Intelligence Techniques: Resources for Searching and Analyzing Online Information
By Michael Bazzell 
"It is time to look at OSINT in a different way…The new OSINT professional must be self-sustaining and possess their own tools and resources. You will become a more proficient subject matter expert who will be armed with the knowledge and readiness to articulate the sources of your findings. Aside from eleven brand new chapters, hundreds of pages have been updated to keep your OSINT investigative methods fresh. Furthermore, an entire new section featuring Methodology, Workflow, Documentation, and Ethics provides a clear game plan for your next active investigation."
Thanks for checking out our list of top five cybersecurity intelligence books for professionals. Be sure to also check out our SIEM Buyer's Guide.
Solutions Review participates in affiliate programs. We may make a small commission from products  purchased through this resource.

Latest posts by Ben Canner
(see all)