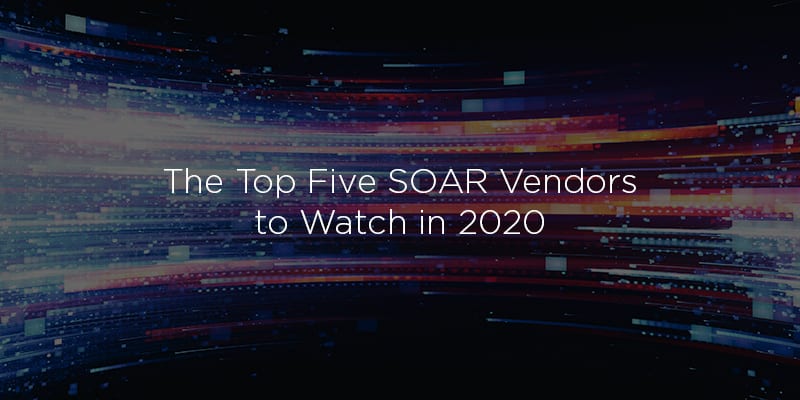 Solutions Review's Security Orchestration, Automation, and Response (SOAR) to Watch is an annual listing of solution providers we believe are worth monitoring. Companies are commonly included if they demonstrate a product roadmap aligning with our meta-analysis of the marketplace. Other criteria include recent and significant funding, talent acquisition, a disruptive or innovative new technology or product, or inclusion in a major analyst publication. 
Who are the top SOAR Vendors to Watch in 2020? 
As we enter the new decade, we begin to see a disruption of the SIEM marketplace. Enterprises increasingly look to automate and optimize their cybersecurity workflow processes. Additionally, they seek to unify the cybersecurity data inputs generated by disparate solutions like SIEM. With the dissolution of the traditional digital perimeter, business IT security teams look to speed their incident response.  
Therefore, early adopter enterprises now turn to SOAR solutions. These tools set forth data orchestration through solution integration to facilitate security automation in a single interface. Also, SOAR provides dashboards, reporting and threat intelligence features as well as machine learning to bolster incident management. 
SOAR platforms offer a look into the future of organizational cybersecurity. Thus, Solutions Review is proud to present our Five SOAR Vendors to Watch in 2020. Here they are:
The Five SOAR Vendors to Watch in 2020
Demisto 
Early in 2019, Palo Alto Networks acquired Demisto; Demisto continues to deliver security operation center (SOC) optimization through a singular platform. Additionally, researchers at Analyst house Gartner named Demisto a Cool Vendor in Security Operations and Vulnerability Management in 2018. Only time will tell what 2020 has in store for Demisto. 
Rapid7
2019 certainly proved successful for Rapid7. Its InsightIDR platform is now available in the Amazon Web Services Marketplace. Also, Rapid7 appeared in the Forrester Wave for Vulnerability Risk Management; meanwhile, it appeared in the March 2019 Gartner Peer Insights Customers' Choice for Vulnerability Assessment. Finally, Rapid7 acquired NetFort last year to supplement its Network Traffic Visibility and Analytic capabilities.     
Siemplify 
Where to start with Siemplify? It recently released a new version of its SOAR platform, with an eye toward scalability and enterprise migration to the cloud. Moreover, it also received recognition as a finalist in the Black Unicorn Awards. Also, Siemplify closed $30 million in new venture capital in 2019. It earned a spot in the SOAR Vendors to Watch in 2020 for a reason. 
Swimlane
Swimlane made the most of 2019. First, it received recognition as a finalist in the inaugural Black Unicorn Awards. Also, Swimlane received note from the 2019 InfoSec Awards specifically regarding its SOAR technologies. Moreover, the company's recent $23 million-dollar venture capital injection rounds out its banner 2019. Swimlane offers a Microsoft partner integration as well, and continues to innovate in the alert fatigue and cybersecurity staffing spaces. 
ThreatConnect
Last but not least, we find ThreatConnect. Recently, the 2020 SC Awards named ThreatConnect an Excellence Award finalist in Customer Service. The company also won an award from CyberSecurity Breakthrough for its SOAR solution. Additionally, ThreatConnect appeared on the Inc. 5000 for the second year in a row.
In conclusion, to learn more about the five SOAR Vendors to watch in 2020, download our brand-new Buyer's Guide. We cover the top solution providers and they key capabilities in detail. 

Latest posts by Ben Canner
(see all)