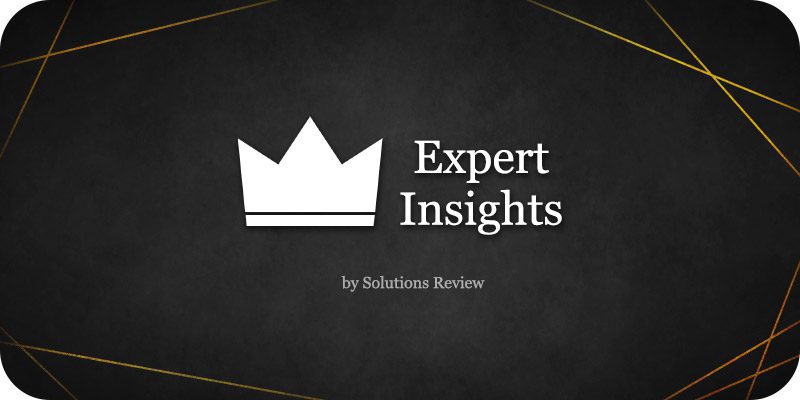 Solutions Review's Expert Insights Series is a collection of contributed articles written by industry experts in enterprise software categories.

Solutions Review calls for contributing authors to participate in its Expert Insights Series Q2, 2023. Solutions Review's Expert Insight Series is a collection of contributed articles written by industry experts in enterprise software categories. Since its first call for Premium Content, Solutions Review editors have published hundreds of expert insight articles from leading voices across 16 category-specific business software resource sites.
The announcement comes on the heels of Solutions Review's fourth-annual and wildly successful Insight Jam community web event. Solutions Review doubled down on its popular Expert Roundtable sessions to meet the demand for what its editors do best: bring industry experts together to publish the web's leading insights for enterprise technology practitioners.
Solutions Review's Expert Insights Series is designed to meet three main criteria:
Provide forward-thinking analysis that helps business software practitioners and buyers remain on-trend
Offer best practices for successful implementation, deployment, and piloting
Provide decision support during product/vendor evaluations
Solutions Review is a leading source of expert insight in the enterprise technology space. It keeps its finger on the pulse of the end-user market by constantly polling its audience. The Expert Insights Series is an extension of Solutions Review's expertise, authority, and trust through its editorial staff and growing network of contributing experts. More than 10 million technology professionals will use Solutions Review to gain forward-thinking analysis and remain on-trend.
Solutions Review Expert Insights Series – How to Get Involved:

Solutions Review is calling for contributors for its Expert Insights Series Q2, 2023 now. Contributor bylines are open to technical, product, and C-level leaders, but no marketers are accepted. All Solutions Review category-specific sites are participating, and contributor participation is free! Solutions Review editors are looking to make this call for expert insights the most impactful yet.
NEW! Solutions Review editors are now accepting Expert Video Shorts as a companion to written articles. Solutions Review editors can now offer a similar content concierge service for short expert insight video submissions. The Expert Video Shorts Series will live on the shorts tab on Solutions Review's YouTube channel and be shared socially, like during the Insight Jam!
Here's how it works: Solutions Review editors make a call for article abstracts (like this one!) and review submissions. Then, editors provide feedback and program style guidelines before the contributing author writes the full article. Upon completion, editors optimize before publishing and sharing to Solutions Review's growing Universe of Influence on LinkedIn, Twitter, and other media channels. Solutions Review editors will begin publishing contributor bylines the week of April 1 on a rolling basis.
Submit to:
For Big Data, BI and Analytics, Backup and Recovery, Data Protection, and Cloud; Timothy King: tking@solutionsreview.com
For ERP, BPM, CRM, and Marketing Automation; William Jepma:

wjepma@solutionsreview.com

For Cyber Security, Identity Management, Endpoint Protection, and Enterprise Networks; Mike Costello: mcostello@solutionsreview.com
Deadline for abstract submissions: June 30, 2023

Solutions Review is a collection of business software news and resource sites that aggregates, curates, and creates the leading content to connect buyers and sellers. Over the past six years, Solutions Review has launched 20 distinct and category-specific Buyer's Guide sites for technologies ranging from Cybersecurity to Big Data and WorkTech, as well as Identity and Access Management, Endpoint Security, Data Analytics and Data Management, Enterprise Resource Planning and Business Process Management, and Enterprise Cloud and Network Monitoring.