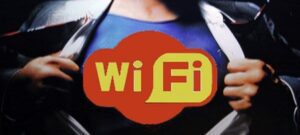 Think that 802.11ac is the cutting edge of wireless? Think again. A new wave of vastly improved AC access points, deemed "Wave 2," is coming out in less than a year. And in a few more years, we will see the even more powerful 802.11x, according to PC World's Eric Geier.
What makes 802.11ac Wave 2 so special? Well, first consider that wave 1 access point you've been checking out for the past year and what makes it better than N. While 802.11n pioneered SU-MIMO (Single User Multiple Input/Multiple Output), AC has made the feature standard and improved upon it by adding "a more-powerful modulation technique (among other things) to deliver a maximum physical link rate of 433Mbps per spatial stream." Compared to N's maximum of 150Mbps per spatial stream, and we're seeing almost triple the speed.
So far nothing all that new. So what does 802.11ac Wave 2 bring that Wave 1 doesn't? Geier explains:
Wave 2 802.11ac routers will arrive sometime in 2015. These devices will also operate on the less-crowded 5GHz frequency band, but they'll take advantage of several optional elements of the 802.11ac standard: First, they'll support a feature called MU-MIMO (multi-user multiple input/multiple output), which allows them to transmit multiple spatial streams to multiple clients simultaneously.

Second, they'll bond multiple channels on the 5GHz frequency band to create a single channel that provides 160MHz of bandwidth (Wave 1 802.11ac routers can also bond 5GHz channels, but the bonded channel is only 80MHz wide). Third, where 802.11n and Wave 1 802.11ac routers support a maximum of three spatial streams, Wave 2 802.11ac routers will potentially support up to eight spatial streams.
The result of these features, specifically some combination of wider channels, additional spatial streams, improved beam-forming and other techniques, Wave 2 is expected to "deliver maximum physical link rates in the range of 7- to 10Gbps."
Holy smokes.
That's a huge jump in speed for the same standard, even if we assume that real world speeds of Wave 2 only wind up being a third of the maximum stated above. However, the IEEE doesn't think that 7-10 Gbps is fast enough. According to Geier, a top goal for 802.11ax is to is to:
quadruple wireless speed to individual network clients—not just to increase the speed of the network overall. The Chinese manufacturer Huawei, which has engineers in the IEEE 802.11ax working group, has already reported Wi-Fi connection speeds up to 10.53Gbps on the 5GHz frequency band.
This will improve WiFi performance in crowded environments. Particular techniques used to get this boost include more efficiently utilizing the available spectrum, better managing interference, and "making enhancements to underlying protocols such as medium access control (MAC) data communication."
Another thing 802.11ax will do is called "orthogonal frequency-division multiple access (OFDMA)," which will "boost the amount of data the router can transmit." This is accomplished by encoding data on multiple sub-carrier frequencies when transmitting to individual users.
Of course, all this talk of AX is still in the preliminary "drafting" stage. However, even though 802.11ax is not expected to be certified until 2019, Geier says that we could see AX products and solutions based on a draft of the new standard on the market as soon as 2016. That's less than a year and a half away at this point.
This state of affairs both present and future begs the question: what apps are going to need over 10 Gbps over WiFi?
For Eric Geier's piece at PC World, click here.