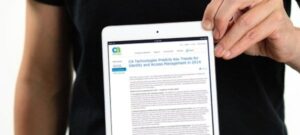 A new year will inevitably bring new challenges for IT Departments and CIOs. Chief among these new challenges will be Identity and Access Management (IAM) as enterprises become increasingly mobile leading to greater levels of access. CA Technologies recognizes this fact and has just released a list of the key trends and predations for IAM in 2014. The following is a quick listing of those key trends and what CA sees impacting the IAM space.
The software-defined, open enterprise emerges: "The enterprise is remaking itself into a platform that developers can experiment with and innovate on. Every IT layer from data to application to infrastructure to network is becoming service-enabled and software-defined through APIs. The pattern extends beyond the data center to partners and cloud services as enterprises are forced to open up."
Hardware elements in mobile devices will become an increasingly important part of IAM: "Users will continue to adopt new mobile devices on a short (12-24 month) cycle, rapidly making advanced hardware security technologies, such as ARM TrustZone, widely available. Device manufacturers will build security systems, such as Samsung Knox, on top of these technologies."
Lack of scalable identity proofing will continue to vex broader B2C/G2C deployments: "The recent online user experiences as part of the Obamacare rollout demonstrated the logistical challenges of validating online identities in an accurate and scalable manner."
The CMO will become a new force for broad identity management initiatives: "Successful marketing depends on understanding customers' needs and providing them with a convenient experience for registration and enrollment. Allowing social login and maintaining a corporate presence on social networks provides an opportunity to capture valuable customer data, including user identities, social interaction patterns, and browsing and buying tendencies."
Risk-based authentication expands beyond Financial Services:While corporate desire for employee and customer mobile enablement is strong, security mechanisms that are cumbersome for consumers accustomed to instant access are met with resistance or all-out avoidance. The need for both stronger authentication and a positive user experience will lead to the widespread adoption of risk-based authentication, in which contextual data about users, devices, applications, locations and other potential risk factors are collected and analyzed to determine a risk-level for the user's identity.
Click here to read the full article and for more on each trend and prediction CA has for IAM in 2014