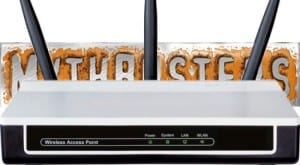 There are a few myths, both good and bad floating around out there about 802.11ac. At Business Computing World, Xirrus' VP of Product Marketing Bruce Miller aims to dispel these little WLAN white lies by debunking the top 5 biggest fibs related to WLAN solutions. Here they are, as listed by Miller:
1. It Managers must 'Rip and Replace'
Miller says that rather than pull out your existing N WLAN set up, you should focus on adding AC access points to your existing system. Here is his logic:
it is more practical to approach the situation with a coexistence strategy. Wi-Fi standards and systems are created in general to be backward compatible. This allows Wi-Fi clients of all types to operate together on the same network… It is best to create an environment where older 802.11a/b/g/n and newer 802.11ac devices operate at the same time but using separate resources, in particular separate radios on the access point.

Programmable wireless infrastructure provides a practical way to achieve this – start with a small number of 802.11ac radios in the network to match a smaller number of clients. Then migrate towards more 802.11ac radios as the client base grows.
Be forewarned, however. Running older and newer clients together at the same time on the same network can slow down the faster clients. This is why Miller suggests using separate resources to run and manage the 802.11a/b/g/n and 802.11ac access points on your network.
2. 802.11ac will require new infrastructure
While the real answer will depend on the state of your existing infrastructure and anticipated use, Miller says that 802.11ac access points should fit well into the technology environment you built for 802.11n. Of course, your "
core network, firewalls and the WAN pipe must be able to accommodate the increased traffic," and even then you may find yourself discovering another "weakest link" in your network infrastructure. Initially however, because there are so few 802.11ac compatible mobile devices on the market, demand for AC speed should not overload your network. That may change if demand increases and the rest of your network is old.
3. 802.11ac will solve performance problems
While 802.11ac will offer higher speeds, it won't fix a poorly designed and/or malfunctioning network. Additionally, as noted elsewhere both here and in other places, the performance boost you actually get from AC may be less than you expect. Most mobile devices have only one antenna, and can't take advantage of 802.11ac's multiple streams. Mobile device size, form factor and power can also present limitations on speed with AC. Larger devices like laptops should be able to achieve AC's advertised speeds, but only when used right next to the access point. Finally, because the number of channels is limited in AC due to each channel being larger, proper network design is a must to prevent network failure, dead spots and other unpleasant outcomes.
4. 802.11ac means the latest and greatest in WiFi
First, the 802.11ac radios that are out right now are called 'wave 1″ devices, and will pale in comparison to the capabilities potentially offered by wave 2. Second, how the technology implemented really matters. This goes into proper design of a network. Third, there are other aspects of access point design beyond just the frequency and bandwidth use. AP processing power, memory, central versus integrated control, type and design of the antennas, the number and type of ethernet links and more all affect the performance of your enterprise wireless network. Finally, You will see a huge difference in performance between the low end, consumer market oriented access points and those built for premium, high-performance WLAN solutions. The bottom line: Don't just look at the 802.11ac label and assume it is top of the line.
5. 802.11ac design is the same as legacy networks
Miller has mentioned design a few times in the previous four debunked myths. Here is where he finally explains what he means:
in many cases, it is the new requirements for use of the network rather than the upgrade to new 802.11ac technology itself that dictates the design. So consider the design criteria for the existing wireless network that is being replaced before finalising your new 11ac design. If elements such as device density, device type, expected bandwidth, etc. have changed significantly, an AP-to-AP swap may not be appropriate. In most cases, predictive design techniques can be used to determine equipment quantity and placement for 802.11ac designs. In some cases, active site surveys may be needed to ensure an appropriate design.
In other words, you need to build the network based on how it will be used and who will use it. Smartphones, tablets, and BYOD  in general are changing the way people are using networks. Therefore, that network you designed for laptop use probably won't be optimal for the age of mobility. Smaller devices require more signal strength, and greater device density will require more wireless equipment. Of course, this somewhat conflicts with the debunking of myths 1 and 2, but in our complicated world, two statements can seem mutually exclusive and yet still both be true, as I believe is the case here.
Miller has some additional words of wisdom that don't fit into the above but which I think is important for those planning and building their 802.11ac enterprise wireless network to mull over:
While it is important to develop a plan to migrate to an 802.11ac-compatible network, it is equally important that enterprise IT managers recognise that the upgrade process will take time. IT managers must also recognise that the upgrade need not be undertaken all at once, but rather executed in phases to ensure the new network is scalable and future-proof.
Don't do it all at once, but scale it out over time. Good advice, methinks, given how compatible AC can be with existing network infrastructure.
For Bruce Miller's piece at Business Computing World, click here.