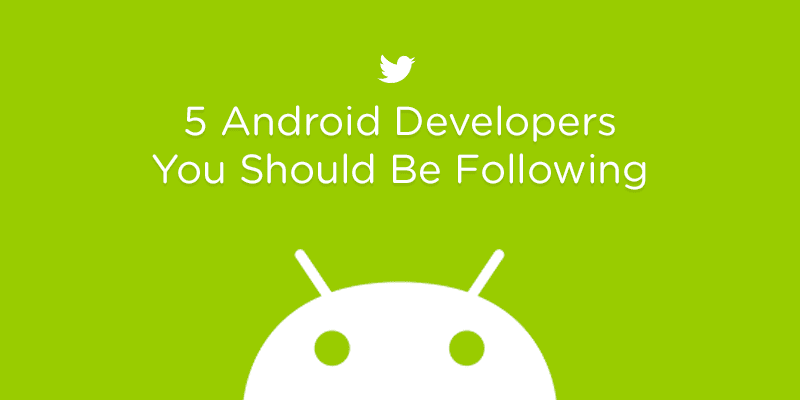 Behold, 5 Android Developers You Should Be Following in 2017!
For those looking for expert tips on Android or just want to run with the bleeding edge pack. Look no further than this installment of Android Developers. This list by no means suggests that those who aren't on here are lesser in any way.
If you team Apple you can check out our 5 iOS Developers You Should Be Following in 2017 post.
Here are 5 top developers in the Android community to follow on Twitter.
I've now developed a compulsory saving habit after every single change. Just like every vim user I've ever known.

— Jake Wharton (@JakeWharton) October 19, 2017
Jake is a major contributor in the Android Community, recently with RxJava and RxAndroid. He's been in the game since the beginning of Android and could be considered an oracle of sorts. You can visit his GitHub profile to see how consistent he truly is with his endeavors.
Chiu-Ki Chan – @chiuki
Ran my app on the emulator by mistake and I can't stop laughing about my silly typo. Yes I'm easily amused. pic.twitter.com/bQ9QzLaGvw

— Chiu-Ki Chan (@chiuki) October 4, 2017
Chiu-Ki is a startup up veteran and former Google employee. She now has her own mobile development company, Square Island, and runs a popular Android YouTube channel called Android Dialogs. And to top it off she is a course author on Pluralsight and runs the 360|AnDev conference.
"As far as I googled" instead of "As far as I know". https://t.co/na5R6m6ma8

— Lars Vogel (@vogella) September 29, 2017
Remember when you were a rookie Android developer looking for free online resources? Then you probably remember Vogella, by far one of the greatest Android resources out there for new developers. Vogel also is a champion of the Eclipse IDE, and one of the Android communities great teachers.
I prefer my Android sample code and tutorials written in:

— Donn Felker (@donnfelker) October 16, 2017
Fragmented Podcast co-host and founder of Castor IO Donn Felker is a best selling mobile development author with a passion to teach Android to anyone who's willing to learn. His screencasts are very helpful to new developers as well as his books on the topic Android Application Development for Dummies, and Android Tablet Application Development for Dummies.
It does not have to be a binary decision between Java and Kotlin. @tacomonarchy on interoperability @AtlAndroidClub #androidclub

— Kristin Marsicano (@kristinmars) October 19, 2017
Kristin is an Android developer and senior instructor at Big Nerd Ranch and co-author of Big Nerd Ranch Guide to Android Programming. When she's not working on Android, she immerses herself in computer science academia, namely human-computer interaction, and participates in Google's pursuit for a visual programming language.

Latest posts by Alexander K
(see all)