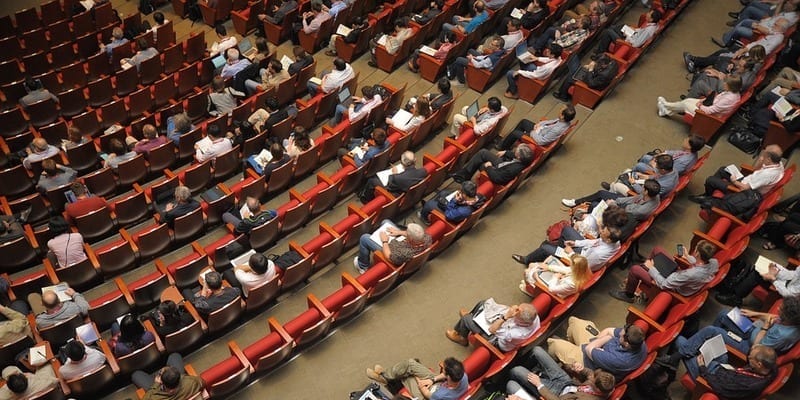 What are the top 5 app development conferences that have yet to occur this year? We're past the halfway mark of 2019, but there are still informative and exciting conferences to attend. Where can you register for them? Why should your enterprise attend these events?
Ultimately, the best way to share application development information remains face-to-face communication. Technology is an incredible tool, but speaking with other developers in a unified space is a unique and enriching experience. Therefore, events and conferences provide a valuable means to forging essential connections and supplementing digital marketing strategies. Between high-quality speakers, vendor demos, and workshops, your app development team could glean valuable information on upcoming trends and innovations.
Disrupt SF
Date: October 2 – 4
Location: San Francisco, CA
Disrupt SF 2019 is a conference for startups, industry leaders, investors, developers, and founders to come together. Attendees can share their business expertise, witness the latest innovations and up-and-coming founders, and make connections to propel their business forward. At Disrupt SF, you'll be able to find programming across a multitude of stages, interactive workshops, networking, and companies from all aspects of tech. Attendees can also participate in the Disrupt Hackathon, which occurs during the conference to showcase challenge-solving through creative production and application of technology.
GOTO Berlin
Date: October 23 – 25
Location: Berlin, Germany
GOTO Conference is a software development conference designed for developers, team leads, architects, and project managers. This event features a series of masterclasses that take place from October 21 – 22, followed by the GOTO Conference from October 23 – 25. This year's conference theme encourages attendees to "explore every layer," its program covering a wide range of topics from front-end to back-end and much more. Attending speakers include employees from Shopify, Verica, Mapbox, Futurice, Microsoft, and other tech businesses. No matter what you work on on a daily basis, this conference will help expand your horizons and sharpen your skills.
Open Mobile & Digital Experience Summit
Date: November 7 – 8
Location: San Francisco, CA
The Incite Group Open Mobile & Digital Experience Summit is a combined technology conference that covers digital product, marketing, and mobile engagement strategy. With topics that cover digital/CX, product, marketing, and mobile development, this conference provides attendees with a complete agenda dedicated to mobile products and mobile engagement. The program includes talks on unique mobile experiences, digital & mobile growth marketing, and much more. This conference is a good choice for organizations that want to learn about the intersection of different technology trends without having to attend multiple conferences.
Codemotion Berlin
Date: November 12 – 13
Location: Berlin, Germany
Codemotion Berlin aims to connect developers who want to change the world with their code and passion. In addition to providing speakers, networking events, and a place to develop relationships with fellow developers, Codemotion offers a unique CTO Meeting. This exclusive event dedicated to CTOs, CIOs, and IT managers is scheduled for the first day of the conference, and allows fellow them to discuss the intricacies and challenges of effectively managing teams. Codemotion Berlin brings more than 60 international speakers from leading tech companies and innovative businesses.
Droidcon SF
Date: November 25 – 26
Location: San Francisco, CA
Droidcon SF aims to gather thought leaders, developers, and Android creators. This year's conference features 70+ technical Androids talks, workshops & codelabs, and best-in-class speakers from top Androids teams across the world. Currently, their Call for Papers is still open. Interested parties should submit their proposed session before September 15th to be properly considered. This event is a great choice for startups and other small businesses who want to grow their network and create connections with other like-minded Android developers.
Involved in digital marketing, automation, or social media? Check out our list of 12 Top Marketing Conferences in the Second Half of 2019!
Latest posts by Anna Birna Turner
(see all)