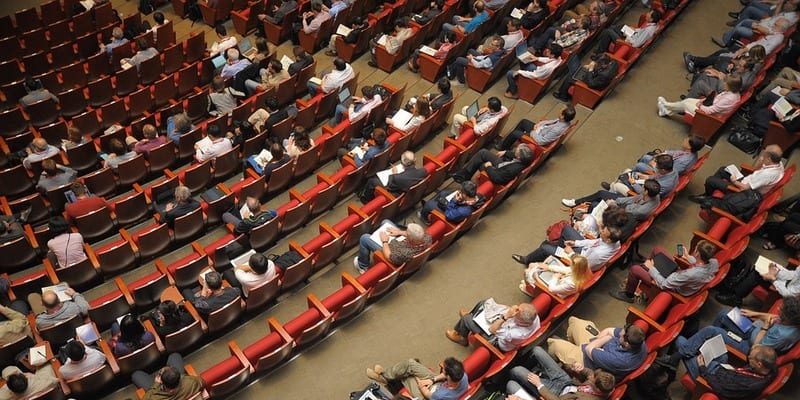 What are the 12 top marketing conferences that have yet to occur in 2019? We're halfway through the year, but there are still plenty of informative and exciting conferences to attend. Where can you register for them? Why should your enterprise attend these events?
Ultimately, the best way to share marketing information remains face-to-face communication. Therefore, events and conferences provide a valuable means to forging essential connections and supplementing digital marketing strategies. Between high-quality speakers, vendor demos, and workshops, your marketing team could glean valuable information on upcoming trends and innovations in the digital marketing world.
Date: July 15 – 17
Location: Seattle, WA
Mozcon wants to connect marketing professionals with a large community of experts. Those who attend this conference will get to interact with industry-leading practitioners skilled in SEO, mobile, conversion optimization, local search, and more. This year's conference will feature over 25 different speakers, a variety of panels and information sessions, networking opportunities, receptions, and meeting events.
Date: July 16 – 18
Location: Cleveland, OH
MAICON is a conference for attendees that want to learn more about marketing AI from Facebook, HubSpot, IBM, and other prominent technology companies. According to the conference's website, AI is forecasted to have trillions of dollars in annual impact. With 40+ sessions, 60+ speakers, and numerous networking activities, organizations that are looking to invest in AI and be proactive about their technological capabilities should consider attending MAICON.
Date: August 6 – 7
Location: Hartford, CT
IMPACT Live is an immersive event for salespeople, marketers, and business leaders looking to drive revenue growth. It has a single-track format where everyone gets to see every speaker, and participate in high-energy workshops.  Attendees will learn how to design customer-centric websites, optimize content, create videos that build your brand, use social platforms to build a pipeline, and much more.
Date: September 3 – 6
Location: Cleveland, OH
CMWorld 2019 is a conference for content marketing industry professionals to learn and network with each other. Attendees can enjoy over 120 sessions and workshops presented by leading brand marketers from around the world. Subject areas include strategy, storytelling, ROI, demand generation, AI, and other technology trends. Organizations interested in learning more about content marketing and gaining valuable networking experiences should consider attending this conference.
Date: September 3 – 6
Location: Boston, MA
Inbound seeks to unite curious, question-asking professions with big-name brands, niche industry thinkers,  educational sessions, and networking opportunities. With 250+ speakers, interactive sessions, and nightly parties, Inbound is a modern, high-energy conference that is sure to be both a memorable and informative experience. Its focus on inclusion and accessibility is particularly notable.
Date: September 16 – 18
Location: Boston, MA
MarTech is a conference aimed at senior-level marketers who are handling the convergence of marketing, technology, and management. If your organization is struggling to see result from martech investments, or is fighting internal resistance to change, this is the conference for you. Attendees will experience two intense days of informative sessions and networking opportunities in order to empower them to become a more confident marketing professional.
Date: September 17 – 18
Location: Las Vegas, NV
Brand ManageCamp aims to give its attendees the tools, insights, and inspiration they need to take their brand to the next level. Named as one of the Forbes' "Must-Attend" Marketing Conferences, Brand ManageCamp covers a wide variety of subjects, including strategy, advertising, innovation, content, insights, customer behavior, leadership, creativity, and much more.
Date: September 23 – 26
Location: New York, NY
This worldwide gathering of marketing professionals includes daytime seminars and workshops, as well as organized networking events and entertainment. Advertising Week's thought leadership program gives professionals career enhancing insights, as well as deep-dives into important industry-related topics and actionable insights. This conference is a good choice for marketing, advertising, media, technology, and design professionals.
Date: September 25 – 27
Location: Boston, MA
This year's Connect to Convert is taking a closer look at marketing and sales funnels and what direction to anticipate growth in. Registration gives complete access to 30 sessions, exclusive networking opportunities, and access to an exhibit hall floor with 60+ solution providers. This conference is focused on insurance, mortgages/finance, for-profit education, home services, healthcare, and automotive industries.
Date: October 16 – 18
Location: National Harbor, MD
This conference is a place where leaders, innovators, and marketing professionals gather to learn about the latest trends and innovations in B2B marketing, and share their success strategies. MarketingProfs B2B Forum is unique in that it focuses on the challenges and opportunities that B2B marketers face, as opposed to heavily focusing focusing on brands. This conference bridges the gap between what marketers know and what they need to know to be the best marketers for their business.
Date: October 21 – 22
Location: New York, NY
Incite Group Brand Marketing & Digital Summit is the only CMO-led event for brand, digital, performance, and content marketing professionals. This conference brings together world renowned CMO's, innovators, and experts to inspire and empower marketing leaders to develop their own departments. Attendees can interact with 500+ marketing leaders and 55+ global brand speakers that encourage a comprehensive cross-industry approach in order to create authentic marketing.
Date: October 28 – 29
Location: Chicago, IL
Content Jam is Chicago's largest content marketing conference, featuring 400+ marketers and speakers. This frequently sold-out event takes place over two days and allows attendees to learn the latest marketing tips and tricks. Speakers discuss various subjects, including content strategy, promotion, conversion, and analytics.
Latest posts by Anna Birna Turner
(see all)