As we know, the demand for enterprise mobile apps is growing rapidly to the point where development platforms have shifted into offering low-code or RMAD (rapid mobile app development) options to accommodate builders who are not experienced app developers. These enterprise apps can do much more than just provide employees with a secure place to view data and communicate. Fully embracing these apps can do more than just offer you more efficient functions and a secure mobile environment. These apps can change the way your business functions by streamlining tasks and adding new functions into your workflow.
According to an article by Cris Styris for D-Zone, there are four specific areas we can look at where enterprise mobile apps can streamline operations.
Enterprise resource planning is the first on our list and one of the first places where going mobile can have a huge effect on day-to-day operations by streamlining function. Styris says, "With software such as Odoo ERP, the internal ERP system can be set up for the entire organization to view the resource utilization status within the company. Internet- and Java-based mobile applications enable users to access complete ERP data even on their mobile devices while they are on the move."
Content management is another function that will highly benefit from enterprise apps. Content management not only keeps the access of data safe, but it also makes the data that is used easy to access. According to Styris, platforms such as Alfresco and Microsoft SharePoint have mobile extensions which can be added to the user devices and after generating requisite authentications, data access is facilitated even via internet and extranet portals.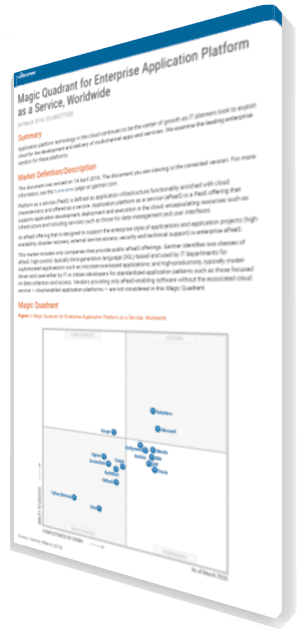 The Gartner Magic Quadrant for Application Platform as a Service Report is here!
 Full B2E aPaaS Market Overview
Three Top Vendors Compete For Market Supremacy
Vendor Profiles: Leaders, Strong Performers & Contenders
Evaluating Market Direction and Vendors' Future Plans
Evaluation Criteria: Current Offering, Strategy and Market Presence
Click Me
The relationships with customers will also see improvement with enterprise apps. Faster responses from customer service and sales teams can greatly improve brand and approval ratings. Sharing customer data on secure mobile devices can allow the easier transfer of customers to correct departments with shorter wait times for responses.
The last and most obvious way enterprise apps can streamline your business is communications. More options for instant communication among users like video chatting, instant messaging and data sharing can severely cut down on the time it takes to collaborate with other employees. Images can be shared easily and the need to physically meet goes down enough that it makes elevating your business to the international level more doable.
If you're interested in more productive environment for employees or expanding your business to multiple locations or campuses, enterprise mobile applications are going to be a critical source of help.
Latest posts by Doug Atkinson
(see all)