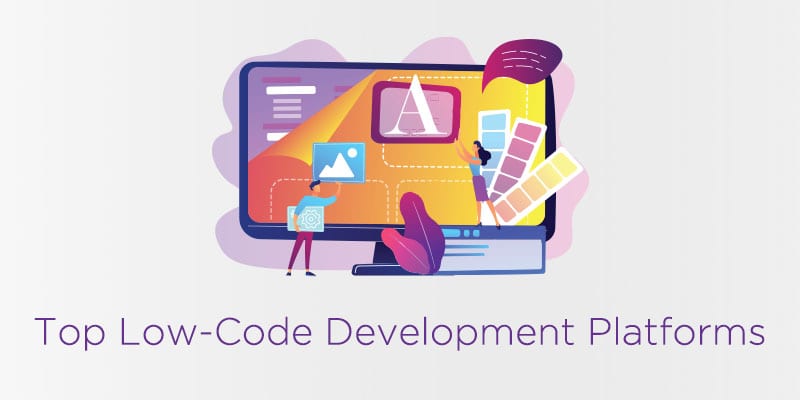 Low-code development tools have been on the rise since 2014. They offer business leaders and other professionals the chance to build enterprise-level applications and workflows, without requiring previous coding or software development knowledge. Low-code development platforms are particularly useful for organizations that don't currently employee software developers, or want to take advantage of the tech knowledge of their existing employees. Most low-code applications provide options for language and code-based application development; otherwise users work in a visually intuitive environment, building their applications through a combination drag-and-drop interfaces and other features. If your organization is looking to use low-code to build applications and workflows, check out this list.
Zoho Creator is a low-code development platform that lets users create custom apps for their business, from regular tasks to complex automation processes. The platform features a drag-and-drop interface that makes it easy to build forms and dashboards. Employees that are more experienced with software development can use Zoho Creator's scripting language, Deluge, to add workflows and additional customization. All applications developed in Zoho Creator are available on mobile, and users can customize layouts, actions, and gestures for different smartphones and tablets.
The Pega Platform offers a single role-based environment with no-code or low-code authoring, advanced developer tools, system administration, and AI modeling. Through agile methodology, Pega encourages short, frequent releases, allowing business leaders to evolve and keep pace with the market as it changes. Stakeholders can provide feedback and requirements from within the platform, which automatically translates into your preferred project management tool. If users want to move between cloud platforms or want to experiment with new technology, Pega's model-driven architecture automatically implements new changes.
Appian's unique low-code development platform combines business process management, artificial intelligence, and robotic process automation. Without writing any code, users can integrate databases, systems, file servers, data buckets, external web services, and any other applications they need. Appian was named a leader in the 2019 Forrester Low-Code Development Platforms report, and has been used by brands like Sprint, Barclays, and Enterprise. Whether you need a mobile app or web app, Appian will produce a positive user experience regardless of platform.
AgilePoint allows its users to quickly create custom applications to fit the individual needs of their business. With an easy to use drag-and-drop interface, as well as a large library of integrations, connectors, and adaptors, users should be able to create anything that they need. AgilePoint applications adapt to different devices and changing business rules, and can span various platforms, environments, and browsers. Applications can be extended on the front or back-end, and are massively scalable without requiring state-of-the-art hardware.
WaveMaker combines the speed of low-code with the power of custom code. It supports features including open source runtime and proven frameworks for building fully-functional applications. WaveMaker also generates open standards-based code that allows users to extend the code outside the platform. Other features that WaveMaker brings to the table include IDE interoperability, multiple VCS vendor support, container-based cloud environment, and much more.
OutSystems is a widely used low-code development platform that allows its users to quickly create apps for enterprises. Users create their applications in a visual environment, where they can define data models, business logic, workflow processes, and UI for web applications and mobile devices. Visual code can be extended through additional software development using a variety of languages including JavaScript, HTML, CSS, and C#. OutSystems also  easily integrates with a variety of systems and applications.
Quick Base is a low-code development platform that lets users upload their data and quickly build web applications. You can easily reduce your backlog and quickly create applications by uploading a spreadsheet, or copying and pasting data from your clipboard. In addition to providing a visual coding environment, Quick Base lets you create customizable drag-and-drop dashboards and templates, and provides you with a variety of reporting tools to keep your stakeholders informed. Quick Base also has a variety of security and regulatory compliances, including HIPAA, EU-US Privacy Shield, and DFARS.
Boomi is a unified, secure, low-code integration platform as a service that supports complex IT systems and architectures. Users can connect all their applications and data sources, synchronizing and enriching their data through a centralized hub. Manual business processes can be transformed into automated processes with flexible business logic and workflow capabilities. Other capabilities include API management, data quality governance, and B2B network management.
Latest posts by Anna Birna Turner
(see all)