The need for enterprise mobile applications is growing much faster than developers can keep up with. From the security these apps offer both employee and company data and the efficiency they bring to work productivity, enterprise mobile apps are a technology that needs to be considered by CIOs and IT departments regardless of company size or industry. With growing advances in mobile technology always a constant, the malware and hackers are growing at the same rate making secure enterprise apps more important than ever.
Over the next year we will see a tremendous growth of mobile applications in the enterprise and most will be in line with these top four trends in enterprise app development:
Security takes on a higher meaning
As stated above, with smarter tech, comes smarter hackers and this pushes security to the forefront of this list. Security may seem like a no brainer, but it's the implication and coverage that's really going to matter in the long run.   According to a recent study, more than 75% of web applications had serious authentication issues. Due to security breaches, companies are making security a top priority in their app development efforts.
Citizen Developers, RMAD and Low-Code
We've recently seen a huge upswing in app development platforms offering low-code or no-code options. This has spawned the term "Citizen Developer" meaning that functioning and secure apps can be built by people with little to no knowledge of application development. Rapid mobile app development or RMAD has also grown in a similar fashion. These platforms can allow people to create secure, functioning apps by just dragging and dropping options into a template. This not only saves time in the development process, but also in the time it takes to free up a developer.
Increase in Hybrid App Adoption
With the increase of mobile phones, both business employees and customers want enterprise web applications to be accessed on their phones. Users can access the same application through smartphones and tablets resulting in increased demand for hybrid apps. Need for fast development, and the lack of skills are the two main challenges that developers face in native app development. Reduced cost and better performance make hybrid apps more demanded and popular.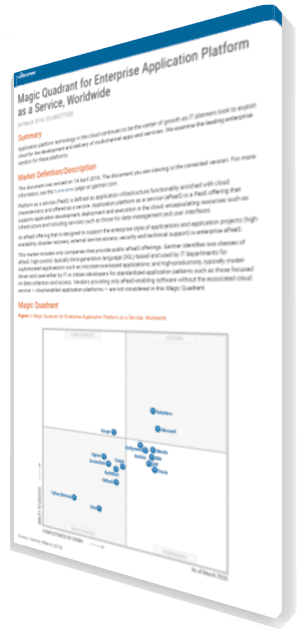 The Gartner Magic Quadrant for Application Platform as a Service Report is here!
 Full B2E aPaaS Market Overview
Three Top Vendors Compete For Market Supremacy
Vendor Profiles: Leaders, Strong Performers & Contenders
Evaluating Market Direction and Vendors' Future Plans
Evaluation Criteria: Current Offering, Strategy and Market Presence
Click Me
App Refactoring/App Transformation
One of the biggest trends in enterprise mobile app development right now is App Refactoring or App Transformation. What App Refactoring does is it takes the Windows App that is meant for the desktop and allows you to draw a new user interface that can be easily used from a smartphone or tablet. This technology can be used to make a web app that is seldom used on mobile, easily accessable when needed or is a good way to make your web app usable on mobile while a full app is being built.
Latest posts by Doug Atkinson
(see all)