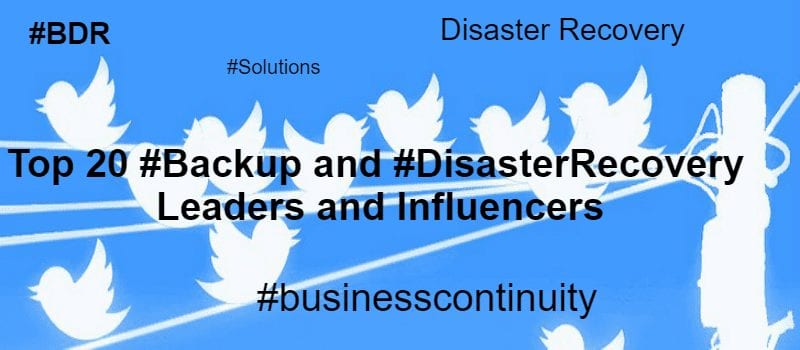 Staying on top of the latest industry news and trends is a big part of the job for any Backup and Recovery pro, and Twitter is a great resource. but with 243 million active users, it can be difficult to parse the good from the bad.
Here is a great place to start. Follow these the top 21 influencers  and thought leaders in the backup and disaster recovery Twittersphere, presented here in no particular order.
If you're looking to know more about the backup and recovery solution market then check out our 2016 Backup and Disaster Recovery Buyer's Guide. Free downloadable market research for you and your colleagues.
---
iomart Group sales, consulting, techy, geek, nerd. Specialising in Cloud and Hosting sales and consultancy. Based in Glasgow. all views are my own ¯\_(ツ)_/¯
Vice President, Corporate Marketing @ Asigra, B2B Marketing Strategist, Book Lover, Movie Buff, Antique Enthusiast and Teacup Collector. My thoughts are my own.
Founder/Owner of Managecast Technologies. We are focused on providing world-class backup/recovery and business continuity to our customers.
Catastrophes, Crises, Disasters, Emergencies, Events, and Incidents: Lessons Learned, Unlearned, and Relearned, or Never Learned
Founder PIM Consultancy. Specialising in Data Protection compliance and Records Management.
Enterprise Technology Writer and Analyst. Covering Business Intelligence and Data Analytics, Data Integration and Data Management for Solutions Review.
Jeff Hamra is the President of Titan Data Services, a commercial IT Data Center, providing alternate worksites, and collocation, services to all industries.
VP & Research Director, #ForresterSecurity & Risk, covering #infosec,#privacy, #businesscontinuity. Some tweets about family, food, wine, animals, environment
#BusinessContinuity industry author, speaker and blogger. Director at eBRP Solutions Network, #BCMP
Helping plan #DisasterRecovery&#BusinessContinuity. More on resilience, including people, premises, processes, information and governance #risk at our website.
Smart, secure IT management for small business, including manufacturers, educators, non-profits. #CyberSecurity#DisasterRecovery #MSP
#BusinessContinuity industry author, speaker and blogger. Director at eBRP Solutions Network, #BCMP
Entrepreneur | Public Speaker | Strategic Thinker | Global Awards Winner#Resilience #BusinessContinuity #Crisis#Risk #InfoSec
Disaster Junkie | Adjunct Professor | Emergency Management | Business Continuity | YouTube Dad | #smem |#businesscontinuity
Managed IT services for business owners who need their technology to be an asset not a liability.
In the Backup, Data Protection, Video Archive, Disaster Recovery Business. Always looking for better ways to protect your data.
#Revenue #Growth Strategist |#Enterprise #IT #Marketing #Inbound#Sales | #HubSpot Certified | Co-Lead@BocaHUG | Co-Founder@SPHomeRun
Disaster Recovery Specialist and Channel Sales Manager at Unitrends.
IT Pro, SysAdmin, technology evangelist, pro photographer, aviation fanatic, social media influencer, #msignite Roundtable member, AFS USA volunteer, Vermonter.
Data Warehouse developer, Data science MSc student, #SQLSATExeter co-organiser.
---
Latest posts by Alexander K
(see all)