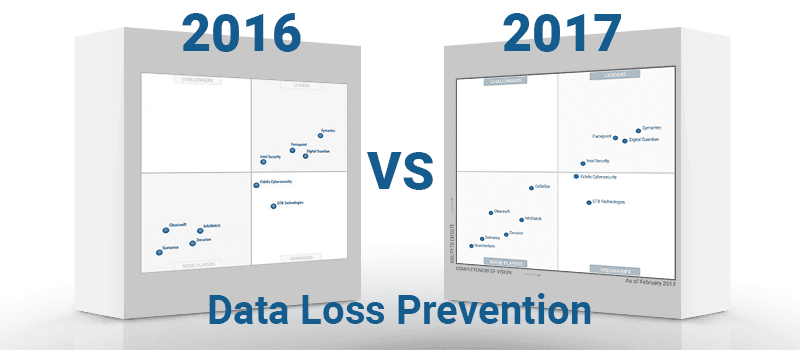 Gartner recently released their Magic Quadrant report for Enterprise Data Loss Prevention and not much has changed since last year. Only two new vendors were added to the most recent report and none were dropped.
The tech giant defines the DLP market as "those technologies that, as a core function, provide remediation for data loss based on both content inspection and contextual analysis of data: At rest on-premises, or in cloud applications and cloud storage, in motion over the network, in use on a managed endpoint device."
DLP products can be split into two separate categories, including enterprise DLP and integrated DLP; the latter was not the main focus of this report, Gartner noted.
Security management leaders buy on-prem enterprise DLP to help with regulatory compliance or to protect intellectual property, according to the Magic Quadrant. The report predicted that by 2022, "60 percent of organizations will involve line-of-business owners when crafting their data loss prevention (DLP) strategy, up from 15 percent today."
Gartner uses its own inclusion criteria to choose the vendors for this report from the many in the space. They look at a provider's ability to execute and completeness of vision among other items, including at least "$12 million in annual revenue specifically for their enterprise DLP products."
The 2017 quadrant looks relatively similar to last year's report; however, there are two new vendors in the mix: SearchInform and CoSoSys. Both of the new vendors fall into the niche players category along with returning providers Somansa, Clearswift, Zecurion and InfoWatch.
GTB Technologies and Fidelis Cybersecurity landed in the visionaries category again in 2017 and the challenger's bucket remained empty for the second year in a row.
The report only identified two leaders, which "have products that work well for Gartner clients in midsize and large deployments." Both Fidelis Cybersecurity and GTB Technologies fall into the top group that leads the pack.
Fidelis Cybersecurity first launched in 2002 and is headquartered in Washington, DC. Gartner says the provider would be a good fit for businesses that are looking for "DLP capabilities as part of a larger platform for network threat detection and prevention, and want to buy these capabilities along with network IDPS, payload analysis, malware sandboxing and threat intelligence."
GTB Technologies first opened its doors back in 2004 and is headquartered in Newport Beach, California. The company's DLP platform supports network DLP, endpoint DLP and discovery DLP. It also supports enterprise digital rights management (EDRM). The vendor is a solid choice for businesses that "need fast time to value from their DLP investment, and want a system they can deploy quickly to get actionable results."
Click here to see the entire report.
Latest posts by Alexander K
(see all)