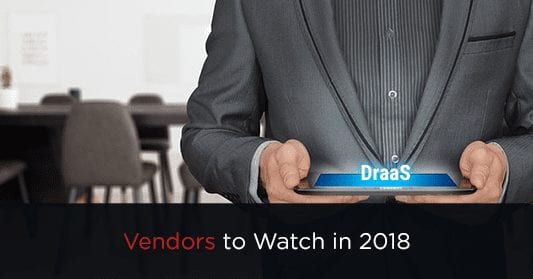 With the amount of destruction we saw in 2017 from hurricanes alone, disaster recovery has never been more prevalent. As we move into 2018, take a look at your disaster recovery strategy and ensure that your business is ready for anything.
Disaster Recovery as a Service (DRaaS) adoption saw an uptick in recent years and about 40 percent of enterprises have implemented it, according to Forrester Research. Here are five providers in the space that are worth keeping an eye on in 2018:
Bluelock says they are changing the way businesses protect their data. The vendor's DRaaS offerings can be tailored to fit your organization and users can make incremental adjustments to environments as needs change.
Bluelock's "customized, rigorous tests have a 100% success rate," and its support team is on call around the clock to ensure you can get the help you need.
The vendor designed a suite of DRaaS solutions including DRaaS Run, DRaaS Ready and DRaaS Restore.
DRaaS Run: This solution is for mission-critical IT systems and applications that can only handle minutes of downtime, no more. It's a transaction-consistent solution that allows for immediate recovery in a production environment.
DRaaS Ready: This solution is for high-impact IT systems and apps that need to be recovered within minutes or hours. It provides real-time replication with crash-consistent recovery.
DRaaS Restore: This tool is for applications and files that don't need to be recovered immediately. It runs scheduled replication in the cloud.
Codero's DRaaS solution offers a 15-minute failover guarantee. It allows organizations to manage their backup and DR storage costs by keeping recent or vital backups on the local appliance while the rest is archived to the cloud. Local and replication retention policies are managed separately. For those using Windows and Linux machines, users can right-click backups and pick any version of a machine's backup to be booted and run in the cloud.
It features ransomware protection, snowden-proof encryption, unlimited version history and monitoring alerts. You can protect all of your data, no matter where it resides with this solution.
NTT Communications recently announced that it enhanced its DRaaS offering by leveraging Microsoft Azure Site Recovery, according to a recent release. The new product allows replication of enterprise workloads to an NTT Com data center or Microsoft Azure, which ensures real-time business continuity in the event of a disaster.
The vendor's DRaaS solution offers full-scale planning, implementation, testing, and management. The customizable tool is fully managed by NTT Com, including event response, monitoring and operating.
"Your customers expect your systems to be online 24×7. Microsoft Azure Site Recovery is modern disaster recovery technology that is easy to use, cost-effective and reliable," said Scott Woodgate, director, Microsoft Azure at Microsoft Corp in the release. "As an Azure cloud service, it's easy to test your solution without the complexities associated with traditional on-premises disaster recovery. We are pleased that NTT Com, a global ICT leader with an extensive managed services portfolio of its own, is now offering this service."
Recovery Point's DRaaS offering supports physical and virtual environments installed across hybrid data center configurations. The vendor's product provides a variety of cloud-based backup and recovery solutions "ranging from the IBM mainframe through nearly all midrange platforms."
It eliminates the need for tape-based restores as the primary method of app recovery, which resulted in improved RPOs and RTOs, according to the company's website. It supports hybrid solutions and combines industry-leading technologies with a powerful network and secure hosting infrastructure to make DRaaS programs affordable.
TierPoint offers a customizable and affordable solution that allows users to choose a mix of cloud, colocation and their own data centers. The vendor provides tools to reduce hybrid complexity, manage resilience and make management with software-defined integration easier.
TierPoint offers several replication destination choices with 40 data centers located across the United States, which means users can have their data protected in various parts of the country.
"It isn't just our technology that sets our DRaaS apart. It is our people who work with you to customize your DRaaS solution. When the National Elevator Industry Benefit Plans, an organization that administers health and financial benefits to elevator-construction workers, was looking for a DRaaS solution, they could not find one that met all their requirements. TierPoint collaborated with their internal team to design a customized DRaaS solution that will cut down on their recovery time and recovery point objectives plus protect data created by their remote workers," according to the company's website.
---
If you'd like more information on top providers, take a look at our Backup and Disaster Recovery Buyer's Guide.
Latest posts by Alexander K
(see all)