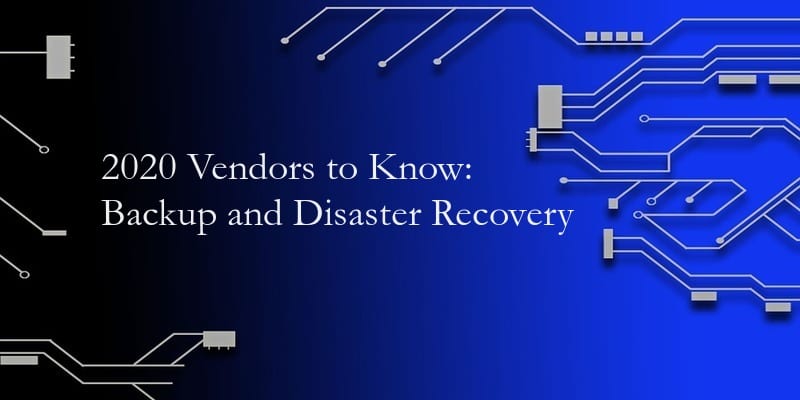 Solutions Review's listing of the Vendors to Know: Backup and Disaster Recovery is a mashup of products that best represent current market conditions, according to the crowd. Our editors selected the backup and disaster recovery solutions listed here based on each solution's Authority Score, our meta-analysis of real user sentiment through the web's most trusted business software review sites, and our own proprietary five-point inclusion criteria.
Who are the twenty-eight Vendors to Know in Backup and Disaster Recovery in 2020?
The editors at Solutions Review continually research the most prominent and influential backup and disaster recovery vendors to assist buyers in search of the tools befitting the needs of their organization. Choosing the right vendor and solution can be a complicated process; it requires constant market research and often comes down to more than just the solution and its technical capabilities. To make your search a little easier, we listed the Vendors to Know in Backup and Disaster Recovery.
Note: Companies in the 2020 Vendors to Know: Backup and Disaster Recovery are listed in alphabetical order.
2020 Vendors to Know: Backup and Disaster Recovery
Acronis offers backup, disaster recovery, and secure file sync and share solutions. The company also provides data protection in any environment, including virtual, physical, cloud, and mobile. Acronis Cyber Backup is aimed towards businesses of all sizes and offers proactive ransomware protection. Recently, Acronis acquired 5nine Software and released Acronis Cyber Protect Though remote management of the solution requires some manual configuration and monitoring, the interface is intuitive and easy to use.
Actifio enables Virtual Data Pipeline (VDP) technology, as well as a "data time machine," for the enterprise, eliminating backup and restore windows and creating virtual, point-in-time copies of data on-demand, for use by any business application. Instant data recovery means no delays in restoring data for any use, and it's enabled through a simple consumer-grade interface that is SLA-driven and application-centric in applying data protection. Actifio's differentiated features in backup and recovery deliver functionality that can speed up backup modernization, improve recovery point and recovery time service levels, and apply granular protection at the application level and at the VM level.
Altaro provides users with Virtual Machine Backup and recovery solutions. The provider's flagship product, Altaro VM Backup, has a straightforward UI that facilitates its use, while being full-featured as to create a strong backup strategy. The solution comes equipped with an outstanding support team determined to help clients succeed in protecting their environment. Everything can be managed and monitored from a single dashboard or by using the vendor's online management console.
Arcserve offers organizations several different backup products, including Arcserve Unified Data Protection (UDP), Arcserve Continuous Availability, Arcserve UDP Cloud Direct, UDP Cloud Hybrid, and a legacy offering. UDP provides comprehensive Assured Recovery for virtual and physical environments with a unified architecture and an easy-to-use console. The product enables organizations to scale their IT environments easily while delivering against recovery point and recovery time objectives, on-prem or in the cloud. It also allows for the automated disaster recovery testing of business-critical systems, applications and data, without business downtime or impact on production systems.
Asigra is built for cloud computing environments and designed to offer backup efficiencies by allowing enterprises to capture, ingest and store less data. Designed for compatibility with public, private and hybrid cloud architectures, the Asigra Cloud Backup solution is equipped with agentless software architecture, global deduplication and data compression technology along with NIST FIPS 140-2 certified security. In addition, the vendor reduces recovery time objectives and eliminates silos of backup data.
Axcient offers a single solution that incorporates data protection, disaster recovery, archiving, and test/dev. The vendor provides two self-service platform options that can be managed by a single user: Axcient Business Recovery Cloud, which is the legacy solution, and Axcient Fusion, which was unveiled in 2016. Axcient Fusion is built to run on public cloud, and both platforms offer one-hour and eight-hour RTO options. Axcient enables users to mirror their entire business in the cloud, thereby simplifying data access and restore, failovers, and virtualization.
Barracuda Backup offers a complete cloud-integrated solution for protecting physical and virtual environments that includes software, appliance, and offsite replication. The solution is simple to deploy, easy to manage, and offers users unlimited cloud storage. With an extensive range of supported environments and integration with copy file sync and share services, organizations can replace multi-vendor piecemeal backup solutions with an all-in-one appliance. The platform supports replication to another Barracuda appliance for private-cloud data protection or secure transfer to the Barracuda Cloud. Barracuda also offers an email archiving product.
Carbonite offers enterprise cloud-based backup, recovery, and storage solutions. The Carbonite Data Protection Platform allows organizations to deploy the right form of protection for each type of data in their systems—from long-term backup to rapid recovery, data migration, and endpoint protection. The vendor's Cloud Disaster Recovery centralizes the backup and recovery of data on all computers distributed throughout an organization's locations. Agents automatically back up the data over the internet to a highly secure data center. Carbonite has three recovery centers in the United States.
Cobalt Iron's flagship SaaS-based backup solution, Compass, reduces complexity and the amount of time spent on backup. Additionally, the software improves overall data protection performance. The enterprise data protection platform offers four main product components: Commander, Analytics Engine, Accelerators, and Accelerator Operating System. With this solution, users have access to a range of analytics, driven data management capabilities through a unified web user experience. Additionally, the solution offers ransomware detection, alerting and notification, remediation capabilities, and is available in AWS, Azure, Google, IBM, and Alibaba.
Code42 offers backup, disaster recovery, and data loss protection solutions. The provider's data loss protection solution, (Next-Gen DLP), detects insider threats, satisfies regulatory compliance requirements, automatically monitors file activity across computers and cloud, and facilitates incident response. Additionally, Code42's security, IT, and compliance professionals have the ability to protect endpoint and cloud data from loss, leak, and theft while maintaining a collaborative culture for employees. The vendor is backed by Accel Partners, JMI Equity, NEA, and Split Rock Partners.
Cohesity is a data management company that manages, protects, and extracts value from enterprise data. The provider's flagship tool, Cohesity DataProtect, safeguards a wide range of data sources on a single web-scale platform. The solution can be deployed on-premises on qualified platforms in the data center, in the public cloud, and on the edge. Additionally, the platform utilizes a scale-out architecture that starts with a minimum of three nodes and scales without disruption by adding nodes to the cluster. Through this solution, users have the ability to use backup data directly on the platform without needing to restore it, which allows for the consolidation of other use cases including dev/test and analytics.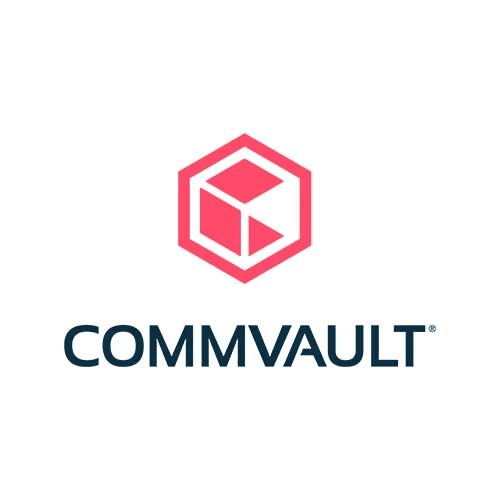 Commvault provides data protection and information management software to assist organizations with protecting, accessing, and using all of their data economically. The vendor has a long list of supported public cloud providers, hypervisors, big data support, and database protection as well. The platform is primarily offered as a software-only solution, but Commvault also has an appliance option. Recently, Commvault acquired data storage solution provider, Hedvig. Additionally, Commvault also recently launched Metallic, its division of SaaS solutions.
Datto offers backup and disaster recovery appliances, Software as a Service (SaaS) data protection, and managed networking products. The provider has more than 5,000 managed service providers across the globe that sell its products. Datto also boasts nine data center locations worldwide, in locations including the U.S., Canada, Iceland, the U.K., Germany, Australia, and Singapore. Datto is offered for data on-prem in a physical or virtual server, or in the cloud via SaaS applications. The vendor is completely channel-driven and recently released SIRIS 4, a business continuity and disaster recovery solution built for MSPs.
Dell EMC's backup and recovery solution is a prepackaged backup suite made up of several different components that are available for individual sale. These include Avamar, Networker and Data Protection Adviser, with options for cloud backup and archiving. Dell EMC's solutions give a full range of data protection, from archive to continuous availability for physical, virtual and cloud environments. The provider enables digital transformation through hybrid cloud and big-data solutions built on a modern data infrastructure, which brings together converged infrastructures, storage, and servers. The recently launched all-in-one Integrate Data Protection Appliance combines Data Domain with Avamar and DD Boost for Enterprise Applications.
Druva delivers data protection and management for the cloud era. Druva Cloud Platform is built on AWS and offered as-a-Service. Druva Phoenix simplifies data protection, improves visibility, and significantly reduces the risk, cost, and effort of managing complex data. The solution operates seamlessly and can be managed from one location, giving IT administrators full visibility and control over server backups and data composition. Druva is used worldwide by over 4,000 companies at the forefront of embracing cloud.
FalconStor provides data protection and recovery. The tool automates complex recovery processes to ensure data can be recovered before business operations are impacted. Users can proactively detect and alert performance bottlenecks and health risks using a real-time analytics module with historical and real-time trends and reports and streaming analytics. FalconStor also enables wide area network (WAN)-optimized replication options for disaster recovery and remote office protection. Users have the ability to reduce or eliminate backup windows and recover data as well.
Hitachi Vantara is a wholly-owned subsidiary of Hitachi, Ltd., and offers an expansive portfolio of products for integrating, managing, and analyzing data. Hitachi's portfolio of data management solutions are best suited for modern environments, and can help organizations to quickly improve their key performance metrics, including business continuity, backup windows, operational recovery, and disaster recovery. The tool also provides data protection and recovery for complex enterprise architectures.
IBM offers a wide range of technology and consulting services, including predictive analytics and software development. The vendor's backup and disaster recovery solution, Spectrum Protect, is a data protection platform that gives enterprises a single point of control and administration for backup and recovery. It enables backups and recovery for virtual, physical, and cloud environments. The tool also offers VM protection with searchable catalog and role-based administration. IBM Spectrum Protect is a suite of software offerings designed to help organizations manage and protect their data by simplifying backup administration.
Infrascale offers an enterprise-grade disaster recovery solution that provides failover to a second site with the flexibility to boot from the appliance or cloud. The product is delivered as a physical or virtual appliance and includes disaster recovery software. Infrascale's dashboard simplifies the management of data protection by providing a single view through which the entire suite of services is deployed. An administrative dashboard, accessible from any browser or device, makes it easy to recover mission-critical applications and systems with pushbutton simplicity.
Micro Focus offers scalable solutions with built-in hybrid IT management analytics, security, and data management. The vendor merged with HPE in the fall of 2017 and now offers Data Protector, a comprehensive, centrally managed backup and recovery software for physical and virtual environments. Data Protector offers high-performing backup and recovery across various data repositories, applications and remote sites in physical and virtual environments. It standardizes and consolidates backup and recovery processes so that businesses can improve reliability, gain business resiliency and reduce costs.
MSP360 (formerly CloudBerry Lab) offers cloud-based backup, disaster recovery, and file management solutions that are integrated with major public cloud services. The vendor's offerings include easy-to-use backup management capabilities and military-grade encryption using customer-controlled keys. Customers can choose to store their backup data with more than 20 online storage providers, including Amazon S3, Microsoft Azure, Google Cloud, HP Cloud, Rackspace, IBM Softlayer, and others. MSP360 also partners with thousands of VARs and MSPs to provide them with turnkey, white-label data protection services.
NAKIVO offers a data protection solution for VMware, Hyper-V, cloud, and AWS EC2 environments. The vendor boasts five-star online community reviews, impressive scores for customer support, and more than 10,000 global deployments. Over 150 hosting, managed, and cloud services providers are using NAKIVO's software in order to deliver virtual machine Backup as a Service (BaaS) and Disaster Recovery as a Service (DRaaS) to their customers. The vendor also has over 4,200 channel partners in 140 countries.
Rubrik primarily provides data protection and data management in hybrid IT environments with its flagship product, Rubrik Cloud Data Management (RCDM). The platform is a scale-out-architecture-based data protection tool with cloud integration, live mount for Oracle Databases, support for Office 365 backup, and support for SAP HANA backup. Additionally, in 2018 Rubrik acquired Datos IO, a company specializing in data protection of NoSQL databases. The vendor also offers Polaris Radar, a solution that provides ransomware detection and remediation.
SolarWinds MSP is an IT infrastructure management software provider. The vendor's data backup tool is called SolarWinds Backup and provides cloud-focused data protection services to both physical and virtual servers, workstations, business documents, and Microsoft Office 365. The solution is compatible with on-prem, cloud, and hybrid environments. SolarWinds also offers storage in its global private cloud. The provider's other related capabilities include threat monitoring, mail protection and archiving, remote support, and remote monitoring.
StorageCraft offers backup, disaster recovery, and business continuity solutions for servers, desktops, and laptops. Their solutions reduce downtime, improve security and stability for systems and data, and lower the total cost of ownership. The vendor boasts four offices globally, 11,000 partners and has backed up over one million devices. StorageCraft's business is focused on data protection and restoration tools that are offered via value-added and channel partners. However, it also offers scale-out storage, replication, recovery, integrated data protection, and more. The solution is supported by on-prem and cloud-based environments, as well as hybrid deployments.
Unitrends Enterprise Backup provides a package of on-prem backup, backup to the cloud, cloud-to-cloud Infrastructure as a Service (IaaS) backup, and Disaster Recovery as a Service (DRaaS) via integrated appliances and software-only offerings. The provider leverages high-availability hardware and software engineering with support services to provide all-in-one backup and continuity. Unitrends also offers hypervisor host-level security for VMWare, Hyper-V and XenServer, as well as more traditional security for physical servers and databases. The company was recently acquired by IT management solution provider, Kaseya.
Veeam Backup & Replication is a data protection and disaster recovery solution for virtual environments of any size. It provides fast, flexible and reliable recovery of virtualized applications and data. The provider unifies backup and replication in a single solution, increases value of backup and reinvents data protection for VMware VSphere and Microsoft Hyper-V virtual environments. Veeam offers free promotions for physical server backup and O365 Exchange Online. The solution also features data center functions, including tape support and snapshot storage integration, along with key deduplication backup integration.
Veritas Technologies provides backup and recovery, business continuity, information governance, and storage management tools. Its NetBackup product is a single and scalable solution that can protect physical, virtual and cloud workloads. Multitenant support is optional, and the solution is available on a converged platform that requires minimal administration, even in large environments. It eliminates point products and improves productivity within a business using centralized, policy-based management. Veritas also incorporates innovative technologies for data reduction and bandwidth efficiency, while providing extensive indexing and search capabilities.
To learn more about the 2020 Vendors to Know: Backup and Disaster Recovery, check out Solutions Review's other resources, including our Buyer's Guide. We cover the top providers and their key capabilities in detail.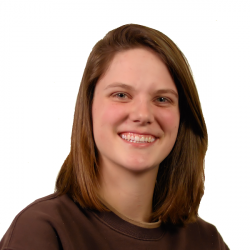 Latest posts by Tess Hanna
(see all)