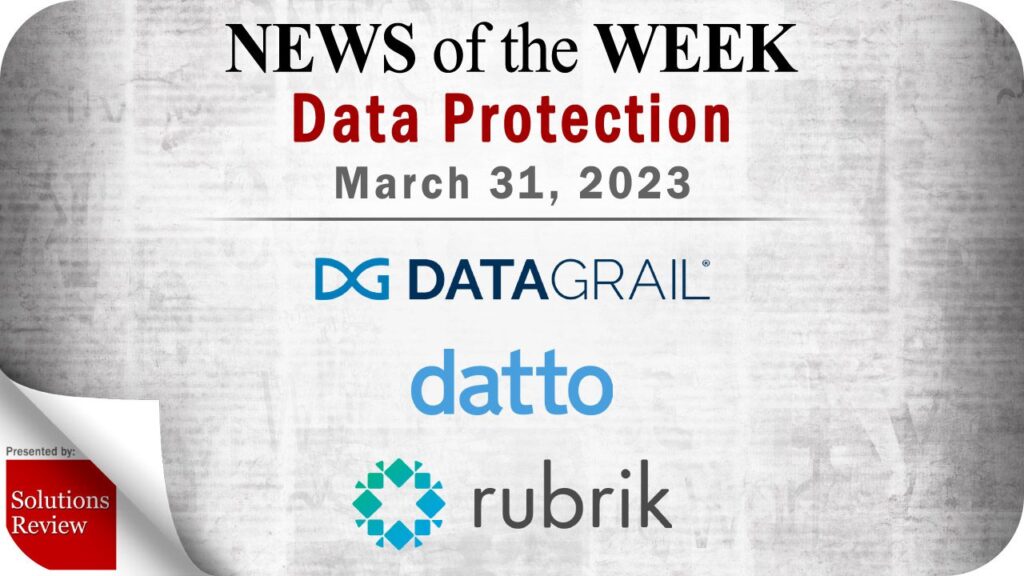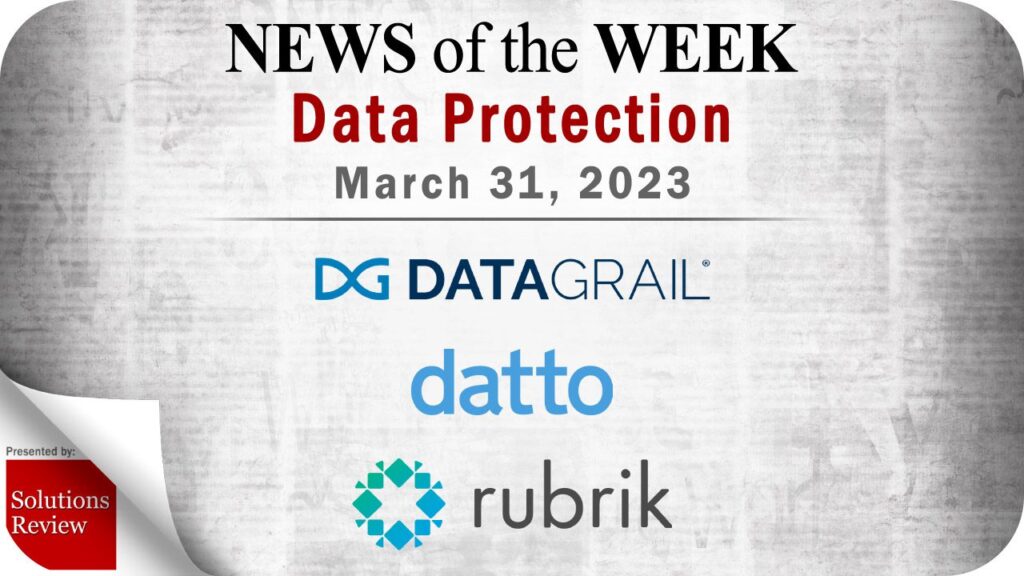 Solutions Review editors curated this list of the most noteworthy storage and data protection news items for the week of March 31, 2023.
Keeping tabs on all the most relevant storage and data protection news can be a time-consuming task. As a result, our editorial team aims to provide a summary of the top headlines from the last week, in this space. Solutions Review editors will curate vendor product news, mergers and acquisitions, venture capital funding, talent acquisition, and other noteworthy storage and data protection news items.
Top Storage and Data Protection News for the Week of March 31, 2023
[hr style="single"]
Cisco Adds New Storage Networking Innovation on Product's 20th Birthday
Cisco has introduced a number of groundbreaking storage networking innovations that leverage their entire data center networking arsenal, including Nexus switching and management technologies. These innovations have benefited customers over the last two decades.
[hr style="single"]
IBM Cloud and Wasabi Partner to Power Data Insights Across Hybrid Cloud Environments
IBM and Wasabi Technologies, 'the hot cloud storage company', announced they are collaborating to drive data innovation across hybrid cloud environments. This collaboration aims to allow enterprises to run applications across any environment – on-premises, in the cloud, or at the edge.
[hr style="single"]
Italy Data Protection Agency Opens ChatGPT Probe
Italy's data protection agency said on Friday it had opened a probe into OpenAI's ChatGPT chatbot over a suspected breach of the artificial intelligence application's data collection rules. The agency also accused ChatGPT, which is financially supported by Microsoft, of failing to check the age of its users.
[hr style="single"]
Consumers Threaten to Abandon Businesses That Pollute by Hoarding Unnecessary Data
The research, which polled 13,000 consumers around the world, also found that nearly half (46 percent) said it concerns them that 2 percent of global energy-related pollution emissions are caused by data centers. In response, three-fifths (59 percent) said they would like to see more focus from organizations on controlling the negative impact of online data storage on the environment.
[hr style="single"]
Kaseya, Post-Acquisition, Expanding 'Well-Regarded' Datto Partner Program
It's been almost one year since the acquisition that rocked the channel — Kaseya buying Datto. Since then, Kaseya has shown strength with the direction of its channel program and the enablement services it offers MSPs. In this edition of Channel Futures TV, Craig Galbraith talks with Kaseya VP of business development Mike DePalma.
[hr style="single"]
Privacera Secures Google Cloud Ready – BigQuery Designation
As part of this initiative, Google Cloud engineering teams validate partner integrations into BigQuery in a three-phase process. First, they run a series of data integration tests and then compare results against benchmarks, the last step is to work closely with partners to fill any gaps and refine documentation for our mutual customers.
[hr style="single"]
Protegrity Announces Borderless Data Solution
Cross-border data sharing allows businesses to innovate, governments to cooperate, and human beings to collaborate. For example, businesses can create new products, services, and operating models, or improve ESG monitoring along their supply chains.
[hr style="single"]
SIOS Releases LifeKeeper for Linux v9.7, Adding SAP HANA Multitarget Feature
SIOS LifeKeeper v9.7 enables customers to deploy a multitarget high availability environment in which HANA operates on a primary node and, in the event of a failure or disaster, can failover to a secondary and/or a tertiary target node located in a different cloud Availability Zone or on-premises disaster recovery location.
DataGrail Finds 52 percent of Requests to Protect Personal Data Come from States Without Data Protection Laws
DataGrail's Privacy Trends 2023 Report shows a sharp increase in consumers' desire to protect their privacy. The findings reveal Data Subject Requests (DSRs) — formal requests made to a company by a person to access, modify, or delete the personal data that the company holds on them.
Expert Insights Section
Watch this space each week as Solutions Review editors will use it to share new Expert Insights Series articles, Contributed Shorts videos, Expert Roundtable and event replays, and other curated content to help you gain a forward-thinking analysis and remain on-trend. All to meet the demand for what its editors do best: bring industry experts together to publish the web's leading insights for enterprise technology practitioners.
Solutions Review Set to Host Rubrik for Exclusive Webinar on April 11
Join us and see live how Rubrik Security Cloud can organize all your business information across data centers, co-los, clouds, and hybrid architectures for centralized data management. With your data in one place, you can leverage Zero Trust Data Protection to detect and recover from ransomware, reduce sensitive data exposure, and protect cloud workloads.
Solutions Review's Tim King Compiles 45 World Backup Day Quotes From 32 Experts for 2023
Solutions Review's aim is to connect enterprise technologists with Expert Insights, best practices, and buying resources to enhance your work life. World Backup Day quotes have been vetted for relevance and ability to add business value. These are the most actionable of the hundreds of World Backup Day quotes we received, and Solutions Review editors believe these are actionable and may impact a number of verticals, regions, and organization sizes.
How the 3-2-1 Rule for Backups Can Help SMBs Right Now
Following the 3-2-1 Rule is a simple way to ensure that you are keeping your most important business asset safe and out of harm's way. As you review your data backup strategies, there are a few considerations to keep in mind.
World Backup Day 2023: What When Backup Isn't Enough
Governments around the world continue to urge companies to raise their defenses, and businesses are increasing their efforts to safeguard sensitive data, but there is always more work to be done. There is no better time than on World Backup Day to pose the question: is backup enough?
World Backup Day Tips: 4 Keys for Data Management & Protection
With consumer concern high, the threat landscape continually evolving with faster and more complex threats targeting on-premises and multi-cloud environments and business at risk, organizations should consider the following steps to properly safeguard their data from edge to core to cloud.
For consideration in future storage and data protection news roundups, send your announcements to the editor: tking@solutionsreview.com.