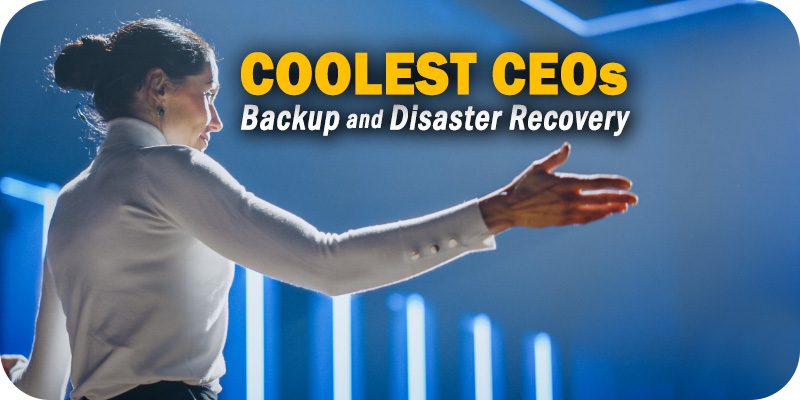 The editors at Solutions Review have examined the top vendors in the backup, DRaaS, and data protection spaces and compiled this list of the 10 coolest backup and disaster recovery CEOs of 2021.
The chief executive officer (CEO) is at the top of the food chain within an organization. The CEO undertakes many responsibilities, such as developing a strategy and direction and setting the precedent for their business' principles, conduct, and culture. The chief executive is also responsible for building an executive leadership team and allocating funds to match the company's goals and priorities. Some CEOs have even more on their plate, whether they are at the head of the top backup and disaster recovery companies or an emerging startup. Sometimes they can be responsible for more than just the traditional duties and can do anything from brewing coffee to marketing their product.
Solutions Review has compiled this list of the 10 coolest backup and disaster recovery CEOs based on a number of factors, including the company's market share, growth trajectory, and the impact each individual has had on its presence in what is becoming the most competitive global software market. Some of the top backup and disaster recovery CEOs have been with their respective companies since day one while others are serial entrepreneurs. But no matter their background, each CEO brings a diversity of skills and a unique perspective to the table that allows their company to thrive. 
The Coolest Backup and Disaster Recovery CEOs of 2021
Tom Signorello is the CEO of Arcserve. His responsibilities include establishing the company's global strategy, driving value to achieve worldwide sales goals, and setting the strategic direction of its portfolio of solutions. Signorello has been in the tech industry for 23 years and over that time he has developed a track record of creating profitable revenue streams over multiple industry sectors. Before joining Arcserve in 2017, Signorello was CEO of global solutions and services provider, OnX. Prior to his time at OnX, Signorello ran the North American business for Diebold, overseeing over half of the company's revenue. He also served as senior vice president of global government managed services at Xerox. Recently, Signorello led Arcserve in a merger with StorageCraft.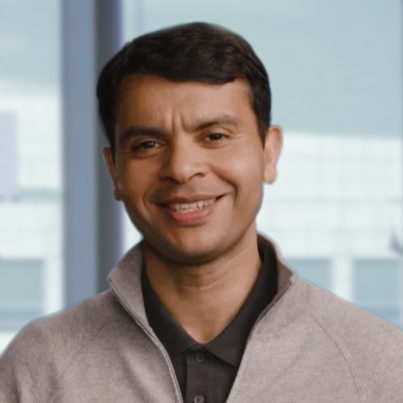 Mohit Aron, the CEO and Founder of Cohesity, has more than 15 years of experience in building scalable, high-performance distributed systems, and has been credited with increasing the popularity of hyperconvergence. Aron founded Cohesity in 2013 and co-founded the data storage company, Nutanix, in 2009. Before co-founding Nutanix, Aron worked at Google as a lead developer on the Google File System engineering project. Aron's success is evident, as shown by the World Economic Forum (WEF) naming Cohesity as one of the world's 61 most promising Technology Pioneers 2018. Recently, Cohesity also raised $250 million in Series E funding and is currently valued at $3.7 billion.
Sanjay Mirchandani is the CEO of Commvault, who succeeded long-time former CEO, Robert (Bob) Hammer, on February 5, 2019. Mirchandani has most recently served as the President and CEO of open-source configuration management software company, Puppet. During his time at Puppet, he grew the user base of the organization's open-source and commercial solutions to more than 40,000 companies, including 75 percent of the Fortune 100. Additionally, Mirchandani expanded Puppet's global presence by opening offices in Seattle, Singapore, Sydney, Tokyo, and Timisoara, Romania. Before that, he spent twenty years in senior leadership roles and Microsoft, VMware, and EMC Corp.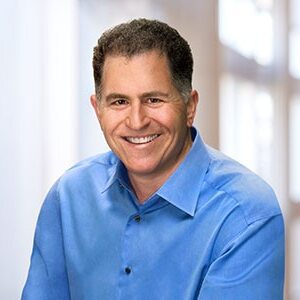 Michael Dell is chairman and CEO of tech industry giant, Dell Technologies. Boasting revenues of $94B and 158,000 team members, Dell Technologies is one of the largest IT companies in the world, providing services to large enterprises, small businesses, and consumers alike. Dell founded Dell Technologies in 1984 at the age of 19, and in 1992, became the youngest CEO to ever earn a ranking on the Fortune 500. Additionally, in 1999, he and his wife established the Michael & Susan Dell Foundation to increase opportunities for children growing up in urban poverty in the US, India, and South Africa. Michael Dell also serves as a member of the Technology CEO Council and Business Roundtable, as well as an executive committee member of the International Business Council.
Jaspreet Singh is the founder and CEO of Druva. Singh's experience with product vision and general management has enabled Druva to be one of the faster-growing companies in the data protection and management market. As a result of Singh's entrepreneurial spirit, Druva has now raised approximately $328 million in venture funding, as well as 4,000 customers globally. In founding Druva, Singh created the first and only cloud-native Data Management-as-a-Service (DMaaS) company, disrupting the traditional data protection market. Before starting Druva, Singh held foundational roles at both Veritas and Ensim Corp. Druva recently acquired SFApex for an undisclosed amount. In April of 2021, Druva also raised $147 million in Series H funding from a group of investors.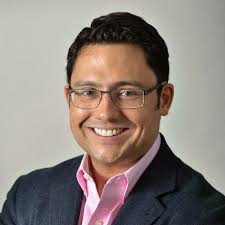 Simon Taylor, the CEO of HYCU, has over 15 years of experience in go-to-market strategy development, product marketing, and channel sales management for the tech industry. Prior to his time at HYCU, Taylor worked with companies including Comtrade Group, Forrester Research, Putnam Investments, and Omgeo, holding senior executive leadership positions at Comtrade Software and Comtrade Group. Taylor has been the CEO of HYCU since 2018, as well as a member of the Forbes Technology Council since 2020. Recently, HYCU earned $87.5 million in Series A funding from Acrew Capital and Bain Capital Ventures. 
Russell P. Reeder is the CEO of Infrascale. He has more than 25 years of experience as a tech, sales, product, and branding executive. Previously, Reeder led OVHcloud's growth into the United States. OVHcloud then successfully launched in the US, acquired vCloud Air from VMware, and built two additional data centers, bringing the organization to a total of 30 data centers globally. Additionally, Reeder led the premium cloud hosting company, MediaTemple, where he managed the company's global sales growth, brand, and strategic direction.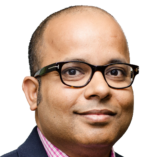 Rubrik's CEO and Co-Founder, Bipul Sinha, brings more than 20 years of experience building successful companies and products from the ground up. Prior to Sinha's time at Rubrik, he was a partner at LightSpeed, where he invested in Nutanix, PernixData, and Numerify. He is currently a Venture Partner at LightSpeed. Sinha also serves as a founding investor and board member at Nutanix, as well as acting as the Board Chairman and Co-Founder of Confluera. Additionally, Sinha has held engineering positions at Oracle, American Megatrends, and IBM. In late 2020, Rubrik acquired Igneous.

William H. Largent is the CEO and Chairman of the Board at Veeam. He has logged more than 30 years in operations and leadership roles at growth companies. Before his time as CEO and Chairman of the Board, Largent was Veeam's Executive Vice President of Operations, as well as a board member. Additionally, Largent was previously the CEO of Applied Innovation Inc., a public company previously traded on the NASDAQ. Largent was also the CFO of Plug Power where he managed the business' initial public offering and raised more than $150 million in equity. Recently, Veeam was acquired by Insight Partners for $5 billion.  
Greg Hughes is the CEO of Veritas. He has over 20 years of experience as an executive in enterprise software. Prior to joining Veritas, Hughes was the CEO of Serena Software. In his time there, Hughes led the successful turnaround and sale to Micro Focus. Additionally, he has held executive roles in technology investment firms Silver Lake Partners and HGGC. Hughes also served in a range of senior executive roles at Symantec, most recently as President of the $4 billion Enterprise Product Group. Hughes joined Symantec through the acquisition of Veritas, where he was executive vice president of Global Services. To extend its digital compliance portfolio, Veritas acquired Globanet in 2020 and HubStor in 2021.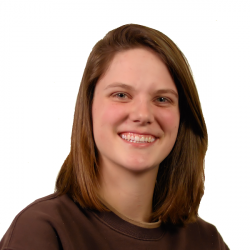 Latest posts by Tess Hanna
(see all)