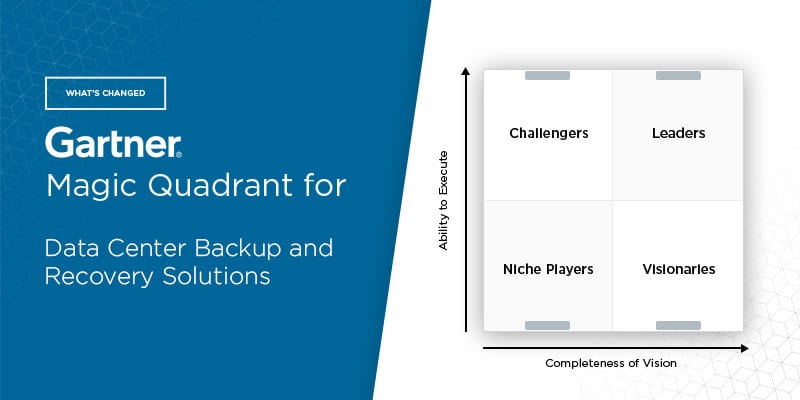 The editors at Solutions Review highlight what's changed since the last iteration of the Gartner Magic Quadrant for Data Center Backup and Recovery Solutions and provide analysis of the new report.
Analyst house Gartner, Inc. recently released its 2020 Magic Quadrant for Data Center Backup and Recovery Solutions. This report looks at eleven leading data center backup and recovery solution providers: Acronis, Actifio, Arcserve, Cohesity, Commvault, Dell Technologies, IBM, Rubrik, Unitrends, a Kaseya Company, Veeam, and Veritas Technologies.
Gartner states that the core functionalities of a backup and recovery solution are to "back up and recover operating systems, files, databases, and applications in both physical and virtual environments in the data center; assign backup and retention policies that align with the organization's recovery objectives; and report success and failure of backup/recovery tasks." Gartner expands on this, listing possible additional capabilities as creating a second backup copy of on-prem backup data in the public cloud and tiering backup data to public cloud; protecting public cloud IaaS, PaaS, and SaaS workloads; and protecting remote sites.
In this Magic Quadrant, Gartner evaluates the strengths and weaknesses of 11 providers that it considers most significant in the marketplace, and provides readers with a graph (the Magic Quadrant) plotting the vendors based on their ability to execute and their completeness of vision. The graph is divided into four quadrants: niche players, challengers, visionaries, and leaders. At Solutions Review, we read the report, available here, and pulled out the key takeaways.
Two of the providers, (Arcserve and Unitrends, a Kaseya Company) were named niche players this year. Both vendors were also niche players in the previous iteration of this report. Arcserve Unified Data Protection (UDP) addresses the data protection requirements of a wide range of operating systems, hypervisors, databases, and public cloud environments. Additionally, the provider has recently focused on enhancing its Backup as a Service (BaaS) offerings, Arcserve Cloud Direct and UDP Cloud Hybrid Secured by Sophos. Unitrends recently launched a SaaS-based management platform called Helix that centrally manages software updates for backup appliances and monitors backup failures in Windows environments. The company also has a strong direct and indirect presence via channel partners in all major geographies.
Acronis and Actifio are the only visionaries in this year's report. While Actifio was also a visionary in 2019, Acronis was previously a niche player and enhanced its completeness of vision this year. Acronis' Cyber Backup platform focuses on delivering an integrated data protection and security solution that covers on-prem, cloud, and edge environments. The vendor also offers solutions specifically aimed at automotive, healthcare, energy, and government verticals. Actifio and its offering, Actifio Sky, have a focus on providing data protection and copy data management functionality for virtual machines and large databases, both on-prem and in a variety of public clouds. The provider's platform also offers flexibility with regard to deployment.
There were no challengers named this year, making the leaders' category the most crowded, with seven vendors. Leading this quadrant are Veeam and Commvault, both leaders in last year's Magic Quadrant. Out of all the vendors in this report, Commvault supports the broadest range of applications, databases, public cloud environments, operating systems, NAS systems, and storage arrays. Additionally, during the past year, the company introduced several new features that addressed data protection requirements in hybrid cloud, public cloud IaaS, and PaaS environments. Veeam was acquired by Insight Partners in March 2020, a move that is expected to help fule Veeam's growth in the U.S. market. Additionally, the vendor recently announced Nutanix Mine with Veeam, a backup solution based on Nutanix hyperconverged systems.
Dell Technologies and Veritas Technologies are also leaders this year, as they were last year. Dell's PowerProtect DD in combination with Data Protection Suite provides data reduction ratios that are higher than most vendors evaluated in this report. Additionally, Dell has a strong direct and indirect sales and support presence through a large network of channel partners in both mature and emerging markets. Veritas offers strong scalability capabilities, as it has many customers that have deployed NetBackup to protect multiple petabytes of data and more than 10,000 virtual machines in a single environment. NetBackup CloudPoint also protects virtual instances deployed in AWS, Microsoft Azure, and GCP.
Rounding out the leaders are Cohesity, IBM, and Rubrik. While IBM was a leader last year, both Cohesity and Rubrik were visionaries. Cohesity's DataProtect is part of the Cohesity DataPlatform, a scale-out software-defined platform that consolidates application and backup management. According to Gartner, Cohesity scores above average in service and support capabilities. IBM's Spectrum Protect Portfolio addresses data protection and reuse requirements for a broad range of applications. Additionally, IBM's operations are geographically diversified and tend to cater to the large enterprise segment of the market. Rubrik's SaaS-based platform, Polaris monitors the backup environment for anomalies by applying machine learning models that are continuously refined. The provider also supports near-instant availability of Microsoft SQL databases and Oracle databases through its "live mount" feature.
Micro Focus was the only vendor dropped from the 2019 report, while no vendors were added. The honorable mentions listed in this year's report are Clumio, Druva, HYCU, and Zerto.
Looking to learn more? Check out Solutions Review's other resources, including our Backup and Disaster Recovery Buyer's Guide.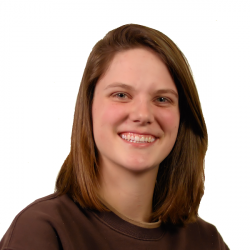 Latest posts by Tess Hanna
(see all)