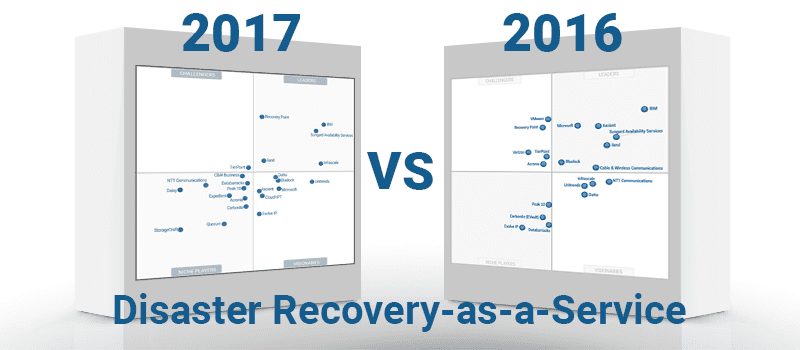 Gartner just recently released their latest Magic Quadrant for Disaster Recovery as a Service (DRaaS) with 23 vendors included. The goal of the report is to help I&O leaders evaluate the hundreds of DRaaS providers in the space.
The tech giant says DRaaS is an "as a service offering that includes replication of server workloads and recovery of such workloads, as needed, to a cloud with which the provider ultimately has fiscal responsibility."
Gartner uses the following criteria to name vendors for this report:
The vendor must offer one or more services consistent with the Gartner definition of DRaaS.
The vendor must have publicly offered its DRaaS service(s) for at least three years, as of 1 January 2017.
The vendor must be a significant player in the market via visible market presence and/or technology innovation, or have uniquely differentiated service offerings, as reflected in Gartner client and news media inquiries.
The tech giant also looks at things like market presence and completeness of vision to produce this popular report.
DRaaS is a mainstream offering and Gartner predicts that its current market value of $2.02 billion will reach $3.73 billion by 2021. The quadrant has some major differences compared to last year's report and Gartner noted eight areas that "reflect some of the largest shifts in emphasis." Those areas include value for the money, minimum viable product, degree of vendor focus, offering strategy, compliance and global reach, security, portal functionality for self-managed versus fully managed, and end users versus managed providers.
Gartner analysts also addressed the complexity of the market in the report, saying, "Assessing the complexity of the DRaaS market starts with the number of providers in this space. If one merely looks at the number of "cloud partners" of commonly used replication products used by DRaaS providers (such as Zerto, Veeam, Carbonite DoubleTake, Asigra, Acronis and StorageCraft) as a proxy to determine the number of DRaaS providers, the number of providers is well north of 500. Zerto alone has over 300 cloud partners using its products for recovery."
So let's take a look at where the vendors stand. TierPoint is all alone in the challenger's bucket while the niche players category was fairly crowded with 10 vendors including C&W Business, NTT Communications, Databarracks, Peak10, Daisy, and Expedient. Acronis, Carbonite, Quorum and StorageCraft were also placed in the niche category.
Datto, Bluelock, Unitrends, Microsoft, Axcient, CloudHPT, and Evolve IP landed in the visionaries quadrant. And five vendors took the lead; Recovery Point, IBM, Sungard Availability Services, iLand, and Infrascale.
CloudHPT, Daisy, Expedient, Quorum, and StorageCraft were all new kids on the block in this report. Two vendors included last year were dropped: Verizon and VMWare. Verizon was taken out of the report due to the Degree of Vendor Focus section in the Magic Quadrant Scoring Emphasis section.
"Verizon has DRaaS capabilities but better serves customers with other requirements that include DRaaS versus those that have a desire for a DRaaS-only offering," the report noted.
VMware's vCloud Air was dropped because the tech giant no longer believes that its a significant player in the space due to an acquisition.
"On 8 May 2017, VMware's vCloud Air business and associated operational services (including DRaaS) were acquired by OVH. Because VMware is no longer a significant player in the DRaaS market, it has been dropped from the Magic Quadrant," according to the report.
Some notable vendors were mentioned, including CloudEndure, which offers low RPO and RTO capabilities along with Webair, which the tech giant says provides "excellent value for the money, has experience with many difference replication approaches, and has several healthcare-related customers with signed business associate agreements (BAAs)."
Druva was also mentioned as a notable vendor given that its DRaaS offering was just created about a year ago and is "becoming an increasingly viable option for AWS from more of a SaaS, self-service perspective."
Click here to read the entire report.
Latest posts by Alexander K
(see all)