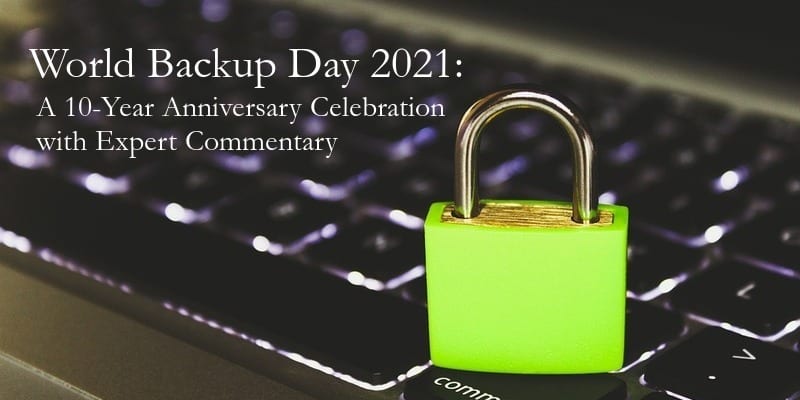 Today, March 31st is World Backup Day 2021, the 10th anniversary of the inaugural World Backup Day in 2011. Though the day serves as a reminder to ensure that your data is backed up and protected, it doesn't hurt to get a yearly reminder that there is never a bad time to make sure that you and your business are prepared for the worst, especially after getting through 2020.
According to worldbackupday.com, 113 phones are lost or stolen every minute, meaning that all of the data on those phones is lost if the user hasn't backed up their device. In addition to this, 1 in 10 computers are infected with viruses every month, and 29% of disasters are caused by accident. With these statistics that show how often disasters occur, it's almost unbelievable that 30% of people have never backed up their data.  
You don't want to be a part of these statistics. However, you can avoid that fate by putting a backup solution in place. Backing up is essential whether you are a part of an enterprise company, or simply looking to protect your personal data. Without any sort of backup plan, your data is at risk of being lost or compromised. If you need even more convincing about the importance of data backup, take a look at what some industry professionals had to say on the subject:
Note: Quotes are listed in alphabetical order by company name. Click any company name to learn more.
Steven Aiello, Security & Compliance Practice Director, AHEAD
When we think about building resiliency into environments, backup and recovery are important, but backing up the right data is what separates good strategies from bad ones. For World Backup Day this year, I've outlined the key considerations for businesses in search of a good strategy:
1) Determine what's truly important to the business.
Many organizations are trying to do too much. When you think of an organization that has petabytes and petabytes of data –which is very common for larger enterprises –there must be an understanding of which data is actually important. For example, maybe only 20% of its backed-up data is ever accessed, while the other 80% sits dormant. So, it first comes down to understanding which data is even being used, then determining within that subset which data should be backed up by knowing what value is being extracted from backup initiatives. If you're just backing up thousands of word documents that no one has touched in years, there's not a lot of value there.
2) Drive consensus based on data.
To understand what is valuable to the company, you must drive consensus. For example, if we're talking about a large organization that deals with Payment Card Industry standards (PCI)—the directive from PCI is to delete data as soon as it is no longer needed. How do you decide what's relevant to the business? There could be other business concerns that make backing up certain data more valuable such as legal considerations. To drive consensus, the organization must understand factors such as risk tolerance, the likelihood of an event that would require the data, the likelihood of an attack that would put the data at risk and the cost of storing data.
Ask questions like: 'How many data requests have you had in the past few years?'; 'How much would it have cost if you weren't able to access the data?'; 'Is it worth the cost of data storage to have this information readily accessible?'
3) Get a plan.
Once an organization understands what is important and has a consensus around exactly what data is necessary, it can then build a plan for backing up the right data in the right way. A plan can be made based on tactical aspects of the business, like recovery time objectives, recovery point objectives and costs. The overall effort to backup data will then be easier because there's an infinitely more manageable data store than what you started with. At the end of the day, the culture within an organization must be willing to make decisions based on business data.
Sam Roguine, Backup, DR, and Ransomware Prevention Evangelist, Arcserve
This World Backup Day, it's important for IT teams in every organization to reexamine the data protection protocols that were put in place over the past year. Your recovery plan is only as solid as your latest backup, so ensuring these backups are protected and accessible is key to maintaining business continuity when a cyber-attack or downtime event inevitably occurs. As most workforces have been largely distributed over the past year and employees have needed to play a bigger role in backing up the data from their laptops, there's likely to be some gaps – it's better to find that out now and fix any issues proactively. 
As the cloud has also played a bigger role in organizations' data protection strategies since the pandemic began, World Backup Day serves as a reminder to start considering how to reconcile cloud-based and on-prem systems. It's generally considered best practice to back up business-critical applications and systems that are on-prem for quicker restoration, so when returning to the office IT teams will be tasked with successfully migrating anything stored in the cloud that's business-critical back on-premise. Regardless, it's important to regularly test the recovery time and point objectives of whatever backup system you're using to ensure it's functioning properly.
The pandemic accelerated the use of public clouds for enterprise data backup and the adoption of cloud-native business applications using Kubernetes and cloud databases. Clouds are highly available and reliable, and as such, developers and DevOps teams may believe they don't need data backups. But our past year of the world operating in "backup mode" is a strong reminder of the disruption that natural disasters, human error, and security breaches can have on a business. Data backups will always be needed.
Matt Waxman, VP of Product Management, Cohesity
As we reflect on the past year, the world has been turned upside down, so talking about RPOs and RTOs just doesn't seem appropriate. We are living in an age where ransomware has almost become a household term. Sophisticated ransomware attacks are increasingly targeting backup
data in addition to what resides in production, to knee-cap organizations and their last lines of defense. Tackling ransomware is multi-faceted, but without a doubt having a comprehensive data protection strategy with a foundation built around immutability is no longer a nice to have, but a must-have. 
All companies, big and small, need to be on their guard and put defenses in place to reduce the chances of becoming the next victim. When combined with the cloud, an immutable file system is an incredibly powerful way of overcoming ransomware attacks. For too long backup has been a chore, or worse, an afterthought. However, in 2021, it is clear that sticking with your existing backup vendor's protection without thoroughly assessing its immutability credentials is akin to doing nothing, which can no longer be an option.
Don Foster, Global VP of Sales Engineering, Commvault
We've seen three key changes occur over the last 10 years: 1) adopting an incremental-only protection mechanism (only backing up what has changed). 2) whether on-premises or in the cloud, we've seen the integration of multiple backup techniques to formulate a protection plan. Real-time replication, hourly snapshots, and application-aware backups are no longer separate, but integrated. 3) movement toward using backup data for other purposes—this is a transition from data protection as an insurance policy to treating data an asset to the company for usage in other areas. 
The top three things companies should look for in a backup solution are:  
Simplicity in managing your entire data estate, not just part of it, no matter whether it's located on-premises, in the cloud, or at the edge. 
The ability to elegantly protect all workloads. Workload coverage is relevant in becoming future proof and moving through digital transformation.  
Ability to leverage the right tech for the right workload and simplify managing an entire data estate using tech like AI and ML, and other upcoming technologies to find anomalies and aid in the data readiness journey. Companies need the right technology at the right time for the right workload, integrated for a robust and effective recovery strategy. 
Penny Gralewski, Solutions Marketing Principal, Commvault
During the pandemic, our customers shared with us their top backup priorities, which indicate what they see as the biggest threats to their data.  
In two surveys of Commvault cloud customers in May 2020 and October 2020, their top answers on their top three data protection priorities were the same — disaster recovery preparedness, preventing ransomware attacks and faster digital transformation. However, while the percentages ranking disaster recovery preparedness and faster digital transformation changed by less than 10% over the May to October period, those who saw preventing ransomware attacks as a priority increased 22%, from 61% in May to 83% in October. 
Their thoughts echo the headlines we see each day – particularly the ones showing an uptick in ransomware attacks. However, if a company has a data protection strategy in place that allows them to easily test the reliability of their backups, share readiness reports with their executives, and automate data recovery in case of disaster, they can better ready themselves to quickly address an attack or other incident. 
Matt Tyrer, Senior Manager of Solutions Marketing, Commvault
The biggest threat is pretty simple — your company's data has been locked or lost, and you can't restore it. A ransomware attack?  A natural disaster?  A simple human error?  All of these things result in locked or lost data, and if you aren't protecting your data you can't get it back.  
Solutions exist to protect all this data. The real challenge in doing so that with the growing complexity and diversity of IT environments today, just keeping a line of sight and visibility on what data you have, where it is, and how you are protecting it becomes a chore.  
In particular, if you are using multiple products to protect your data, you are likely to not have a complete view of ALL your data — increasing the risk that some of this data will "fall through the cracks" and be locked or lost.  
That is why the best way to meet this threat is with a solution that provides you with comprehensive data visibility across your IT environment, allowing you to not just back up and recover all your data, but also keep tabs on it regardless of what it is or where it lives. This allows you to reduce the risk that any of your critical data is unprotected. 
Data is the livelihood of organizations – whether that's a hospital, law firm, or a bank – and without having instant access to it can cause unplanned downtime that can affect operations. Hardware failure, cyber-attacks such as ransomware, or even a natural disaster can cause serious problems for businesses because the risks associated with data loss can be severe. Hospitals need instant access to patient data, and if the database has been compromised and they can't access it then lives could be at stake. This is why it is absolutely essential to ensure organizations of all sizes, including SMBs, have a backup and disaster recovery (DR) plan in place. This way organizations can resume normal business operations as quickly as possible while minimizing the impact or damage associated with such an event. Benjamin Franklin once said, "If you fail to plan, you are planning to fail." The same can be said for not having a backup and DR plan at the ready.  
The ten-year anniversary for World Backup Day is a reminder to organizations to be better prepared to handle any situation. If the past year has taught us anything, it's that the pandemic hasn't stopped the world turning, but it has opened cyber-criminals up to finding more of those vulnerabilities and launching unprecedented attacks on all types of organizations to cause havoc. Backup is a basic defense against malware like ransomware. Having backups and a DR strategy in place to be up and running instantly means you're better prepared to tackle challenges head-on and minimize any impact to your end customers.  No matter what bad guys do to a computer or system, if you have a backup you are ultimately safe. Even more reason to appreciate World Backup Day!
Aron Brand, CTO, CTERA
Cloud backup enables tapping into cloud economies of scale, as well as being located off-premises, thus protecting against catastrophic site failures such as fire or flood. In the last 10 years, we have seen a rapid decrease in the use of on-premises backup solutions. Instead, companies are increasingly opting for hybrid backup solutions that combine a local backup vault with a cloud vault. The local vault is used for day-to-day recoveries, while the cloud vault is used for long term and for recovery from rare, yet catastrophic, whole-site failures.
The next key development in backup technology and adoption will see modern hybrid backup solutions take the dual vault approach to the next level, by implementing cloud stubs. In case of a recovery, those files which need to be fetched from the cloud are replaced by cloud stubs, which are then retrieved from the cloud upon access, in parallel to the restore operation, allowing users to access their most important files instantly, even before the restore operation has completed.
Carl D'Halluin, CTO, Datadobi
In a single year, we've seen and experienced more fundamental changes than many could imagine. Yet, a year marked by change also highlighted a few things that remain constant. For
businesses, this was clear in the need for adaptability, and the requirement to retain access to its business-critical data at a moment's notice. 
Maintaining a secure third copy, or golden copy, of this data can help organizations maintain near to uninterrupted business continuity in the face of a variety of challenges. Prior to remote work skyrocketing in the pandemic, incidents of ransomware attacks on vulnerable file storage systems were a growing problem. Organizations had–and continue to have–clear directives to back up their file data to avoid disaster. A key part of that process is having a secure third copy of their NAS data in case of an attack on production or disaster recovery systems. This provides greater security if other means of protection and proper data backups have failed. Putting such an option in place–in a bunker site, behind an air gap, or in the cloud­­–gives organizations reliable data backup and restore capabilities.
In a landscape of increasing and evolving challenges, needs, and threats, businesses need the ability to protect and back up their data quickly, flexibly, securely, and cost-effectively, so data can be backed up and restored down to the individual file level.
W. Curtis Preston, Chief Technical Evangelist, Druva
While we've celebrated a decade's worth of World Backup Days, this past year has tested the ability to protect business data like no other. According to our Value of Data report, since the onset of the pandemic, IT leaders in the UK and US have reported an increase in data outages (43%), human error tampering data (40%), phishing (28%), malware (25%) and ransomware attacks (18%). 
As we move into the next phase of the new normal with hybrid workforces shifting between in-office and remote work, new data management challenges and potential security gaps will arise, especially if the data housed in collaboration tools, such as Microsoft 365, Salesforce and Google Workspace, is overlooked. As more operations and everyday enterprise applications move online, a robust approach to data resiliency is critical.   
Whether it's the data fueling NASA's rover landing on Mars, COVID-19 research and vaccination trials, or even our election results, backups add another layer of protection to the world's most sensitive information. As we look ahead to the future, data protection will only take on more significance. There is no better time to evaluate and reassess your current backup and recovery strategies than World Backup Day. Ensure you have a contingency plan at the ready. After all, a little planning will never hurt anybody. 
We can't predict the events of tomorrow – 2020 clearly illustrated that fact – but we must do our best to safeguard business continuity despite that reality.
When your business lives in the cloud, there is nothing more valuable than your data. An integrated approach to backup and disaster recovery is arguably one of the best ways to guarantee long-term viability of data because it protects assets in-depth, at multiple points, and through multiple infrastructures.
One way of securing data through an integrated approach is by seeking an IaaS provider that offers Backup-as-a-Service (BaaS) as part of its product and service suite. But, the market is becoming more competitive by the day due to increased globalization and market demand for connectivity and bandwidth, making it critical to carefully consider the various options available.
Analyze their success in data protection, visibility, active directory support, flexibility, pricing, and reliability to ensure the offering is the right fit for your company. Similarly, consider choosing a provider that offers disaster recovery services for at least the most common issues, like failure of a physical disk, server, network switch, network uplink connection, or power feed. An efficient backup solution will also create frequent backups of data, allowing you to restore any compromised data and relaunch your business' mission-critical functions with minimal downtime.
Use World Backup Day as an opportunity to review disaster recovery plans, backup protocols, and overall data protection solutions within your company to ensure they meet all the needs of your growing business.
Janet Giesen, VP of Operations and GTM Programs, Metallic
Today, the biggest threat to company's data is the threat of ransomware. Ransomware attacks are on the rise – cyber-intelligence firm Group-IB estimates that such attacks more than doubled last year. If a ransomware event occurs, companies need the peace of mind of knowing they can restore their data to the way it once was. Data backup give customers a path to a data restore if the unthinkable happens. 
In my opinion, the biggest change in backup since the first World Backup Day in 2011 is organizations' tolerance for long recovery times. Ten years ago, organizations could tolerate recovery times measured in days or even weeks. Today these times have come down to just a few hours or even minutes.  
Recovery time expectations have shifted due to the fact that organizations' operations depend more than ever on data. In addition, recovery time expectations have changed because the nature of the threats that companies face have evolved. Previously, primary recovery concerns were from hardware failures and natural disasters. Now companies do not just have to prepare themselves to recover their data from these types of events, but also recover it after a ransomware attack, a hack by a malicious insider, or another type of security breach.  
These considerations are driving customers to leverage cloud services to make their backups more resilient. In addition, they are using new architectures which can help them both minimize recovery times and better control their backup costs. 
Companies are increasingly adopting Backup-as-a-Service (BaaS) solutions because these solutions help them accelerate digital transformation and be laser-focused on their core business. BaaS solutions support adoption of a cloud-first philosophy that speeds that digital transformation by providing better scalability and agility than traditional solutions, while at the same time easing the data protection workload placed on overburdened IT staff.  
Security has also become a key business priority for companies and BaaS solutions are very resilient when it comes to ransomware, malicious insiders, and other security breaches. With BaaS companies have an air-gapped, secure backup solution that also offers them the flexibility, ease of deployment, and ease of management they need to fearlessly implement new technologies and choose the right deployment environment — be it on-premises, hybrid, or cloud – for all their workloads. 
Next to employees, data is the most valuable asset of any commercial business, nonprofit or government agency. Protecting both has therefore become a top priority for organizations large and small, around the world. Horrifically, however, this past year saw both under attack, as a direct result of the COVID-19 pandemic. From a data protection standpoint, the rush to accommodate new and necessary ways to work, shop, and live opened the door to cyber-criminals. And consequently, we saw a dramatic increase in ransomware attacks and high-profile data breaches that further cemented the importance of backup. 
However, the past year also taught us the criticality of 'Unbreakable Backup.' Certainly, the overall objective of backup is the ability to recover from any failure or data loss within a specified period of time. The process of backing up, especially to disk, has become highly automated after initial setup across applications, platforms, and virtual environments. But now, as ransomware and other malware attacks continue to increase in severity and sophistication, we understand the need to protect backed up data by making it immutable and by eliminating any way that data can be deleted or corrupted.
Unbreakable Backup does just that by creating an immutable, secure format that stores the admin keys in another location for added protection. For those seeking the ideal Unbreakable Backup solution for their environment, they should seek one that delivers data integrity with policy-driven and scheduled data integrity checks that can scrub the data for faults, and auto-heals without any user intervention. Next, they should seek a solution that provides high availability with dual controllers and RAID-based protection that can guarantee data access in the event of component failure. Recovery of your data will also be faster because all RAID-protected disk arrays can read faster than they can write. With an Unbreakable Backup solution with these capabilities in-hand, users can alleviate their worry about their ability to recover — and redirect their time and attention to activities that can more directly impact the organization's bottom-line objectives.
Ben Gitenstein, Vice President of Product, Qumulo
Many IT leaders are stuck in a mindset where they are focused on the data about their business. However, data is their business, making it existentially important to protect.
Unstructured file data is especially vital to protect because it can be irreplaceable – think security camera footage, medical imagery and historic archives. Yet it's inherently difficult to back up, since the sheer amount of individual files (the millions of petabytes of data that our servers handle every day) makes it time-consuming to identify which files are modified or need protecting. Traditionally, this was a lengthy undertaking with dreaded "tree-walks," the tedious process of inspecting every file to collect a record. But it doesn't have to be that way. To ensure consistent, repeatable backup and recovery across all of these different locations, you need to eliminate the complexity of ongoing orchestration and find a solution that makes the backup process radically simple. 
Every company also needs to ensure its data backup solution can scale up as the data grows. The amount of file data in your system could be outpacing your IT team's ability to back up and protect it, meaning you need to invest in a system that can backup and secure your data in real-time. 
Finally, your data needs protection from all angles of the business. As more enterprises adopt a hybrid cloud approach, they don't have everything in one data center, and users are accessing file data apps and services from anywhere. Your technology shouldn't be siloed, and neither should your security. In other words, your data protection provider requires modern interoperability with the leading cloud providers and data services. This reinforces the need for solutions that offer native protection against component failure and environment failure.
Indeed, this past year has left organizations engrossed in responding to the rapid shift to remote work and the cyber risks from bad actors using the pandemic as a catalyst to continue carrying out their crimes. Across private and public sectors, there was an onslaught of phishing, malware distribution, false domain names, and other attacks on IT infrastructure as teams quickly pivoted to remote working. While we continue to navigate the uncertainties of the pandemic this year and beyond, it is also important to reiterate simple steps to avoid or minimize attacks on businesses, such as identifying suspicious senders, exercise caution before clicking on links or opening attachments, and instill a backup strategy that utilizes the 3-2-1 rule.
A strong 3-2-1 backup plan includes having at least three copies of data across multiple locations: the original, a first backup stored onsite, and a second backup located offsite. In the current environment, where ransomware attacks are commonplace, if all organizational backups are on a single disk that is connected to a main computer, those backups can be encrypted at the same time as source data, rendering them useless. With three copies of data – on the computer, on local storage, and on offsite storage – rapid recovery from threats such as ransomware becomes much more practical.
Paul Speciale, Chief Product Officer, Scality
As data becomes increasingly valuable, backup and data protection at large will remain key topics. Storage and backup infrastructure must continually be revisited as business needs evolve. 
Over the last several years, we've seen the growth of hybrid cloud backup and business continuance strategies. Traditionally, enterprise IT has solved business continuance requirements through redundant infrastructures, in two physical enterprise data centers that are geographically separated. This commonly depended on the use of data replication strategies to maintain redundant data copies across these sites. The real shift in the last 24-36 months is that enterprises are now truly embracing hybrid cloud as the mechanism to enable this redundancy, by using a public cloud provider such as AWS or Azure as the secondary site, with hybrid cloud data replication as the means to maintain data synchronicity between the data center and the public cloud.  
On-premises backups will certainly remain since data is now being created everywhere, from the corporate data center to the cloud and now the emerging edge tier, but a major new trend in the world of IT infrastructure and application development will be a shift to the "cloud-native" model. This will create a demand for an entirely new set of data protection applications that are container and Kubernetes aware, so as to provide cloud-native backup solutions for these environments.
Shash Anand, Vice President of Product Strategy, SOTI
It remains critical for companies to protect vulnerable endpoints against malware designed to steal sensitive data by blocking unapproved operating system (OS) versions and updating old virus software. Remote work presents the biggest cybersecurity challenge yet. Business leaders and their IT departments need effective backup and disaster recovery solutions. The SOTI ONE Platform, for example, provides peace of mind, streamlined operations, and enhanced reliability for businesses looking to learn from these mistakes and take the first step in data protection.
Alex Chircop, Founder and CEO, StorageOS
Data loss can occur in any number of ways — from natural disasters to cyber-attacks and ransomware — so it's difficult to overstate the importance of backing up important files, whether you're a small mom-and-pop shop or a multinational enterprise. Furthermore, as the pandemic prompted a massive surge in remote work, our dependence on cloud-based applications and tools has risen dramatically. That's why the ability to manage backup and storage to protect data in cloud-native environments is more crucial than ever, and why companies like ours are developing features that work with Kubernetes to manage backup and storage of Kubernetes orchestrated containers.
Whatever environment you operate in, World Backup Day, now in its tenth year, exists for a very good reason — to remind us how important it is to have a solid backup strategy so you can be prepared for unexpected events and minimize damage to your business and your customers.
Rick Vanover, Senior Director of Product Strategy, Veeam
World Backup Day is important to Veeam and individuals and organizations across the globe looking to protect the data they care about. At Veeam, we have evidence in the form of case studies on our website that show detrimental things can happen to good technologies. Whether in the form of ransomware, natural disasters, accidental deletion, automation errors or hardware failures, all are potential routes to damaging data loss. Stakeholders expect the data they care about to be online and functioning as expected, at all times. They expect to be able to recover if needed, have a disaster recovery plan, and portability to resolve any problem.
World Backup Day is an important reminder that backup is one of the most important steps to build on a complete strategy for the data you want to preserve and protect. Backup, replication, storage snapshots and continuous data protection across the span of the data center and cloud is the route to success.
Doug Matthews, Vice President of Enterprise Data Protection and Analytics, Veritas
The global pandemic put unprecedented pressures on businesses and their IT systems. For many departments, that's meant day after day of firefighting to keep networks running, workers working and customers happy. This doesn't leave a lot of time to think about backup.
That's why, this World Backup Day, Veritas is encouraging businesses to pause and take stock. For some, everything will have changed since the last World Backup Day: data and devices are in new places and the threat landscape continues to evolve. Ransomware is far more prevalent than ever, the demands are higher – and so are the repercussions for getting it wrong.
The question is: Has data protection kept pace? According to Veritas research, only 36 percent of businesses think so.
With a holistic data protection solution covering workloads from edge to core to cloud, extending this to new SaaS applications or new cloud environments may be easier than businesses think. And taking the time to identify the problem is the first step on the road to taking back control.
Gil Levonai, CMO and SVP Product, Zerto
Since 2011, World Backup Day has acted as a poignant reminder for people to prepare for the unexpected by backing up their important files. Data loss can happen in a variety of ways, and while losing family photographs or important receipts can be extremely irritating, for businesses the financial, reputational, and legal damage associated with data loss can be catastrophic. Though World Backup Day strikes a slightly humorous tone – falling the day before April Fool's Day – the consequences of data loss are anything but.
The 10 year anniversary of World Backup Day comes at a fundamental turning point for backup technology. Data has grown exponentially over the last decade, creating zero tolerance for data loss, and yet backup technology has evolved very little. Traditional backup relies on periodic snapshots often on a daily, weekly, or even monthly basis, which places a massive burden on production environments and often forces IT teams to run these at night to avoid disruption. This has left them struggling to meet or exceed the two primary metrics associated with backup: recovery time objectives (RTOs) and recovery point objectives (RPOs).
Now, as businesses focus on providing an 'always-on' service to their customers and the constant increase of cyber threats, organizations are thinking about how they can protect their data continuously with every change, update, or new piece of data protected and available in real-time. Continuous data protection (CDP) is enabling this change, saving data in intervals of seconds – rather than days or months – and giving IT teams the granularity to quickly rewind operations to just seconds before disruption occurred. Completely flexible, CDP enables an IT team to quickly recover anything from a single file or virtual machine right up to an entire site. As more organizations join the CDP backup revolution, data loss may one day become as harmless as an April Fool's joke. Until then, it remains a real and present danger.
Though March 31st is officially World Backup Day 2021, worldbackupday.com reminds us that this holiday should be celebrated every day.
Looking for more information on backup solutions? Consider downloading our Backup and Disaster Recovery Buyer's Guide. This free resource gives you the ability to compare the top 28 products available on the market with full page vendor profiles. The guide also offers five questions to ask yourself and five questions to ask your software provider before purchasing. It's the best resource for anyone looking to find the right backup and disaster recovery solution for their organization. Additionally, check out our Disaster Recovery as a Service Buyer's Guide and our Data Protection Vendor Map.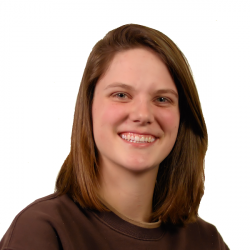 Latest posts by Tess Hanna
(see all)