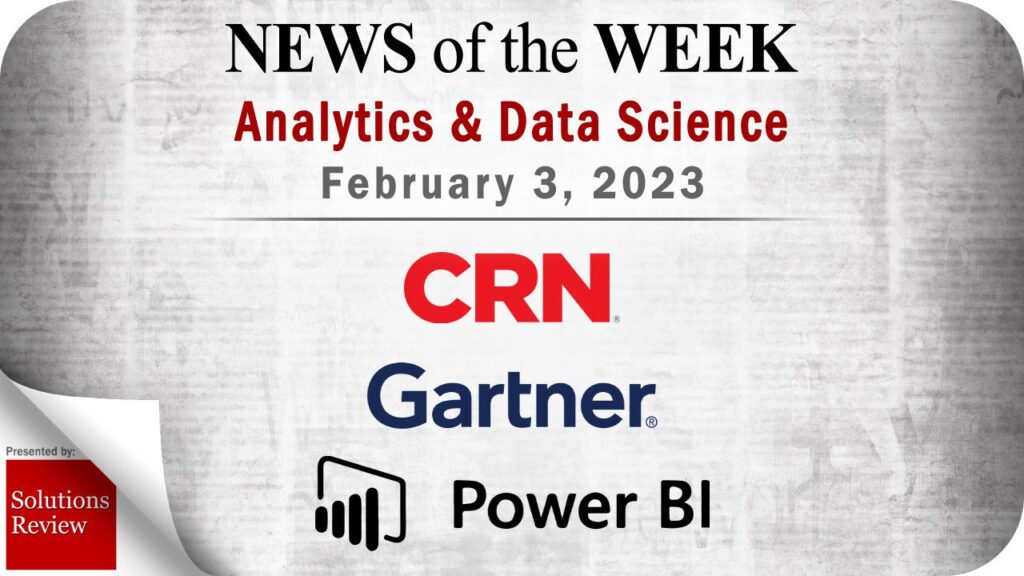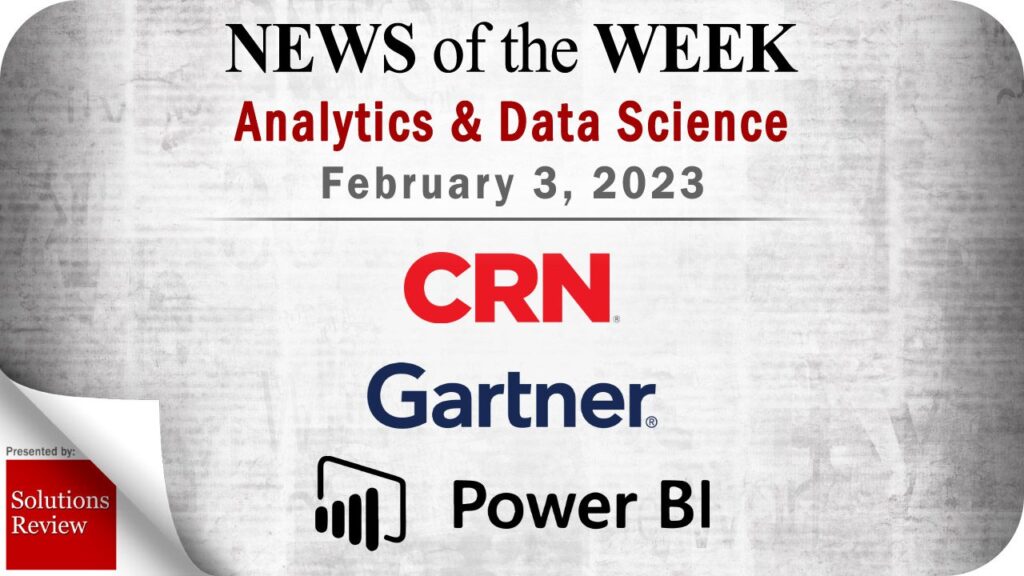 The editors at Solutions Review have curated this list of the most noteworthy analytics and data science news items for the week of February 3, 2023.
Keeping tabs on all the most relevant analytics and data science news can be a time-consuming task. As a result, our editorial team aims to provide a summary of the top headlines from the last week, in this space. Solutions Review editors will curate vendor product news, mergers and acquisitions, venture capital funding, talent acquisition, and other noteworthy analytics and data science news items.
Top Analytics and Data Science News for the Week Ending February 3, 2023
CRN Unveils 10 Hot Big Data Companies To Watch In 2023
Businesses are looking to big data tech developers to help them leverage exploding volumes of data for competitive advantage. Below is a look at 10 hot big data companies – both startups and established companies – that the channel should keep an eye on this year, according to CRN.
Gartner Releases 2022 Magic Quadrant for Financial Planning Software
Financial planning software is a critical tool for organizations of all sizes, providing essential support for budgeting, forecasting, and scenario planning. The Gartner Magic Quadrant is a widely recognized research methodology used to assess technology providers in a particular market. The Gartner Magic Quadrant for Financial Planning Software is a well-regarded analysis of the leading providers in this space.
Microsoft Releases January 2023 Summary for Power BI Datamart
Datamarts are a public preview feature in Power BI Premium (and Premium Per User) that enable self-service users to securely collect, store, analyze, and share their data in a unified, low code, solution – delivering SQL and unified analytics – all in a web-based experience, for the first time. This blog below serves as a round-up of all the features and new releases shipped since the start of 2023.
Expert Insights Section
Watch this space each week as Solutions Review editors will use it to share new Expert Insights Series articles, Contributed Shorts videos, Expert Roundtable and event replays, and other curated content to help you gain a forward-thinking analysis and remain on-trend. All to meet the demand for what its editors do best: bring industry experts together to publish the web's leading insights for enterprise technology practitioners.
Solutions Review Set to Publish Expert Insights from Gartner's Data & Analytics Summit in March
In collaboration with data analytics industry analyst Philip Russom Ph.D., Solutions Review will be providing reactions to the most important news coming out of this industry-wide event. Philip has covered data management for Gartner, TDWI, Forrester Research, Giga Information Group, Hurwitz Group, and his own private analyst practice. He is also the author of Solutions Review's popular guide on Cloud Data Architecture Principles. Check out more details on the event below:
A Vice President of Enterprise Sales Reveals How to Improve Sales with Data Analytics
Most organizations have an abundance of information at their fingertips – data can help in many ways, from making strategic decisions to improving the bottom line. Many executives, however, are not taking advantage of such data. They lack a clear understanding of where to start when analyzing internal and external information. OxyLabs' Andrius Palionis offers some expert advice on improving sales with data analytics and advice for doing so yourself.
SaaS Analytics Product Manager Drops 4 Must-Know Trends
Aside from the benefit to their customers, SaaS analytics also helps SaaS companies easily track sales, operations, and marketing data to understand customer behavior throughout their journey and reveal where and how improvements can be made. Incorporating data analytics helps SaaS companies to reduce churn, increase customer engagement, and ultimately increase revenue. Learn more from Infragistics' Casey McGuigan below.
Analytics Chief Product Officer Unveils Top Cloud Software Predictions for 2023
Unpredictable times lie ahead for organizations, and companies will need to invest in cloud solutions that will put the power of analytics in the hands of all employees across the organization. Alteryx Chief Product Officer Suresh Vittal offers his cloud analytics predictions to be aware of for the year ahead.
For consideration in future analytics and data science news roundups, send your announcements to the editor: tking@solutionsreview.com.