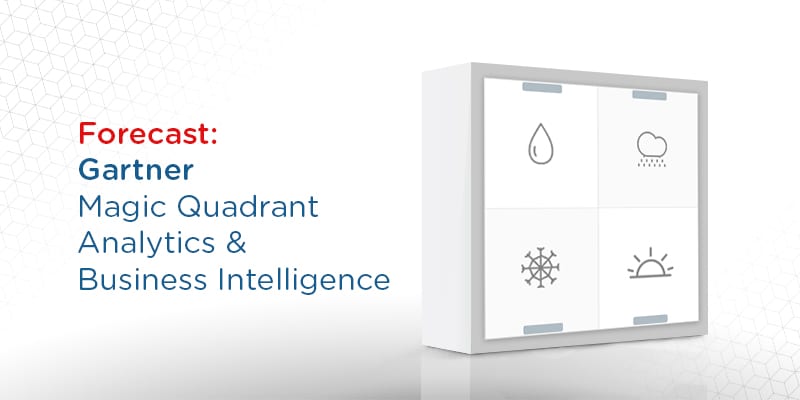 Each year enterprise technology professionals look forward to the release of Gartner's Magic Quadrant for Analytics and Business Intelligence Platforms. As the premier report in the marketplace, data and analytics leaders base many of their yearly initiatives and purchasing decisions on Gartner's advice. Featuring a proprietary research methodology, the analyst house's annual release garners hype unparalleled in the enterprise, and on par with that of Apple's keynote events in the consumer technology space.
Set to be released this month, it's interesting to note that Gartner flipped the two key terms in the title, and the 2018 version will be called the Magic Quadrant for Analytics and Business Intelligence Platforms. This is interesting to note given the market's shift toward end-user autonomy and self-service tools.
At Solutions Review, we share in the excitement as we near the eve of Gartner's newest release. It's in this spirit that our editors have compiled this list of the three things we expect to see once the report becomes available.
Qlik makes it interesting
While we expect continued dominance for Tableau Software and Microsoft, Qlik is going to make things very interesting in the leaders column. The company did a number of noteworthy things since Gartner last scored them, headlined by acquiring Podium Data. Seen by many as the company's formal entrance in the larger data management space, this move allows it to make good on its recently unveiled Associative Big Data Index.
Qlik's newest big data solution continuously provides an up-to-date view of the data by indexing immediate updates along data source updates. It enables users to utilize Docker containers and practice agnosticism from being tied to a single big data repository or related strategy. Additionally, the tool distributes processing across a cluster in an attempt at maximizing performance using Kubernetes.
Sisense or ThoughtSpot (or both) join the market leaders
In February we wrote: "Sisense, ThoughtSpot, [and Salesforce] make up the class of the market visionaries column this year, with each provider nearing the border between themselves and the leaders. We would not be surprised to see Sisense make the jump into the leaders bracket in 2019. ThoughtSpot made perhaps the biggest leap of any provider in this report, and Gartner explains that its search-based interface and newly minted SpotIQ help it to differentiate itself from the pack."
Sisense has had an impressive year, first raising $80 million in new venture capital in September, and then releasing a new Data Cognition Engine a month later. According to the company, the tool 'learns' large datasets and can produce microsecond analytical responses to queries that are more than 99 percent accurate.
ThoughtSpot raised its own round of funding, to the tune of $145 million dollars in May. The round, which featured both new and existing partners, will allow the company to expand in the EMEA and APAC and continue to invest in its search-driven BI and analytics tools. The company also announced the release of a major product update in November that featured a new voice-driven analytics interface called SearchIQ.
Augmented analytics is quickly becoming the market standard
This is not the first we've heard about augmented analytics from the enterprise technology analyst, as the technology was one of the most prominent in Gartner's 2018 Hype Cycle. The next-generation of data analytics will reach mainstream adoption sooner rather than later. Gartner claims that the presence of augmented analytics will soon be so prevalent that citizen data scientists will surpass data scientists in terms of advanced analytic material produced.
Augmented analytics uses machine learning to change how analytic content is developed and used. The technology encompasses other modern analytical capabilities like data preparation, data management, business process management, process mining and data science.

Latest posts by Timothy King
(see all)