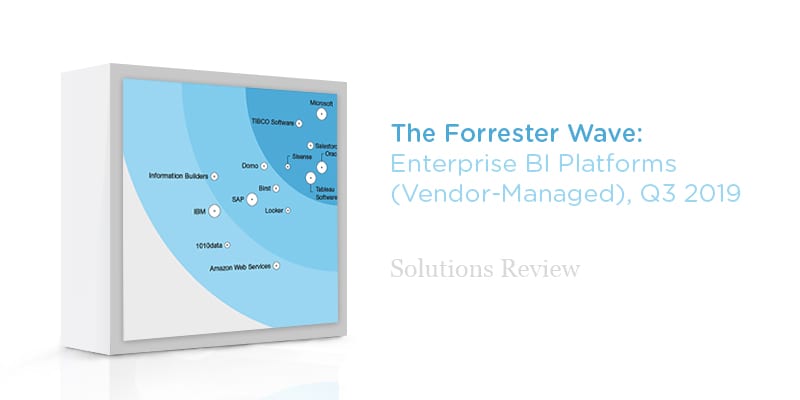 Technology advisory firm Forrester Research has released its latest Forrester Wave for Enterprise BI Platforms (Vendor-Managed), Q3 2019. "BI goes where the data is" is the theme of this report, with Forrester noting nearly half of data and analytics leaders are either complementing or replacing on-prem business intelligence software. The report features the same research methodology as Forrester's companion Wave for client-managed enterprise BI, expressly evaluating differentiated BI features like augmented analytics, platform extensibility and customization, overall technical architecture, big data functionality, built-in data preparation, and deployment options.
Forrester recommends organizations looking to buy vendor-managed enterprise BI consider providers that offer fully-managed platforms, direct access to on-prem data, and security optimized for the public cloud. The report features coverage about the BI platforms and their compliance with the most relevant regulations and standards, as well as regional and vertical-specific legislation.
In their 19-criteria evaluation of client-managed enterprise BI platforms, Forrester researchers Boris Evelson, Srividya Sridharan, Robert Perdoni, and Aldila Yunus identified the 14 providers whom they consider most significant in the category: Microsoft, Salesforce, Tableau Software, Oracle, Sisense, TIBCO Software, Domo, Birst, Looker, SAP, Information Builders, IBM, 1010data, and Amazon Web Services – then researched, analyzed, and scored them.
The Wave report details their findings and examines how each vendor meets (or falls short of) Forrester's evaluation criteria and where vendors stand in relation to each other.
Microsoft is the runaway leader and a "killer" BI platform
Microsoft has leapfrogged other enterprise BI providers since Forrester's last evaluation of the space, so much so that it refers to the product as "killer." The Power BI platform now addresses the vast majority of use case functionality that a modern platform must have. The product is cloud-based and delivered on the Azure Coud. On-prem capabilities also exist for individual users or when power users are authoring complex data mashups using in-house data sources.
Power BI is unique because it enables users to do data preparation, data discovery, and dashboards with the same design tool. The platform integrates with Excel and Office 365, and has a very active user community that extends the tool's capabilities. Microsoft has also invested in a new enterprise reporting feature.
Salesforce and Tableau Software occupy separate positions on the vendor-managed Wave for Enterprise BI
Unless you've been living under a rock you know Salesforce acquired the BI and data visualization giant back in June for a whopping $15 billion. The merger will enable Salesforce to bring its Einstein Analytics and Tableau Platform together and offer customers a full-featured BI portfolio for a wide variety of use cases. It will also enable Salesforce to reach a broader set of users.
Salesforce is set apart by its augmented BI capabilities, most notably for cognitive conversational computer interface functionality. The product also offers free add-ons that Forrester likes a lot, including comprehensive text and image analytics via the tool's Einstein Language and Einstein Vision frameworks. Tableau has "beefed up" its BI governance and data preparation features in recent months, and its vendor-managed product is virtually indistinguishable from the client-managed version, providing clients with broad deployment options.
Domo is on the cusp of market leadership
Domo's placement on the Wave grid has it a stone's throw from the leaders column. With an expanding market presence and an abundance of resources at the company's disposal, we expect Domo to secure leader status as soon as next year. Forrester analysts enjoy the vendor's wide array of out-of-the-box connectors (roughly 700) and the fact that many of the most popular ones include "actions" that allow users to write back source applications.
Within the last calendar year, Domo has released an integrated suite of data science capabilities, a new Integration Cloud iPaas solution, and a certificate program designed to help data and analytics leaders demonstrate a proficiency with the platform. Domo generated one of the top reference customer feedback scores across all vendors evaluated in the Wave for Enterprise BI.

Latest posts by Timothy King
(see all)