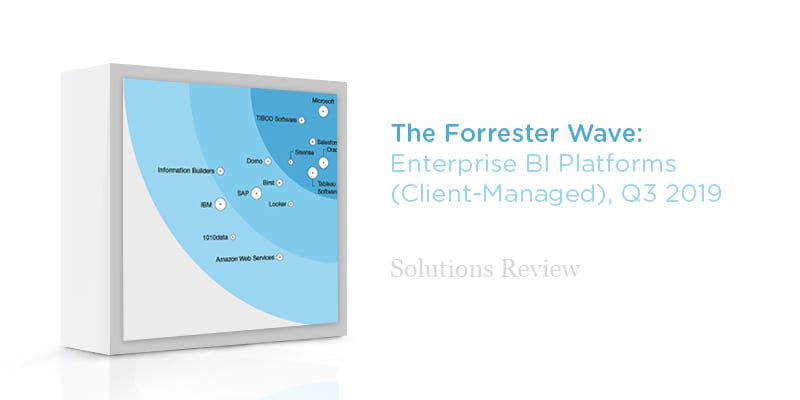 Technology advisory firm Forrester Research has released its latest Forrester Wave for Enterprise BI Platforms (Client-Managed), Q3 2019. The report features the same research methodology as Forrester's companion Wave for vendor-managed enterprise BI, expressly evaluating differentiated BI features like augmented analytics, platform extensibility and customization, overall technical architecture, big data functionality, built-in data preparation, and deployment options.
Forrester recommends organizations looking to buy client-managed enterprise BI consider providers that offer platform extensibility, translytical applications functionality, and augmented BI. Augmented analytics uses machine learning to change how analytic content is developed and used. The technology encompasses other modern analytical capabilities like data preparation, data management, business process management, process mining and data science.
In their 19-criteria evaluation of client-managed enterprise BI platforms, Forrester researchers Boris Evelson, Srividya Sridharan, Robert Perdoni, and Aldila Yunus identified the 13 providers whom they consider most significant in the category: TIBCO Software, Tableau Software, Sisense, MicroStrategy, Qlik, Microsoft, Birst, Yellowfin, SAS, ThoughtSpot, Information Builders, IBM, and OpenText – then researched, analyzed, and scored them.
The Wave report details their findings and examines how each vendor meets (or falls short of) Forrester's evaluation criteria and where vendors stand in relation to each other.
TIBCO Software is Forrester's top-performer in client-managed enterprise BI
TIBCO's Spotfire platform offers an in-memory architecture, comprehensive GUI, and "stellar" augmented BI features. The tool also provides out-of-the-box streaming analytics. Forrester reference customers ranked Spotfire well across a number of capabilities, especially for its ease of use, search UI, and data discovery and exploration.
This leadership position isn't TIBCO's only summer accolade, as the provider was recently named the best business intelligence reporting solution right now by the Software & Information Industry Association. SIIA judges note that Spotfire X is the only streaming business intelligence platform that enables "any and all users to perform complete visual analytics on streaming data, not just visualize as "view-only" moving charts."
Sisense's conversational UI is "top-notch"
Forrester ranks the Sisense UI is best-in-class, offering natural language query and generation, as well as a chatbot called Boto. Though its Insight Miner augmented BI is currently sold as an add-on, the researcher believes an integration would do the product wonders. Reference customers enjoy included big data functionality and fast deployment. The vendor-managed cloud version is virtually indistinguishable from the client-managed platform, giving customers broad deployment options.
The company recently announced a new cloud-native Linux architecture of its analytics platform called Cloud-Native Sisense. The release is part of a series of product updates announced at the Sisense Eureka! customer conference and aimed at helping Sisense users to simplify complex data.
MicroStrategy owns the strongest current enterprise BI offering
MicroStrategy provides out-of-the-box gateways and native drivers that connect to any enterprise resource, including databases, mobile device management (MDM) systems, enterprise directories, cloud applications and physical access control systems. The product enables users to build custom visualizations, connectors and applications, and proprietary APIs allow organizations to create custom product offerings and branded mobile applications.
The provider has one of the most complete transaction services capabilities, meaning developers can set up writeback from any data source with ease. Forrester reference customers praise MicroStrategy's scalability and mobile BI functionaliy.