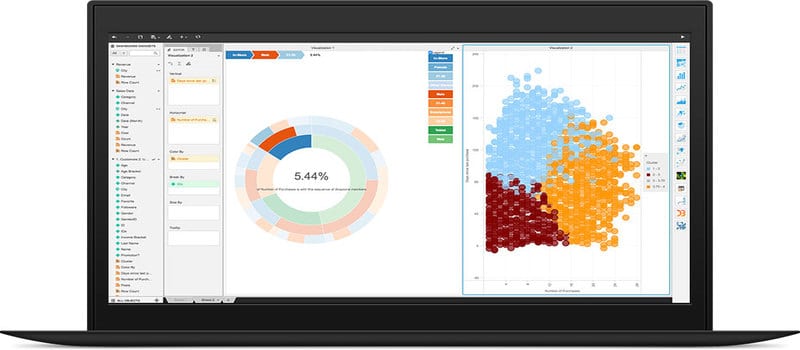 MicroStrategy recently announced that MicroStrategy Desktop is now available at no charge. The company is looking to target users who may be new to the field of Business Intelligence and analytics, including students and young professionals, offering them the ability to leverage their BI tool to explore popular data sources and build visualizations. MicroStrategy Desktop is a data discovery tool that allows users to access data on their own to build dashboards. With the solution, users can access more than 70 data sources, from personal spreadsheets to relational databases and Big Data sources like Hadoop.
The solution provides users with the ability to prepare, blend, and profile datasets with build-in data wrangling, so data can be transformed into dashboards in minutes all within a single interface. In addition, the tool allows departmental users to visualize information with hundreds of chart and graph options, which enables self-service decision-making. MicroStrategy Desktop is built on the latest version of MicroStrategy 10, which offers data source support, expanded visualizations, and easier inter-user collaboration.
To make it easier for new users to get started with the free version of this tool, the vendor is also rolling out a new Dashboard Gallery in the company's user community. Users can access and search this growing collection of dashboards by topic, and download dashboards with sample data to experience them on Desktop. Community users also have access to a library of public datasets, with which they can build their own new dashboards.
MicroStrategy's CEO Michael Saylor comments on the announcement: "By making MicroStrategy Desktop free, we aim to make business intelligence and the skills to draw value from self-service analytics and data discovery more accessible to companies and individuals. We recognize that education and support play a critical role in making our customers and partners successful, and have launched the Jump Start program, which makes free training and education available to individuals interested in using MicroStrategy Desktop."
Customers who already use MicroStrategy Web can seamlessly connect Desktop to existing projects. By downloading dashboards from the server to Desktop, MicroStrategy Web users can work locally and offline. MicroStrategy Desktop is available for the PC and Mac, and can be downloaded for free.
Read the official press release.