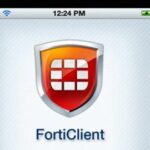 Fortinet is working to help organizations get a better handle on the new risks and challenges Bring Your Own Device (BYOD) programs are presenting to their networks, data and devices. New enhancements to their FortiClient application for iOS and Android devices operating on an organization's network aim to help protect organizations by authenticating devices, controlling user behavior in the network and restricting data access rights.
According to their recent release on their new upgrade, "The FortiClient Application for Android platforms allows for both SSL tunnel mode and IPSec VPN connections to FortiGate appliances. The end user connection is fully encrypted and all traffic is sent over a secure tunnel. The updated FortiClient application for IOS devices provides Web-mode SSL VPN functionality and has been modified for the iPad platform."
These new enhancements to their FortiClient application help bring more robust security to an organization's network allowing for the mobility and productivity BYOD brings. The upgrades have been incorporated into six key capabilities that the Fortinet solution is built on:
· A wide range of high-performance deployment options supporting LAN and WAN connectivity centered around the FortiGate family of appliances
· No 'per-user' or 'per-seat' licensing fees mean that customers can add new devices to their network without incurring additional license fees. This feature becomes critical as the number of devices attached to the network can double or even triple due to users bringing their smartphones and tablets to work
· Centralized "single pane of glass"management
· Integrated wireless controllers in all FortiGate appliances for improved application and user visibility and control, rogue access point detection, guest access and bandwidth management
· Built-in Wi-Fi for secure LAN deployments on certain FortiGate models reduces the need for a separate wireless access point
· Mobile VPN clients and interoperable soft-tokens for two-factor authentication
While Fortinet is a network based solution, they are in a unique position to offer support for Mobile Device Management, Virtual Desktop and third party VPN clients as well. This allows Fortinet users to handle network and data security from a variety of approaches as smart phones and tablets continue to flood the market. Click here to see recent release and to learn for about Fortinet's offerings.