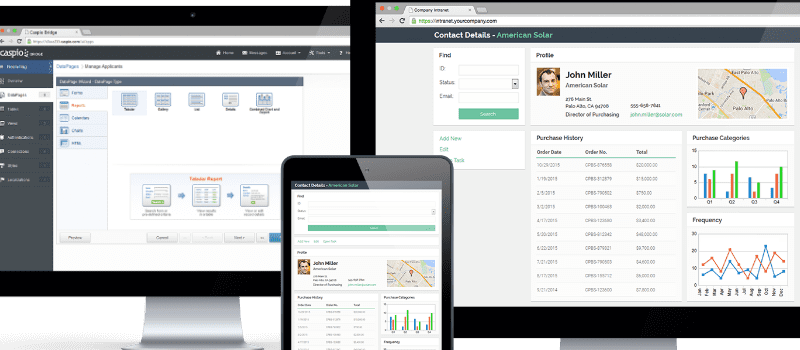 Caspio, Inc. providers of a low-code PaaS platform for rapid application development (RAD), today announced the latest updated of the Caspio Platform.
Caspio Bridge 9.0 includes a series of capabilities designed to address the increasing security needs of enterprise customers, including SAML Single Sign-On (SSO) capabilities and customizable account security policies.
In a single sign-on (SSO) service model users log onto a single platform which gives them automatic log-in access to multiple applications for a particular period of time.  When utilizing SSO systems users only need to present one set of credentials, rather than learning or remembering separate credentials for each application.
Caspio's new SAML integration capabilities let enterprises use their own internal corporate directory services to authenticate users of Caspio-powered applications. Caspio's SSO integration provides support for directory service providers including Active Directory Federation Services (ADFS) 2.0 and 3.0, Microsoft Azure Active Directory, OneLogin, Okta, PingOne, Auth0, and other SAML 2.0 compatible providers.
The new release also includes new reporting features such as pivot table reports, which allow customers to create interactive summary reports that give insight on large amounts of data as well as numerous .usability and performance enhancements.
"Enterprises need game-changing rapid application development tools to keep pace with market demands. Caspio's low-code platform is proven to cut development times and expenses on average by a factor of 10," said Frank Zamani, Caspio founder and CEO, in a prepared statement. "Caspio 9.0 further strengthens our existing offerings to the enterprise, and we're very excited about the productivity revolution Caspio is bringing to our customers across all industries."

Latest posts by Jeff Edwards
(see all)