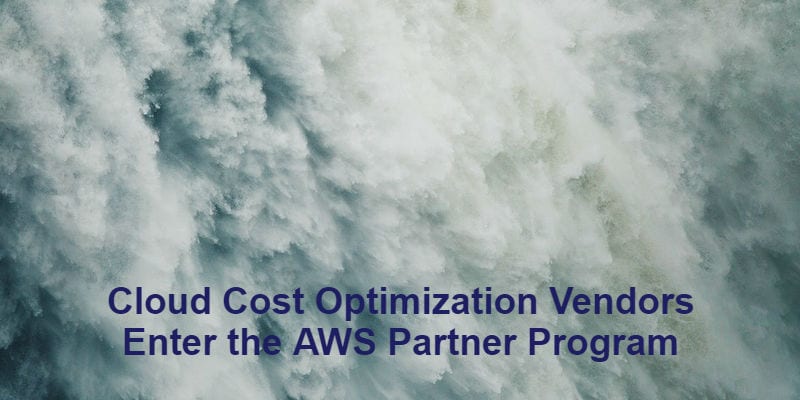 With cloud spend being so difficult to manage internally, there has been an influx of new tools to cover this area. Some options include managed service providers, hybrid cloud management tools, cloud spend optimization. AWS recognizes these concerns and unveiled their new AWS Cloud Management Tools competency. This partnership includes vendors for two categories, "Resource and Cost Optimization" and "Cloud Governance."
Although both fall into the same category, we felt it was more appropriate to dive into one at a time. The vendors in the cost optimization category include Cloudability, CloudCheckr, CloudHealth Technologies, GorillaStack, OptimizeNow, and Turbonomic.
"APN Partner solutions in this category help customers gain visibility into their AWS accounts and see exact workload costs, resource utilization, chargebacks, and more. Once cost visibility is achieved, APN Partner solutions provide resource and cost optimization recommendations to help customers maximize their AWS investment."
OptimizeNow won't be covered due to their exclusivity in the Asian market.
Cloudability
Cloudability offers continuous cloud spend optimization in their flagship platform. Enterprises can consistently meet their cloud with financial and operational expectations.  It enables visibility, optimization, and governance for VMs, containers, serverless, application, department, and user.
We also chatted with Cloudability's Matthew Scott to learn more about unexpected cloud costs.
CloudCheckr
CloudCheckr brings IT, security, and finance teams together with visibility, analytics, and automation. Their cloud management platform provides insights into public cloud services data. These insights come in the form of reports, alerts, analysis, or even automation.
CloudHealth Technologies
CloudHealth aims to be a multi-cloud management and governance platform for IT. They integrate pre-built tools into their larger platform, including the cost management tool. Their platform allows users to purchase AWS Reserved Instances directly into the platform.
GorillaStack
GorillaStack offers Rules Engine, a managed SaaS solution for automating AWS resource management and cleanup. Teams can use the platform to configure resource policies to address unutilized and underutilized resources. This ensures that your cloud runs smoothly at the price you expect.
Turbonomic
Turbonomic's hybrid cloud workload automation solution integrates management tools, performance monitoring, and more. Their automation engine allows users to automate cloud management and administrative tasks. As a cost management tool, it is primarily used to automate and optimize cost per performance.
Latest posts by Doug Atkinson
(see all)