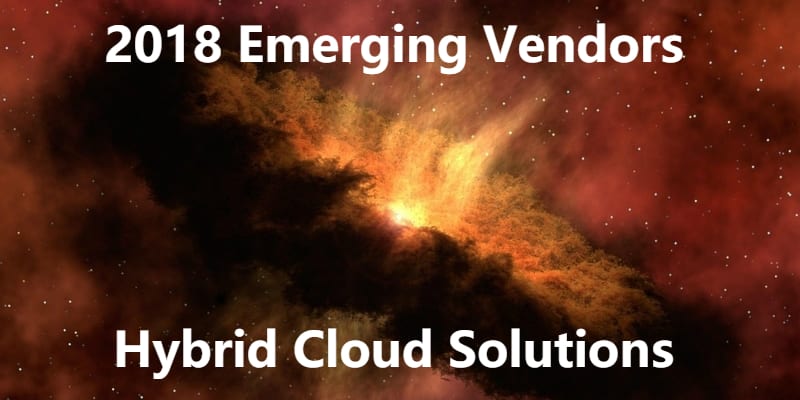 IT news and analysis outlet CRN recently released its 2018 Emerging Vendors collection. This list focuses on some of the vendors creating the most buzz in the IT space. CRN has divided their lists into seven technology categories like big data, cloud, data center, internet of things, networking, security, and storage.
At Solutions Review, we track the solution providers that have the greatest impact on enterprise computing. Thus, we've read through CRN's complete rankings and chose the 4 most valuable hybrid cloud tools. For a deeper breakdown of hybrid and multi-cloud management, check out our popular buyer's guide below.
Cloudhealth offers a cloud management platform for large enterprises. Their platform has functionality in multi-cloud, governance, security, cost, and workload management. Organizations looking to optimize cloud deployments will be able to utilize integrated reporting, active policy management, and strategic recommendations. CloudHealth's platform gives users a comprehensive look into data, patterns, and inefficiencies in their IT infrastructure.
Platform9 allows enterprises to get the most out of their cloud through open source frameworks like OpenStack, Kubernetes, and Fission. They offer this through an SaaS model for the deployment, management, and maintenance of infrastructure. These tasks can be incredibly difficult for enterprises, Platform9 works to eliminate these headaches. Their vendor-agnostic hybrid cloud solution enables users to create cloud technologies with ease.
Uila's flagship tool provides application-centric infrastructure monitoring and analytics. It identifies performance bottlenecks for critical services. The tool also includes planning for workload migration strategies for private and hybrid-cloud. Uila's AI and Continuous Machine Learning identifies anomalies from performance requirements to eliminate performance issues as soon as possible. It comes with automated root cause and forensics tools, making the "war room" obsolete.
ZeroStack uses AI to deliver a self-driving and fully integrated private cloud platform to simplify private clouds. The company offers a future-proof architecture through multi-tenant, multi-cloud, and containerized environments. Both enterprises and managed service providers can user ZeroStack to simplify operations, reduce costs, and accelerate IT.
Latest posts by Doug Atkinson
(see all)