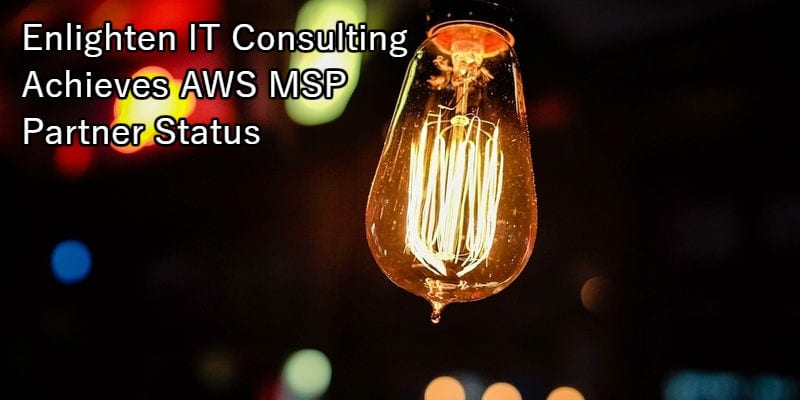 AWS has added a new managed service provider to their partner network, Enlighten IT Consulting. The company joins a community of AWS managed service providers with expertise in infrastructure, migration, and more. Enlighten specifically focuses on services for the US Department of Defense, as well as other areas in the Intelligence Community. Further, they developed their solutions in collaboration with AWS to meet the challenges of government data and security.
To gain AWS partnership status, Enlighten was required to pass comprehensive third-party audits of MSP capabilities. These tests included assistance from customers using Enlighten's Big Data Platform (BPD) and analytics in AWS GovCloud.
Enlighten allows government customers to rapidly develop, deploy, and operate via their Rapid Analytical Deployment and Management Framework (RADMF). The framework consists of in-depth cybersecurity mechanisms to deploy BPD components and a suite of capabilities in AWS GovCloud. This solution eliminates procuring various isolated tools in favor of a single solution.
"Our government customers are seeking solutions allowing them to perform their missions better, faster and more securely," said David Levy, Vice President of Federal Government for AWS. "Enlighten's RADMF managed service on AWS GovCloud does just that by providing critical big data and cyber capabilities for the defense community. It's accelerated the pace in which Enlighten's customers can immediately realize mission impact for Defensive Cyber Operations (DCO) and Data Fusion challenges."
"As an approved MSP partner, we have a tremendous opportunity to offer our customers a bundled suite of capabilities that are fully operational," said Duane Shugars, Senior Vice President and General Manager of Enlighten. "In addition to rapid deployment and management of BDP, our flagship product now includes Artificial Intelligence (AI), an automated pipeline for Machine Learning (ML), and secure Data Science Development and Operations."
Be sure to check out the full press release here. 
Latest posts by Doug Atkinson
(see all)