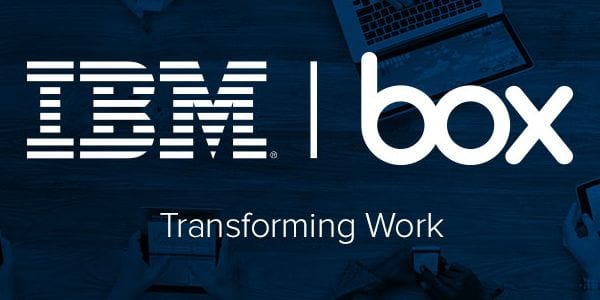 IBM has announced a new partnership with Box, the Silicon Valley-based cloud storage and content management service startup.
This is the latest in a series of IBM partnerships with high-profile Silicon Valley businesses including Apple, Facebook, and Twitter.
The partnership's goal, according to IBM's official press release, is to "transform work in the cloud" by integrating existing products and services and developing new solutions. Specifically, the two companies will target businesses in the healthcare, mobile, and research and data analysis industries.
[From AWS to Rackspace, Solutions Review rounds up the top 28 cloud vendors in the 2015 Cloud Platform Solutions Buyer's Guide. Solutions Review Buyer's Guides include full market overviews and 10 questions designed to help find your best fit in the cloud. Download your free copy today.]
The companies hope to achieve that objective by integrating Box's cloud content collaboration platform with IBM's analytics, social, and security tools and "the global footprint" of IBM's cloud, according to the release.
That last part is important.
IBM will allow Box's international customers to store content on IBM's large network of cloud data centers—which should reach 46 data centers globally by the end of 2015, according to IBM. This is a big move for Box, as it will allow compliance with increasingly prevalent national data residency requirements, such as those recently passed in the European Union, without building expensive data centers.
Box and IBM will also jointly develop content management solutions, and will enable enterprise developers to integrate Box APIs on the IBM Bluemix platform-as-a-service (PaaS) developer cloud.
For Box, a partnership with IBM is an important step towards growing revenue by attracting more paying customers. As of Q1 2015, Box has 37 million users, but only 10 percent or 3.7 million of those users are paying customers.
IBM, who Box calls the "longest-lasting and most durable company in the tech industry," has a strong global sales force with a well-established network of business connections, and now Box will be able to leverage that global sales force to market products and services jointly.
"Today's digital enterprises demand world-class technologies that transform how their organizations operate both internally and externally," said Aaron Levie, co-founder and CEO of Box. "This extensive alliance between Box and IBM opens up an exciting opportunity for both companies to reach new markets and deliver unified solutions and services that can redefine industries, advance secure collaboration and revolutionize enterprise mobility."

Latest posts by Jeff Edwards
(see all)