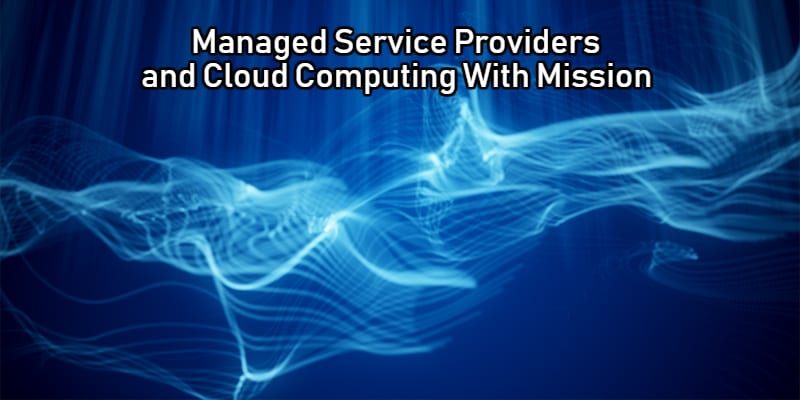 Keeping up with today's complex cloud computing space doesn't have to be strenuous. Managed service providers help businesses implement the latest technology. Increased complexity without proper management gives IT teams major headaches. It also introduces new opportunities for security threats. MSPs handle all these issues for enterprises.
To get a deeper understanding of what managed service providers are looking for, we reached out to Mission. Mission is the result of this year's merger between Reliam, Stratalux, and G2 Tech group.
What cloud computing trends are you anticipating in 2019 and beyond?
While public cloud is entering its second decade of existence, we're still relatively early in the adoption curve from a macro perspective. But, the explosive growth of hyperscale providers like AWS show that adoption is accelerating, with enterprise being a major driver of that growth. In 2019, I expect that trend to continue, with an increasing number of enterprises ramping up adoption as their private infrastructure approaches "end of life."
In addition to general enterprise adoption, we'll see the more technology-forward segments of the market experimenting and deploying on alternative forms of compute, such as serverless and container orchestration platforms like Kubernetes.
Finally, we've reached a real tipping point with IaaS vs. PaaS, as AWS continues to release application-level services for machine learning, database, analytics, workflow, IoT, gaming tech, and more. Developers will shift from the first round of "cloud native" solutions deployed and orchestrated on infrastructure primitives, and will instead begin to adopt platform-level managed services, starting their transition off of traditional virtual machines.
-Jonathan LaCour, CTO
What advantages do DevOps teams gain by using a managed service provider?
DevOps as a whole faces an increasingly stark talent shortage: DevOps hires with the right expertise and specialized talents are currently extremely hard to come by. At the same time, rapid turnover on internal DevOps teams makes retaining that top talent – and maintaining the continuity of an enterprise's institutional knowledge – an equally daunting challenge. It's also the case that internal DevOps personnel tend to become closely attuned to the nuances of their own unique environment, and can overlook opportunities due to this relatively narrow perspective.
Enlisting a capable managed service provider alleviates many of these issues by providing clients with full support from the expert talent they require, often at a cost lower than that of maintaining those resources internally. MSPs eliminate the risks of losing talent or institutional knowledge and handle the implementation of solutions on the client's behalf – and at a more rapid pace than what internal teams can achieve. And because they work across different clients in different use cases, they can bring a larger DevOps playbook to make clients aware of opportunities they might not otherwise be clued in on. Additionally, MSPs can teach internal DevOps personnel "how to fish," so to speak, so that they can maintain and operate solutions on their own to a beneficial degree (in many cases eliminating the need an expensive senior-level internal DevOps manager).
In short, I believe MSPs empower enterprise clients with the full advantages of retaining DevOps talent without the severe difficulties of managing a team internally.
-Glenn Grant, President of US East and founder of G2 Tech Group.
What do you tell organizations hesitant to migrate to AWS?
What do you know that your competition doesn't? Fear of public cloud comes in a variety of forms – including cost concerns, security worries, and reluctance to re-train legacy staff. But, for the vast majority of businesses, these fears should be completely outweighed by the consequences of allowing their competition to get to the cloud first. While the transition to public cloud can be difficult, the impact cloud can have on agility, performance, and innovation can give you an edge. If you don't take advantage, you can be sure that the competition will. Security, cost, and expertise are all accessible to every business adopting public cloud, and partners like Mission exist to help businesses overcome those fears, and confidently access the benefits of cloud.
-Jonathan LaCour, CTO
Have there been any challenges during the company's merger?
The challenge in any merger is to ensure the teams come together and align in newly defined roles, and making these changes requires great communication and listening to team member concerns. Some team members had fears that their role would diminish or disappear, but we carefully explained that as a fast-growing company, we have to retain our talent and add more people rather than reduce our team. Once everyone understood that and saw it in action, our people adapted well overall to the changes. It takes a talented People organization to execute well on this aspect, and Mission has an experienced and caring People team.
-Simon Anderson, CEO
 What kind of personalized approach does Mission provide to its customers?
From the moment we first begin talking with a prospective customer, our goal is to establish ourselves as a trusted expert advisor and partner. Our sales process is highly consultative, geared towards fostering meaty conversations that deliver value long before a company actually decides to become a paying customer. We strive to help our customers in some meaningful way at every touchpoint. Achieving that goal requires that we take the time to listen to our customers, understand both their direct technology needs and their broader objectives, and then design unique, tailored solutions that help them better leverage the power of the cloud to help them achieve their goals.
As we onboard new customers into service, we begin with a strategic consulting session that dives deep into the customer's technology, operations, and objectives. The session then drives the development of a Strategic Technology Roadmap, which addresses near-term issues and lays out a longer-term plan for ongoing development and optimization. Going forward, we work closely with our customers' in-house teams every step of the way – sharing knowledge, collaborating on technology, and setting and adjusting priorities from week to week. Every ongoing engagement also includes a dedicated Customer Success Manager, whose job is to ensure our customers take full advantage of not only Mission's products and services, but also services within AWS.
-JP Pagluica, Director of Customer Success
Latest posts by Doug Atkinson
(see all)