As of yesterday, Google's preemptible virtual machine (VM) instances for the search giant's Compute Engine cloud infrastructure as a service (IaaS) offering are now generally available.
Google  introduced the new pricing scheme for VMs, which could mean big savings for certain customers, about four months ago. Preemptible VMs will allow businesses to run short-duration batch jobs for 70 percent less cost than regular VMs— with one catch—Google can shut the instances down at any moment.
Here's what Google has to say: "Preemptible VMs are identical to regular VMs, except availability is subject to system supply and demand." That means that Preemptible VMs, which run on resources that would otherwise go unused, can be shut down at any time as those resources are provisioned to other customers (the ones paying for full price, on-demand VMs).  "Since we run Preemptible VMs on resources that would otherwise be idle, we can offer them at substantially reduced cost," says Google.
The Solutions Review PaaS Comparison Matrix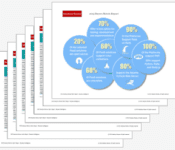 Compare the top 10 PaaS solutions across five categories:
-Features
-Languages
-Middleware
-Frameworks
-Services
Google's preemptible instances are similar to Amazon Web Service's (AWS) spot instances in that both services allow the vendor to sell unused machines at a discount when they are running idle, though AWS uses a bidding process while google offers a set price.
For more information of Google's preemptible VMs, you can check out their documentation here.

Latest posts by Jeff Edwards
(see all)