In the wake of Amazon's disclosing of $5.2 billion in AWS profits, journalists and pundits are eager to point out that Amazon's market lead may not be as commanding as it seems.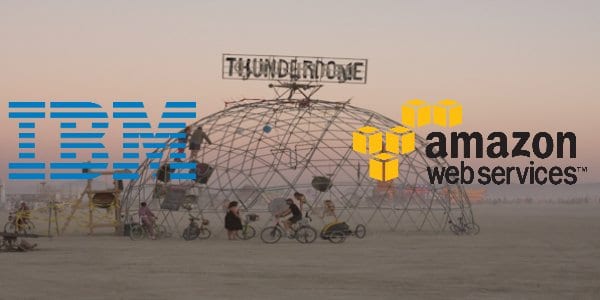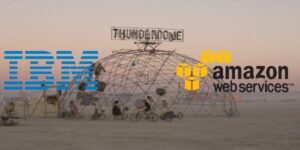 When Amazon revealed the numbers for its cloud computing business, Amazon Web Services (AWS), for the first time in the nine years since its creation, the only thing more staggering than the numbers ($5.16b profit in 2014; $1.57b in sales for Q1 2015) was the market's reaction to them. After Amazon's revelation, and several announcements of similar numbers from other tech companies, NASDAQ soared to an all-time high close at 5,056 points on Thursday, April 23rd.
Market analysts have been claiming AWS's domination of the cloud infrastructure as a service (IaaS) market for a long time— in a 2014 report,  analyst house Gartner estimated that AWS has five times more compute capacity than the 14 other providers listed combined— but that foresight didn't stop them from "losing their minds" over the big reveal Thursday.
But as the dust settles, some pundits are pointing out that AWS's lead may not be as commanding as it seems.
Chinese Competition
One of the first to speak out was Bloomberg business writer Jack Clarke, who made the point that Aliyun, the cloud computing division of Alibaba, is arguably a bigger provider of cloud infrastructure than Amazon in an article posted last Thursday.
Clarke concedes that $1.57b in first quarter sales suggests that AWS is "far ahead of rivals in the cloud computing business," and points out that Amazon has 28% of the worldwide market for cloud IaaS, according to a report by Synergy Research Group. However, as the company expands worldwide, they should expect stiff competition from Aliyun— especially in China, Clarke says.
Since it began operating in 2009, Aliyun has grown to support over 1.4 million customers in China through five Chinese data center hubs. Aliyun also recently opened its first North American data center in Silicon Valley, but numbers for North American customers are currently unavailable.
AWS comes in with fewer customers— over one million worldwide, but quality vs. quantity means a lot, revenue-wise, and Amazon has some big names such as Netflix, Spotify, and several high profile US Government contracts.
Both companies see a lot of room for growth in China, where only 10% of IT budgets currently go to cloud computing, according to Clarke's article. Aliyun has a major hometown advantage, though. "As is typical of large Chinese technology companies, Alibaba is woven into China's bureaucracy," writes Clarke. Aliyun currently has strategic agreements with multiple Chinese provinces, regions and municipalities and an undisclosed number of government agencies, and it's existing Chinese infrastructure ensures it's role as a major player, regionally and worldwide, in the years to come.
Legacy Hardware Providers Find New Footing
In his provocatively titled editorial: "Move Over Amazon, IBM Now Rules Cloud Services," Forbes contributor Greg Satell argues that IBM is the true leader in the cloud services market.
Like Amazon, IBM recently put out some cloud computing numbers— cloud services are now a $7.7 billion business at IBM, according to prepared remarks from IBM CFO Martin Schroeter during IBM's recent earnings call. "Even for Big Blue, that's big business," writes Satell. Big business that Satell says have gone "strangely unnoticed."
To me, there's a good reason that those numbers haven't attracted the same attention as AWS's filings. Satell says it himself: "Amazon and IBM run vastly different operations, so making direct comparison between the two announcements isn't exactly apples to apples."
In fact, it's more like apples to oranges. IBM includes  its platform as a service (PaaS) offering Bluemix, and IBM Global Services, a cloud-focused consulting service. IBM doesn't offer a split number for each service, but I believe that if Amazon and IBM were to compare IaaS revenue specifically, Amazon's number would be significantly higher.
IBM includes revenue from its platform as a service (PaaS) offering Bluemix, and IBM Global Services, a cloud-focused consulting service in that $7.7b figure. The company hasn't offered individual earnings numbers for each service, but I believe that if Amazon and IBM were to compare IaaS earnings alone, Amazon's number would be significantly higher.
That said, Satell's article makes some interesting points about how IBM could make serious gains in the cloud computing market as a whole. Specifically, Satell points out that IBM is doing a great job leveraging a combination of hardware, software and cloud business services to attract clients.
For IBM, Satell says, "the cloud is vastly more than infrastructure, which is likely to be commoditized over time." The company offers a flexible combination of cloud infrastructure, cloud-based software and analytics, and consulting.
Tech giant Microsoft takes a similar approach to the cloud market with its Microsoft Azure PaaS offering and the highly successful Office365 software as a service (SaaS) products. Satell points out that Microsoft has recently reported cloud services earnings of $6.3 billion, which he says is "second only to IBM." But Microsoft's figure, like IBM's, rolls up several distinct businesses, namely the Azure Paas offering and the Office365 SaaS offering into one number. Comparing those figures to Amazon's IaaS profits misses the mark.
As Satell points out in his article, AWS's low cost, low margin approach will eventually be put to the test as competitors begin to squeeze Amazon's margins. When that happens, a diversified cloud offering could make the difference in attracting new customers. But that change has yet to come, and it's foolhardy to discount Amazon's ability to adapt. As for the IaaS maket as it stands: for the time being, there's no denying that AWS is on top.

Latest posts by Jeff Edwards
(see all)