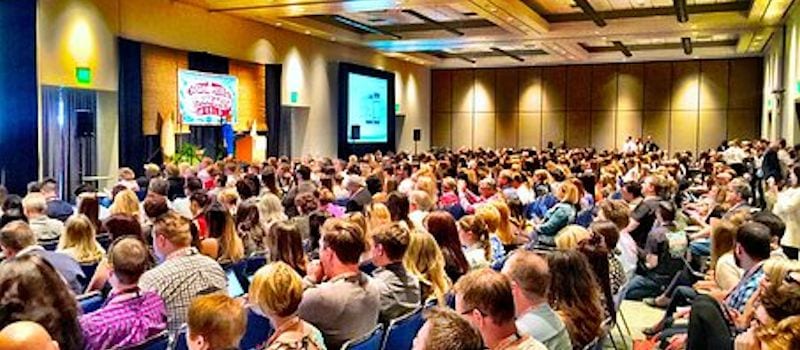 With the enterprise content management space constantly evolving, attending an event in-person is sometimes the only way to fill knowledge holes. Take a look at these events coming up in the next few months, pick the ones you're most intrigued by and pencil them into your planner.
IBM Connect
Attend the IBM Connect conference in California this February for your chance to network with some of the best in the business. Deepen your knowledge and learn how to utilize speedy, collaborative technologies to make your life less difficult. Take advantage of over 200 sessions, labs and more.
GM of IBM Collaborations Inhi Suh and S.T. Lee Professor of Business and Author of The Art of Choosing Sheena Iyengar are just two of the speakers that will attend.
If you plan to go, make sure to check out the Connect 2017 Hackathon and the Watson Work Escape Room.
The event will be held at Moscone West in San Francisco, CA from Feb. 20 to 23. Click here to register.
Geneva Alfresco Day
Head to the picturesque country of Switzerland for Alfresco Software's Geneva Alfresco Day. The latest ECM news will be shared along with presentations, testimonials and more.
"A village dedicated to Alfresco integrator and technological partners will also give them the opportunity to present their Alfresco-based solutions," according to a recent release.
The event will begin at 8:30 a.m. and last until 6 p.m. on Feb. 1. It will be held at the Starling Geneva Hotel and Conference Center. Register here.
AIIM17
Over 600 information professionals from around the world attend this event looking for the best way to manage their organization's information. Hear from top experts in the space, reduce your need for trial and error, and network with tons of workers and potential colleagues. Raytheon and Walt Disney are just two of the big names that you'll see there.
"This is a great conference! Great networking and a lot of great information around ECM and BPM. I'd recommend it to anybody that's looking to broaden their knowledge base and connect with great people from all over the world," attendee Kyle Roberts told AIIM.
The event runs from March 13 to 16 and will be held in Orlando, Florida.
Document Strategy Forum '17
The Document Strategy Forum is an executive conference for professionals from various verticals including finance, healthcare, insurance, communications, government and more. The event aims to deliver top-notch customer experiences and brings real-world communications, content and information leaders together to look at successes and challenges. This two-day event will begin on May 1 and those who register before Feb. 24 will get a discount.
According to Document Strategy, this is the only peer-driven, peer-reviewed and peer-produced conference offered. IBM, Box and Forrester are three of the many sponsor for this event.
Intelligent Content Conference
The Intelligent Content Conference will be held in Las Vegas from March 28 to 30. Last year, content strategy leaders from IBM to Cisco were in attendance. This year's agenda boasts a workshop on Paypal's content delivery, content strategies, selecting digital content technology and more.
A full line of speakers is in store for attendants, including Author and Journalist Fran Lebowitz, LinkedIn's Content Marketing Evangelist Katrina Neal, and IBM's Enterprise Content Experience Strategist Andrea Ames.
Click here for additional information.
Latest posts by Doug Atkinson
(see all)