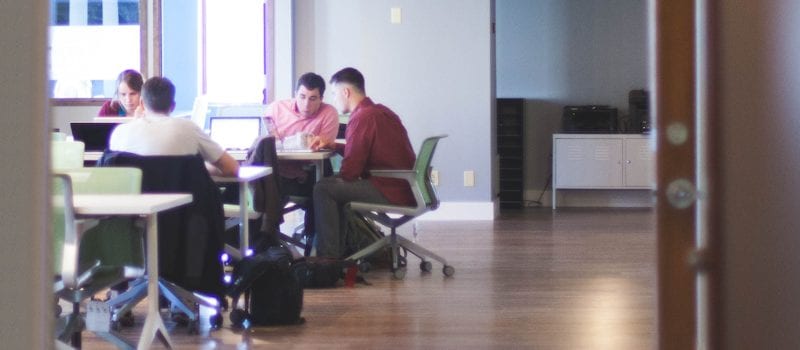 Back in March, a team of writers and editors at Solutions Review set out build their latest enterprise technology site – Enterprise Content Management. The site offers a comprehensive collection of resources including a 31 page ECM Buyers Guide that compares the top 24 ECM industry vendors and products. The website features an at-a-glance directory page of those 24 vendors, with contact information, and company overviews.  For a more technical look at specific ECM technology, Solutions Review compiled a site with demonstration videos, and a collection of ECM bestsellers. Maintained and updated daily by a real editor– not some content generation gimmick — visitors will receive regular breaking news, best practice articles, and interest pieces that inform the community about industry leaders, trends and market projections.
The Importance of Content Management
The technology publication chose to promote the enterprise content management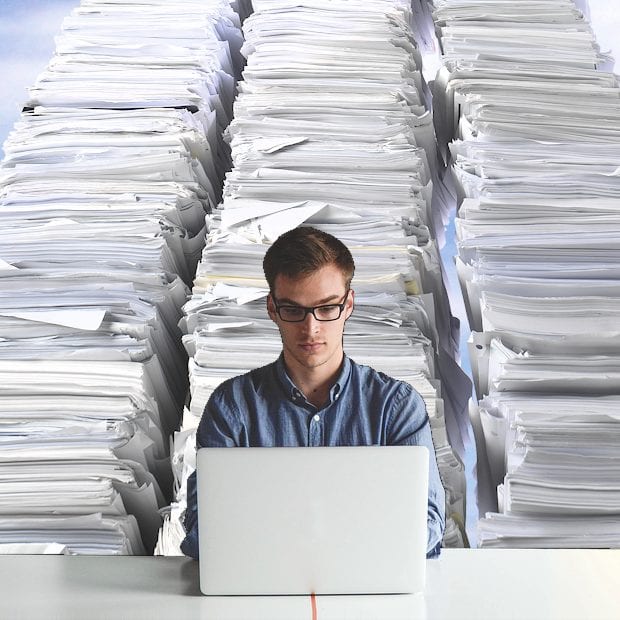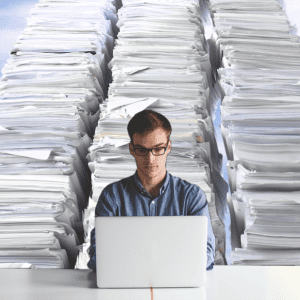 category specifically, because of the vital role that ECM technology plays in helping organizations better business processes, by reduce operating costs, improving customer service, keeping track of vital information and much more.
Lauren Cooke, Editor at Solutions Review, spoke in the recent press release announcing the launch of the brand new Enterprise Content Management software website that is so concentrated with resources that it took the team of editors at the publication three months to complete:
"Without an Enterprise content Management solution, enterprises and businesses of all sizes will not be able to maintain the influx of data created in the age of IoT. If it's not evident enough, the world is going paperless and moreover, the world now expects paperless. You can't even get an ice cream cone with the paper wrapping anymore! This is not just due to folks being environmentally conscious! ECM solutions for businesses translate to speed, accessibility, enhanced collaboration and most of all: cost savings. ECM solutions are not a matter of if to adopt, but when, and how quickly."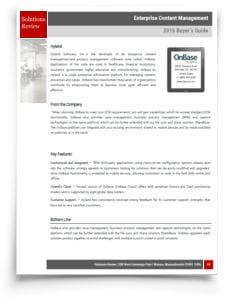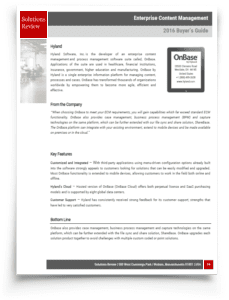 Downloadable Resources
Editors worked to compile market research for buyers, and ECM enthusiast who want to become more informed about this imperative technology. The ECM technology itself was without a doubt the most important aspect of the research, and the key take-aways are available in the form of free, downloadable resources for readers. Along with 24 vendor profiles, the 2016 Enterprise Content Management Vendor Buyer's Guide features 5 questions that buyers should ask themselves, and 5 questions to ask an ECM vendor before the purchase of a solution. Vendors in this year's buyer's guide include: Alfresco, Ascend Software, Docstar, Documentum, Everteam, Docuware, Fujitsu, OnBase, IBM, KnowledgeTree, Konica Minolta, Laserfiche, Lexmark, M-Files, Microsoft, Naviant, NewGen, OpenText, Oracle, Questys, Systemware, Unisys, Upland, and Xerox.
Cooke explains how Solutions Review is providing a unique service to buyers by offering these resources, far beyond that of typical tech news publications that simply report content to drive traffic.
"Vendors in 2016 are developing incredible technologies to help business manage their most critical content. I always knew that content management solutions were important, and were an increasingly important aspect of business processes, but once I learned how easy leveraging this technology is for organizations of any size, I immediately felt compelled to make consumers more aware of these solutions."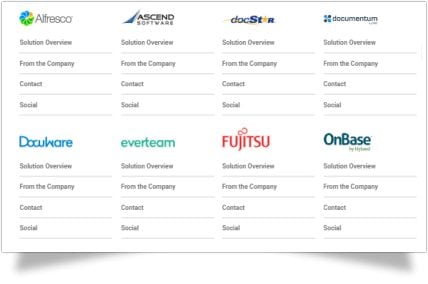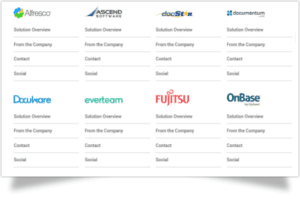 Each of Solution Review's 11 technology websites feature a directory of solution vendors, tools and software including a company overview, links to social media and contact information for the vendors. Readers can request a printed version of this page including complete solutions profiles and a list of the top questions to ask in an RFP- Request for Proposal.
Demonstration Videos Collection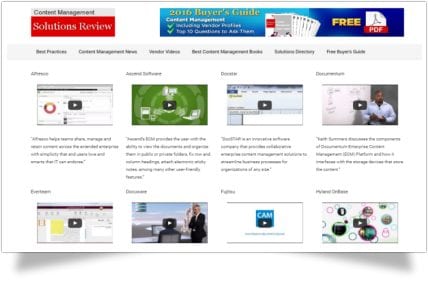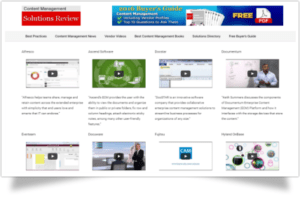 Solutions Review has compiled a cross-section of videos on the subject of Content Management. Below you will find videos from leading providers including: Alfresco, Ascend Software, Docstar, Documentum, Everteam, Docuware, Fujitsu, OnBase, IBM, KnowledgeTree, Konica Minolta, Laserfiche, Lexmark, M-Files, Microsoft, Navient, NewGen, OpenText, Oracle, Questys, Systemware, Unisys, Upland, and Xerox.
ECM Week-In-Review Video Series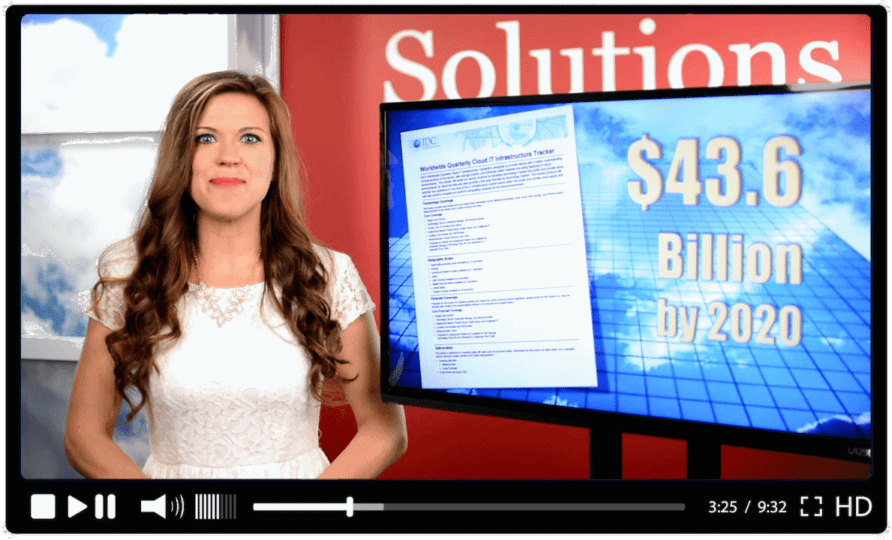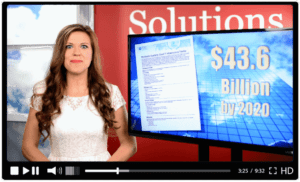 In addition to the 2016 Content Management Buyer's Guide, industry news, and ECM best practices, industry events, presentation and demo videos, Solutions Review is also host to the new, Cloud and Content Management Week in Review videos series. The new video series aims to recap the most important news, updates and best practices happening each week within the ECM community. These quick and easy to digest video recaps can be accessed through the website itself as well as Solution Review's YouTube channel, providing visitors with another resource to help them stay abreast of all things content and asset management during purchase, implementation and maintenance periods.
With the release of Solutions Review for Enterprise Content Management, Solutions Review continues to work towards being the best resource for IT professionals looking to address needs impacting content and asset management through ECM. The Solutions Review for Content Management website contains all of the latest news and solutions updates, best practices, solution videos and presentations, industry events, and information that buyers of information technology solutions will need to make informative purchasing decisions for their content concerns.