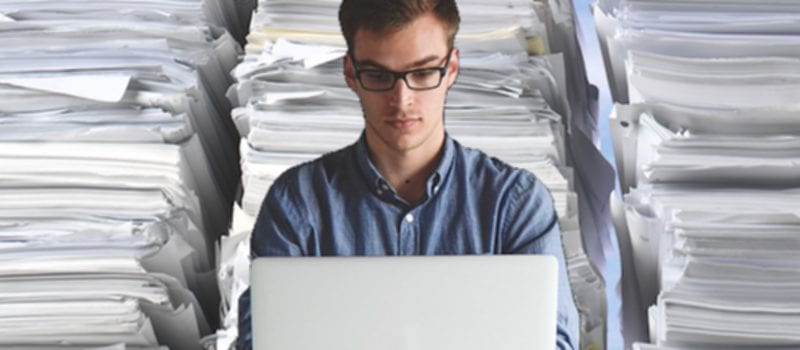 We've compiled a list of the 10 best resources solutions-seekers should consult while in the research phase of implementing new content management technology. Since each organization needs a tool to match up with their own specific use cases, these resources allow researchers to sift through solutions that satisfy a wide range of compute requirements.
---
1. Top 20 Enterprise Content Management Leaders and #Twitter Influencers You Need to Follow
Staying on top of the latest industry news and trends is a big part of the job for any Enterprise content Management pro, and Twitter is a great resource. but with 243 million active users, it can be difficult to parse the good from the bad. Here is a great place to start. Follow these the top 20 influencers  and thought leaders in the Content Management Twittersphere, presented here in no particular order.
---
This wide range of podcasts covers popular topics in Enterprise Content Management, document management and much more. Producers discuss the use and evolution of technology in business, the issues surrounding investment in ECM technology, and thought leadership in areas which will benefit your business.
---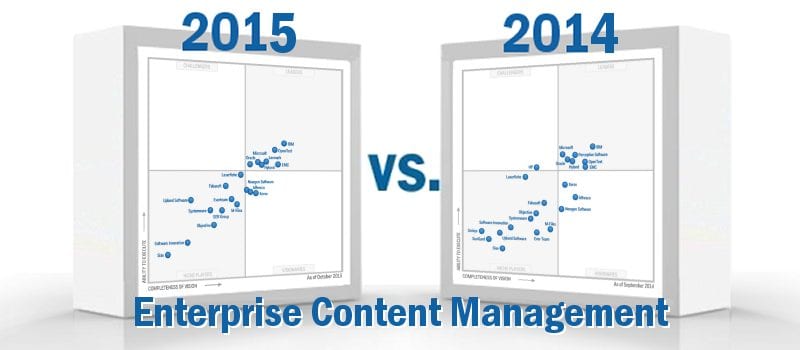 This is the twelfth iteration of the ECM Magic Quadrant report, and as you might expect, there have been massive changes in the ever-evolving ECM market since Gartner's first MQ report, in 2004. In the last year alone we've seen considerable shifts in positions on the MQ. At Solutions Review, We read the 38 page report, and pulled a few of what we consider the most important takeaways and key changes from the 2014 ECM Magic Quadrant.
---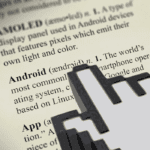 Content got your tongue? In the land of enterprise content management, there is a whole world of terms that might make you wish you had a way to manage common CM jargon IN YOUR HEAD! Having gone through this experience,
we put together this glossary of terms
that you can refer to when your words get weird. Whether you're just discovering the newest content management capabilities to better organize your business critical content, or just like keep up with the times, brush up on your terms and go forth with confident content conversations!
---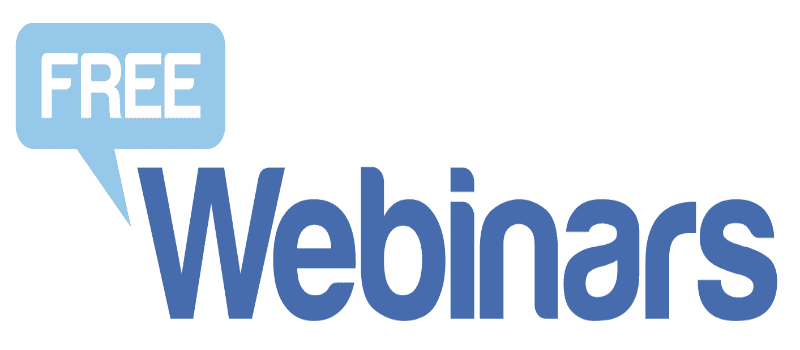 Whether you are a publicly traded corporation, a government institution or even a small to medium-sized business there is a content management solution for everyone. 
Check out these ten vendors
who have made a mark on the market for developing innovative and effective ECM products.
---
As our current understanding of ECM begins to expand, the industry needs to utilize new technologies and thought processes in order to lay the footwork for the years to come.
Below are six notable ECM industry insiders
that we consider to be "thought leaders"; visionaries that are keeping one eye on the future while helping today's businesses find better and more efficient ways of managing their information.
---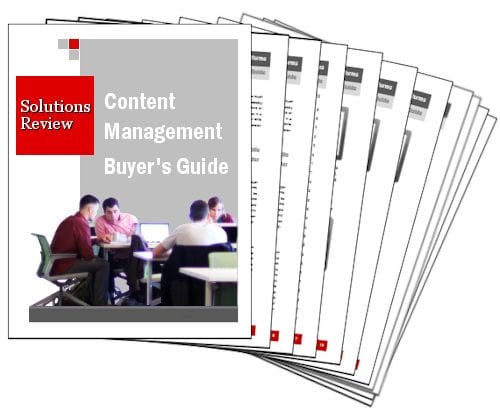 The explosion in paperless content has created the need for a dedicated Content Management system, allowing your organization to store, organize, distribute and analyze with greater efficiency than ever before. Solutions Review is providing this complimentary Guide offering analysis of Top 28 Content Management solution providers. Featuring, 28 Profiles of the Top Solutions Providers, The Top 10 Questions to Ask Potential Vendors (and yourself), A Category Overview and "Bottom Line" analysis
---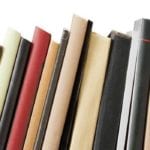 There are a wide variety of books available on Content Management, but selecting the one that is right for you and users inside your organization can be a tough task. Solutions Review has taken the liberty of doing the research for you, having reviewed a multitude of these books. We've carefully selected the top books based on relevance, popularity, review ratings, publish date, and ability to add business value.
---
For the same reason we find it hard to dedicate spare time to chores and running errands, so too is it investing time and resources into planning and implementing an ECM solution. It's like cleaning out the garage on a beautiful spring day. Painful, but completely necessary since you found that family of squirrels making a cozy home among your junk. Enlist these helpful best practices while grabbing your virtual tool box  to sweep up, sort and declutter your businesses content that is due for an overhaul.
Roll up your sleeves and dig into the data!
More great resource are available to you at the click of a button, checkout our Enterprise Content Management home page, and be sure to follow us on Twitter and Linkedin for instant cloud computing news and updates.
Related Reading
---