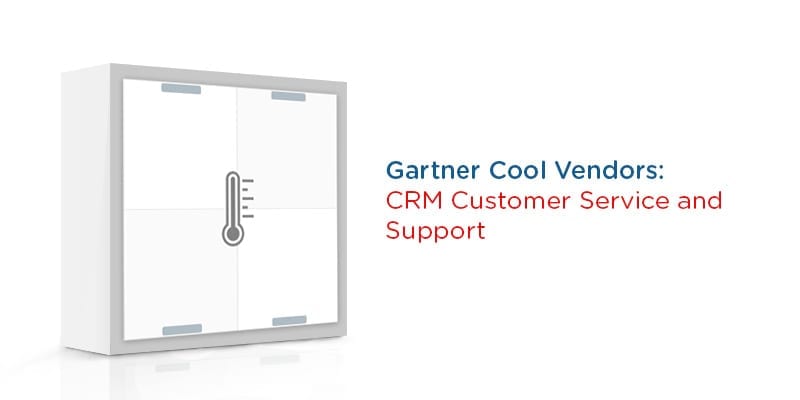 Gartner's research highlights four 2019 Cool Vendors in CRM Customer Service and Support that offer innovative alternatives in the marketplace.
Analyst house Gartner, Inc. has released its newest vendor report highlighting three emerging solution providers that offer innovative alternatives in the CRM customer service and support space. Cool Vendors in CRM Customer Service and Support focuses on vendors specializing in personalization, cross-channel engagement continuity, and unstructured communications analysis.
At Solutions Review, we've read the full report, available here, and want to take the opportunity to expand upon the introduction Gartner has given to these providers. Though Gartner's process for selecting Cool Vendors is somewhat mysterious, we believe our unique view of the marketplace can help you better understand how these tools will fit into the overarching landscape as they mature.
This year's report emphasizes the importance of improving process execution and planning for the future of customer service. Sales and marketing leaders should be reviewing near-term roadmaps of their current customer engagement platforms and weigh the importance of waiting for those or deploying with the vendors listed below. They should also move past the "one issue, one channel" paradigm and recognize that customers will change channels mid-stream. This article summarizes each vendor's specializations and provides our bottom line analysis.
Cool Vendors in CRM Customer Service and Support
---
Chatbox provides the ability to build human or chatbot-powered micro-apps for deployment into text-based conversations through various messaging channels. These are referred to as "Instant Apps" and can be embedded into the front-end of an application. Chatbox syncs with enterprise data sources and has integrations with Salesforce, Google Sheets, Calendly, Oracle Mobile Cloud, and Slack. It can also interface with automation tools like Microsoft LUIS, Amazon Lex, and Google DialogFlow. With a focus on automation, Chatbox offers key capabilities such as agent tools, analytics, and multiple channels for distribution.
Bottom Line: Chatbox is a good fit for customer experience executives looking to add personalization through chat functionality and support services program managers and customer care program managers. Organizations looking to automate the deployment of structured data across functional silos will also find value here.
Gladly is unique in that it is built with a multichannel interaction flow at its center and a continuous conversation stream between agents and customers. This vendor's SaaS platform synthesizes customer service interactions from various sources, including Twitter, Facebook Messenger, WhatsApp, email, and more. This is displayed as a comprehensive dashboard, with access to shipping notifications, marketing emails, and delivery confirmations. Agents can see individual messages as they come in and have the freedom to pick and choose what communications to engage with.
Bottom Line: Organizations that build their business models around customer engagement should consider Gladly. This vendor is also a good fit for teams that don't require customer service case management and organizations that want to integrate a dashboard of continuous engagement.
netomi (previously known as msg.ai) automates responses to messages through natural language understanding and deep reinforcement learning. If the software can't solve the issue, the conversation is transferred to a human team member. These messages are tagged with relevant digital commerce-related information. netomi "learns" across the history of its conversations and gains the ability to fully automate responses to frequently asked questions. The software can also identify trending topics and sentiments and helps focus on the issues that customers tend to deal with. The continuous interaction and learning functionalities make sure that netomi is constantly improving itself.
Bottom Line: This is a great fit for natural language processing vendors looking for partners to support medium-form and short-form communication methods. Small and midsize businesses looking for affordable automation features and focusing on customer experience should also consider netomi.
UJET focuses on combining mobile device features and cloud contact center technology to verify the identity of customers securely. A push request replaces the tedious routine of security questions through native mobile security features, such as instant validation through thumb or facial recognition. During engagements, agents can initiate text-based conversations to simplify tasks and protect the privacy of information that customers don't want to speak out loud. Photos, videos, and screenshots can also be requested and shared during conversations.
Bottom Line: Customer service centers like mobile phone providers and others who have infrequent engagements with their customers will benefit from this tool. UJET is also a good fit for customer service application leaders looking to offer mobile and in-application experiences and those who plan to migrate to SaaS-based solutions in the future.