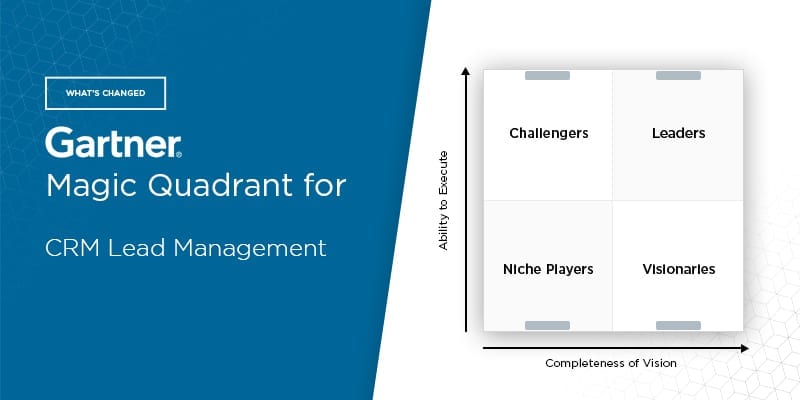 The editors at Solutions Review highlight what's changed in the 2020 iteration of the Gartner Magic Quadrant for CRM Lead Management and provide an analysis of the new report.
Analyst house Gartner, Inc. recently released the 2020 version of its Magic Quadrant for CRM Lead Management. Gartner defines lead management as a cross-team process of capturing leads, tracking their activities and behavior, qualifying, nurturing them to make them sales-ready, and then passing them on to the sales team. Lead management products include capabilities spanning the B2B marketing and sales sectors and can be acquired as stand-alone or part of a larger CRM suite.
Over the past twelve months, Gartner has observed a variety of new trends evolving within the market. This includes more CRM suites with lead management functionality, more embedded AI/analytics for lead scoring, increased account-based marketing demand, increased personalized B2B experience through web-based data, increased interest in sales acceleration solutions, and a renewed interest in scalable data ingestion/storage.
What's Changed: 2020 Gartner Magic Quadrant for CRM Lead Management
---
In this Magic Quadrant, Gartner evaluates the strengths and weaknesses of 15 providers that it considers the most significant in the marketplace and provides readers with a graph plotting the vendors based on their ability to execute and their completeness of vision. The graph is divided into four quadrants: niche players, challengers, visionaries, and leaders. At Solutions Review, we've read the report, available here, and pulled out the key takeaways.
Gartner adjusts its evaluation and inclusion criteria for Magic Quadrants as markets evolve. As a result, Freshworks, Microsoft, and Resulticks have been added to this year's report. Acquia (Mautic), Impartner, and X2Engine have been dropped.
Adobe sits at the top of this year's Leaders quadrant. Its robust platform offers a complete lead management solution with a range of functional options for every campaign stage. Marketo Engage customers will benefit from Adobe's global footprint and direct sales capabilities. Oracle holds its own in this quadrant, with the Eloqua platform offering powerful compatibility with B2B enterprise customers. Eloqua also provides one of the best lead cleansing, deduplication, and enrichment set of capabilities on the market.
Salesforce's Pardot product focuses on aligning marketing and sales teams through personalized lead management and multichannel engagement. Pardot Einstein's predictive models stand out from the crowd, delivering real-time engagement insights and powerful lead and behavioral scoring. Creatio offers marketers prebuilt, out-of-the-box reports and the ability to create custom reports and dashboards using its no-code interface. This vendor has also significantly improved its ABM capabilities since last year's report.
HubSpot is the sole vendor in this year's Challengers quadrant. Its ease of use remains a strong differentiating attribute, making it a good choice for smaller marketing teams. This vendor also demonstrates a clear understanding of the market with its strong marketing execution and a clear roadmap that aligns with its core audience of small and midsize B2B organizations. Additionally, HubSpot's freemium pricing model provides interested parties with a meager cost of entry.
Acoustic sits at the very top of the Visionaries quadrant, almost bordering on Leader. Its product is focused on multichannel lead management capabilities and primarily serves large B2C enterprises. Acoustic's workflow creation includes standard out-of-the-box triggers as well as unlimited customer trigger creation. Pega maintains its Visionary status with unified lead and customer data through its Customer Decision Hub and Customer Engagement Hub. This vendor provides robust support for healthcare insurance organizations with strong AI technologies and competencies.
SAP Marketing Cloud natively allows users to view customer profiles through every interaction stage and across its different SAP CRM products. It also allows multiple lead scoring schemes to be run in parallel, resulting in more personalization and individualization across channels. Zoho lies on the border between Visionary and Niche Player, offering CRM products broadly focused on lead management with a unified data model to enable sales and marketing collaboration. It has a solid go-to-market strategy, a robust ecosystem of implementation partners, and a comprehensive 2020 roadmap.
Act-On teeters between the Niche Players quadrant and the Challengers quadrant. This vendor supports small marketing teams to quickly adapt to the platform and begin executing campaigns and managing operations. Microsoft sits close to the edge of the Challengers quadrant. Its approach to connected data, enabling a consolidated view of customers across organizational functions, aligns with the core objectives of B2B marketers. SugarCRM combines predictive and traditional scoring for lead and opportunity predictive scoring, enabling users to drill down to predictive scoring.
CRMNEXT is known for handling large, complex lead management tasks in large financial institutions, including supporting some of the biggest branch networks and banking processes worldwide. On the other hand, SMBs and midsize organizations with a direct and/or indirect global presence will find Freshworks attractive for its international presence. Resulticks rCloud has a clear, easy-to-use UI that can enable marketers to build and modify complex lead journeys. The platform also provides AI-driven journey flow and content recommendations based on selected audience attributes.